Toy Fair 2011 in NYC
Being at the 2011 Toy Fair in New York City at the Javits Center made me feel like a kid again. There were so many cool things to check out, including huge Lego displays, Star Wars toys, comic toys, and toy guns like the Marshmallow shooter collection. The fair showcased many of the toys that will come out this year and it was especially awesome to get a sneak peek at the toys and games that will be coming out for the comic book films such as The Green Lantern, Captain America, and Thor.
For anything dealing with toys that are connected to movies, many toy reps were saying that the toys usually come out six weeks before the movie's release date. Below is a picture from toys that will be out for Thor and Captain America. These toys are cars that will be a new line to promote the films. Too bad these cars were for display only. I wanted to pick up the Captain America car since it was a prototype and would be a great collectors item. The representative for this toy line told me that the packaging style for Cap was taken from the style of the Iron Man movie series and was used just to display the toy line.
Another cool feature from the fair were the huge displays like Halo and Pixar to promote the new toys that will be out this year. Master Chief was taller than me, and I am six feet.
Plus right behind the display of Master Chief was a scene set up that could be taken right out of the video game series. This was a massive display with pretty much every Halo vehicle in the scene.
The Lego display of Lightning McQueen was another phenomenal display as well. The car was made with 325,000 Lego bricks and weighs 3 tons and measures 12.5 ft by 6.5 ft by 4.5 feet and took a team over 2,000 hours to create the finished product. I wonder if our friend Nathan Sawaya, who we met at the Comic Con had a hand in help create these displays.
Of course me being a HUGE Star Wars fanboy, I was in Heaven with all the toys that were on hand at the toy fair. The first few set of pictures is from the Kotobukiya line. They make realistic statues of every character of not only the Star Wars Saga, but of other characters in the Star Wars universe. The first pic was that of Vader with a legion of Stormtroopers.
This is a scene from Empire Strikes Back in Cloud City with Vader and Boba Fett. The floor of the scene would light up when you would go near the display.
The last picture is a furry bobblehead of Chewbacca. This was the first time I saw a bobblehead that was not made up of plastic, but was like a stuffed animal or in this case a stuffed Wookiee.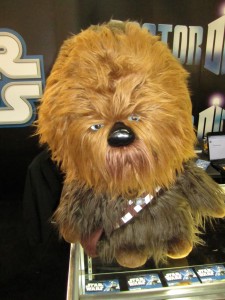 Last but not least were the good folks at The Marshmallow Fun Company. I have heard of the Marshmallow Gun, but I did not know that they had a huge arsenal. They had everything from crossbows to a double barrel shooter. The pic below is their Executive Elite Marshmallow Blaster. This gun came in a case and had a chrome finish. Plus I was able to take some video of a few guns from their collection. These things are fun. I was able to take home the Marshmallow Shooter. You can load 25 mini marshmallows and the can shoot up to 30 feet. For more info check them out at www.marshmallowville.com.
I can't wait till next years Toy Fair so I can go back in time to when life was care free and all you had to do was come home when the lights came on outside. If you ever get a chance to check out a Toy Fair in a major city, make the time! It is well worth it!