Toyota TRD Pro Trucks Tackle Texas
The day started with blue skies, puffy white clouds, and a wait. It was mild, breezy, and beautiful in North Texas.
One by one, we reached the sparkling new Toyota Headquarters in Plano, Texas and enjoyed a lunch spread in a conference room, and a rambling conversation ranging from 60 years of the Land Cruiser, hot laps at Daytona, and Yugos as clown cars with sorority girls crammed in to win a free one decades prior.
A dozen guys, swapping stories, telling tales, munching on Fritos and BBQ popcorn, throwing back Dr. Pepper, and smiling. It was kind of a perfect afternoon.
A tour of the Headquarters followed.
The new 100-acre Toyota Plano, TX campus, centered by an airy oculus, employs a 50/50 split of sit & stand workspaces and open collaborative areas with nontraditional breakout nooks. It's a massive place as a whole, made up of a handful of buildings so it doesn't feel like a massive place from the inside. It's warm, welcoming, and like their vehicles, it is thoroughly well-designed.
Campus wide WiFi and universal Skype for business allow the 4000 Toyota team members to hide away and complete that important presentation and then easily share it with their constituents whether back at their cube, walking at a treadmill desk, or enjoying the relative quiet of the off-hours Lone Star Commons cafeteria's second level.
This tour occurred around 3pm but it's likely that the place is abuzz in the A.M. thanks to the five Starbucks on site. There's not a single blonde roast to be found but pumpkin seasonal flavors had arrived, and Americanos are about 70 cents cheaper here. A fair trade-off.
Eleven prepared food restaurants are scattered across the Toyota HQ campus, serving anything and everything from sushi to burgers, and a bank, pharmacy, and quick-stop convenience store make life easier for the employees.
Essentially, there's never a coffee or Dr. Pepper or a bite to eat that far away (for better or worse!) Luckily, there's also 2-story gym with a massive rock climbing wall to work off any second breakfasts or hefty lunches consumed during a work day.
Fun Fact: there's 50,000 Tacoma windshields worth of glass on campus of the new Toyota Headquarters in Plano, Texas!
An easy walk across the courtyard leads to the Lexus lobby and in there you will find a breathtaking canary yellow Lexus LC500. It's a wonder anyone gets any work done in that building. The press group assembled had to be dragged away from that beautiful car.
In addition to the nooks, crannies and work spaces found in hallways and wide open spaces — always with electrical outlets nearby — there is an abundance of natural light and colorful art to keep spirits high even as employees go from one meeting about meetings to the next.
It's a truly stunning campus Toyota has built from the ground up, with all the modern amenities you would expect to find in a major corporation's HQ.
Dinner that night was upstairs at Barley & Board on a corner of Denton's impressive downtown square was delicious and the conversation animated. The tender sous vide pork tenderloin packed a unique heat while the pile of matchsticks potatoes that sat alongside the steak was Texas-sized.
No one wanted to pile on with dessert but all enjoyed at least a bit of the milk and fresh baked cookies, and a spoonful (or three) of the divine peanut butter chocolate pot. If you're off-roading in north Texas, clean up, and grab a table at Barley & Board.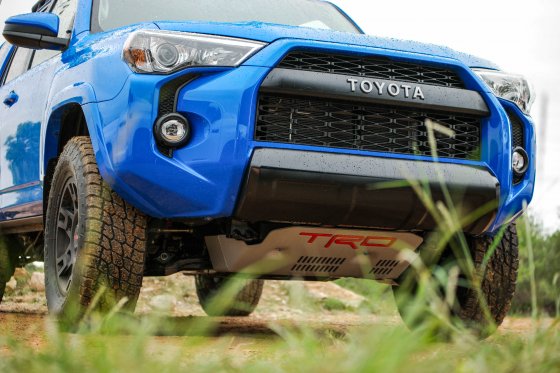 Come the next morning for the main event, the Voodoo Blue 4Runner TRD Pro, Super White Tundra TRD Pro and Tacoma TRD Pro glass was dotted with an overnight rain and the handsome TRD skid plates were spotless.
The trucks sat still at the off-road Base Camp in Bridgeport, on softening Texas red clay as the 2019 TRD Pro model specs were discussed. Ears perked up at the Fox internal bypass shocks that don't sacrifice everyday handling for off road nimbleness — the best of both worlds indeed — and then the five off road trails were detailed.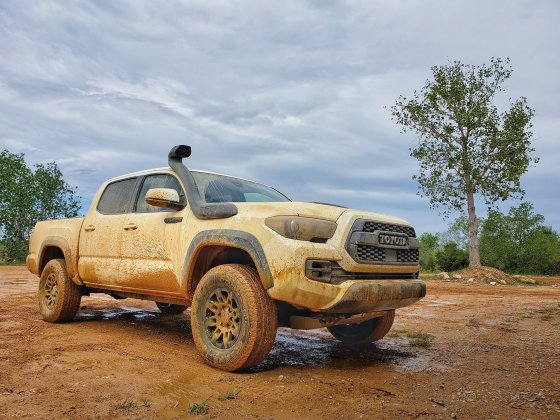 With the end of the briefing came a flat sheet of gray pulled up to our chins, a heightening wind, and a flurry of wet, adding drama to the off-road experience.
The Toyota 4Runner TRD Pro took the high speed Bayou Basin trail in stride, ambling over rocks and through small lakes worth of muddy rain water deposits equally well while providing those in the cabin barely a shake.
After biblical rain stripped trails 1 and 2 of its tackiness, the 4Runner then scaled the heights and plumbed the depths of those more technical trails without breaking a sweat thanks to crawl control mode that offered extra traction for more treacherous situations.
By the time lunch was served in a tent that suddenly needed the heat flipped on (this is still Texas, right?) the drivers, with jeans now equal parts brown and blue, dug into chicken with champagne sauce and generous slices of rare prime rib as if they themselves had been doing the heavy lifting outside on the trails.
Keys were swapped in the afternoon as drivers slipped behind the wheel of different Toyota TRD vehicles to take on different parts of the off road course which dried slowly in the speckled sunlight.
This Toyota trip concluded the next day at the 2018 Texas State Fair's media day. Read our feature about the 2019 reveals of Toyota's 4Runner Nightshade Special Edition and the SX models of Tundra and Tacoma.