A Tribute to Edna Krabappel
Bart Simpson's teacher, Ms. Krabappel, has passed away. Okay, technically, Marcia Wallace, the voice of the chain-smoking, solitary drinker, single-syllable laugher, 'loose' fourth-grade teacher, has passed away at the age of 70. Producers at The Simpsons have announced that they will retire the character from the show.
Now, in Gunaxin style, we will pay tribute to Edna Krabappel, and all the good times (wink wink) she brought us.
Krabappel Quotes
"Hiya, scrumptious. Do you want to ignite my drink?"
[Mrs. Krabappel's class is watching a sex education video] "She's faking."
"Half-assed apology accepted."
"Do what I mean, not what I say."
"As you know, Bart, one day your permanent record will disqualify you from all but the hottest and noisiest jobs."
[menacingly] "You're going to be my murder victim, Bart…"
[brightly] "…in our school production of Lizzy Borden, starring Martin Prince as Lizzy."
"These tests will have no effect on your grades. They merely determine your future social status and financial success." [She looks at Bart] "If any."
"All right, but you'll have to do your homework. Just kidding. I've given up on you long ago."
[Bart is about to destroy the school with a tank]
[monotonous and indifferent] "No, stop, think of the children."
"We all got tired of that chalkboard years ago."
The Real Ms. Krabappel
Marcia Wallace, may she rest in peace, looks like an older Lisa with red hair.
Ms. Krabappel's "Relationships"
Ex-husband (who ran off with their marriage counselor)
Moe Szyslak
Joey Kramer (Aerosmith) (hit on him)
Homer Simpson (hit on him)
Sushi chef
Sideshow Bob
Principal Seymour Skinner
Comic Book Guy
Ned Flanders (married)
Bart as a fake pen-pal, using a photo of Gordie Howe
Ms. Krabappel Merchandise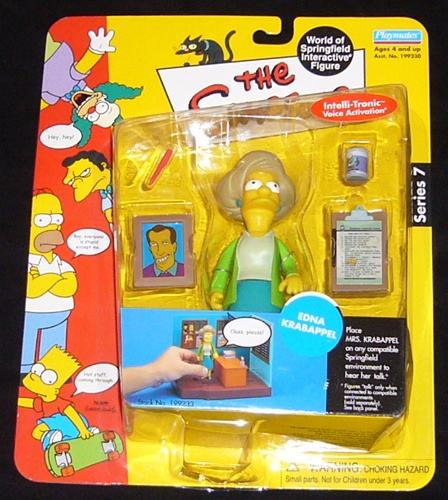 Simpsons Series 7 Edna Krabappel Action Figure
"Bart's teacher is named Krabappel? I've been calling her Crandall. Why didn't someone tell me? Oh, I've been making an idiot out of myself!" – Homer J. Simpson.
Ms. Krabappel Cubeecraft
via theflyingdachshund.deviantart.com
Rest in Peace
Rest in peace, Marcia Wallace. Edna Krabappel will be sitting like this for eternity: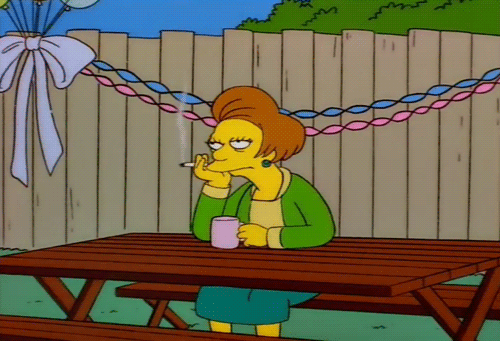 More on The Simpsons