A Tribute to the Human Torso From Freaks
Prince Randian, known as the Human Torso, the Snake Man, the Living Torso, the Human Caterpillar, etc., was a limbless sideshow performer in the early 1900s, and made a memorable appearance in Tod Browning's 1932 horror film Freaks. Read more about Randian, who was a father of five, on Wikipedia.
Prince Randian on the Web
Sideshow World
Altered Dimensions
Prince Randian's Facebook Page
Prince Randian's Myspace Page
See also: A Tribute to Schlitzie the Pinhead
Rolling a Cigarette
Mini Documentary on Randian
The Human Torso Chachkes
Get your Human Torso pins, keychains and magnets.
The Human Torso Model Kit

Check out Don Capone's model kit of the Human Torso on his site.
The Human Torso Doll
via Susan's Custom Creepy Dolls
The Human Torso Statue
via Damaged Goods
Another Human Torso Statue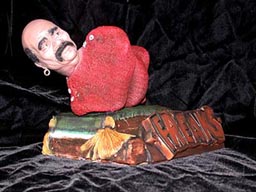 via leplatdujour
The Human Torso Nude Statue
Copyright arlenelove.com