A Tribute to Mayor McCheese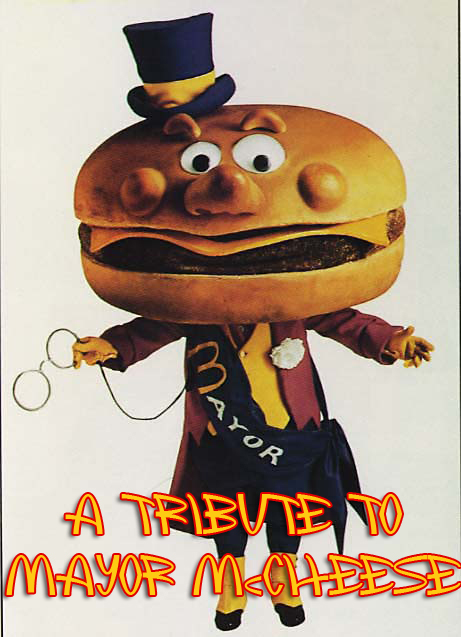 Remember this guy? Of course you do, because otherwise you wouldn't have anxiously clicked to read about the cheeseburger-headed mayor of McDonaldland, what McDonald's restaurants used in commercials back in the 70s. Let me refresh your memory:
Yeah, we used to watch those and then beg our parents to take us to McDonald's. Anyway, we've already roasted the Hamburglar, we've asked what is Grimace? And we've written about Happy Meal toys. Next on the list is paying tribute to the one and only Mayor McCheese. Well, not necessarily one and only, because he was a complete ripoff of…
H.R. Pufnstuf

Sid and Marty Krofft, the creators of H.R. Pufnstuf (the thing pictured above), successfully sued McDonald's after proving that Mayor McCheese was a ripoff of the character H.R. Pufnstuf, who was also a mayor.
Which makes us wonder, why was there never a celebrity boxing match between the two?
Read more about Mayor McCheese vs. H.R. Pufnstuf at mentalflossr.tumblr.com
(And why do I keep accidentally calling him H.R. Pufnsnuf?)
Check out this website called Bring Back the Mayor. There you can sign their petition to bring him back, and also join their Facebook movement.
Since the lawsuit, Mayor McCheese is spending his time like this:
via thesedelights.wordpress.com
 Mayor McCheese on Conan
Mayor McCheese Debate
Facebook Fan Pages
Mayor Mccheese for President Mccheese in 2012
Generic Mayor McCheese Facebook page
Alternate Uses of the Term
via Urban Dictionary:
A colleague who consistently leaves work ('cheeses it') much earlier than expected, leaving you wondering whether they are actually employed part-time.
"Hey, where's Padma?"
"Sorry buddy, Mayor McCheese has already cheesed it"
"What?! But it's only 3pm!"
On Family Guy
Read more about Mayor McCheese on Family Guy on the Family Guy Wiki.
Mayor McCheese Playground Equipment
via Wikimedia Commons
Mayor McCheese Playground Equipment Gets Lost
via davesnaps-bits-and-pieces.blogspot.com
Mayor McCheese Hiding in a Haystack
via groundglass.ca
Mayor McCheese Costumes
via flyingcracker.com
via coolest-homemade-costumes.com
via smarmey.us
via food2.com
The Death of Mayor McCheese