A Tribute to The Neverending Story's Falkor
Falkor, also spelled Falcor, is the luckdragon in the 1984 film The Neverending Story (Buy on Blu-ray). Despite having no wings, luckdragons can fly. Read more about Falkor and luckdragons on Dragons Linkmesh.
The funniest thing about Falkor is that his name is Fuchur in German. That's just plain funny.
First, let's watch the original scenes with Falkor.
Creating Falkor
via this website, which got its information from "Der Film: Die Unendliche Geschichte," Heyne Verlag, München, 1984.



In the first NES movie there are at least two different models of the Luck Dragon. The first and maybe most imposing model of the whole film is 15 m long. Its tail measures 4 m around. This Falcor is only movable in special part because of this size. The 3m long neck is cantilever and it holds the head with a weight of 100 kg. The construction was made by Guiseppe Tortura. Its frame is made of airplane steel. It has 16 moving facilities which can controlled by 36 tackles. This Falcor is able to speak, to laugh, to roll its eyes, to twinkle or frown.

Falcor's skin contains round 10,000 handsized scales and 100 kg pink Angora-wool (what a work). The maskbuilder Arthur Collin created the cute face of the "luckdachshound". He made several versions before the final one, which the director finally approved. But also later, the luck dragon often let the producers to jeer at loveful.

When the luck dragon is used with all his movements, it takes many technicians to control the tackle coordinated. A natural movement only appears at a perfect coordination. Of course, this requires a lot of practice. The actual scenes were displayed on several TV screens because every technician could observe the effects of his work. For the movie, the technicians had to be well-hidden. The problem of spacial separation was easy solve in the scene at the cave of Engywok and Urgl; Falcor covers the mechanics with his entire body.
Fun With Falkor
Falkor Cake
via Flickr
Neverending Story Van
See more photos of this van.
Falkor Sand Sculpture

Falkor Ride
This is a ride of sorts at Bavaria Film Studios in Munich, Germany. Unfortunately, it doesn't really fly.
Things That Look Like Falkor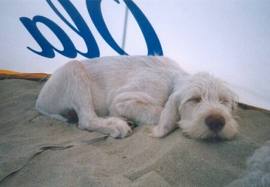 Others Who Ride Falkor
via this site

Also see Gunaxin's Tribute to Chunk.
Falkor Tattoos