Turtle Beach Recon Chat : Review
We're big gamers here at Gunaxin, but we're social gamers. That means we like playing games with people and interacting with them, and not just the screen. For decades that meant we were limited to instances when we could be in the same room with our opponents or teammates. Sure we could type messages in many PC games, but that just isn't the same. Thankfully for the last decade or so, headset communication has become ubiquitous in many games, enabling communication between guilds or enemies. Coordinate movements or talk smack, we've been known to do both.
The folks at Turtle Beach have been at the forefront of this more social gaming trend, with their leading line of console gaming headsets and audio accessories. Turtle Beach is known for their ability to create gaming headsets packed with innovation and features gamers want, as well as amazing game and chat audio quality and comfort. They produce a headset for every level of player, from casual to professional. Today we're reviewing their new entry-level gaming headset, the Recon Chat.
Offered at about $20 retail, the Turtle Beach Recon Chat is designed for those looking to upgrade the chat headset that came with their console. We tried the PS4 version shown in the photo above, which comes in Playstation's signature blue. However they also offer an XBox One version which comes in Microsoft's signature green. To be honest, we couldn't find any difference between the two products other than their color, so don't feel locked in by that designation.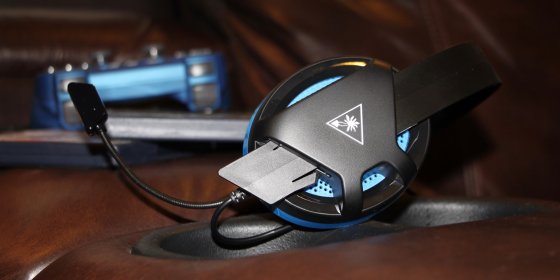 The Recon Chat is a "chat only" headset, meaning that gamers will hear game audio from the TV or home entertainment system, and will only hear chat audio from other players through the single ear headset. That also frees up your second ear to be able to hear your friends who are in the same room with you. Turtle Beach has designed a unique open ear-cup that lets you hear game audio from the TV in both ears to maintain stereo or surround sound. This is a key differentiator between the Recon Chat headset and the competition.
The Turtle Beach Recon Chat is reversible, meaning you can wear it on either ear, to match your preference. Just swing the microphone to the other side in order to choose which ear you'd like to wear it on. It also features a glasses friendly design that they call SpecsFit™. We don't wear glasses, but understand that many gamers do, and it's brilliant that they designed the headset with a notch that alleviates pressure from the headset pushing on your glasses.
The sound quality we experienced with the Turtle Beach Recon Chat was remarkable for an entry-level product. We could hear our teammates loud and clear, and our outgoing communication was crystal clear to them as well. Turtle Beach is known for their high-sensitivity microphones and we were impressed by the clarity.
The Recon Chat couldn't be easier to setup, as it connects to XboxOne and PS4 controllers via the 3.5mm jack. In fact we discovered it can also be used for mobile gaming on you phone or tablet. Having one headset that can be used on a variety of gaming platforms is perfect for modern gaming lifestyles.
Is it time to replace the chat headset that came with your console? Visit Turtle Beach to check out their entire line of headsets, and enter the giveaway below to win a Recon Chat headset: