Fun With Sand People
The Sand People in Star Wars are the nomadic scavenger desert thieves on the planet Tatooine. They were later renamed 'Tusken Raiders' since they found 'Sand People' to be politically incorrect (I think the Jawas were originally known as desert scavenger midgets). Read more about Tusken Raiders on Wookieepedia.
Sand People Dialogue
Mix your own Sand People sounds at Star Wars Soundboards.
Sand People at the Office
Sand People Action Figures
via flickr
There are several Sand People action figures available on Amazon.com.
Original Kenner Toy

I had it, but I wasn't a fan because his plastic robe easily tore off and his gaderffii easily snapped on the end. Later versions of him had a cloth robe.
Sand Women and Children
Hot, huh? Nomad gypsy women rock. Even better, there are action figures for the Tusken Raider Female with Tusken Child.
Under the Tusken Sun
Tusken Raiders Meet Oakland Raiders
The Sand People Choir
Marc Ecko T-Shirt
This shirt is hard to find now but it may come up on eBay. I'm surprised that there isn't a Marc Ecko Tusken hoodie, like he did with Boba Fett.
Sand People on Family Guy's Blue Harvest
Expensive Sand People Statues
Sideshow's 1/4 Scale Premium Format Tusken Raider
This statue, which had a starting price of $300, has received great reviews from collectors.
Sideshow's Revenge of the Jedi
This isn't a huge statue and yes, it is from the prequels, but it does depict Anakin Skywalker slaughtering these desert-dwelling nerf-herders.
Gentle Giant's Tusken Raider Mini-Bust
He did it! He's doing the pose!
Gentle Giant's Bantha and Tusken Raider Statue

Here is a statue of a Tusken Raider on his elephant in drag.
Sand People Weapons
Sand People's Best Friend
It's the Bantha, a woolly mammoth looking mofo. Read more about the Bantha on Wookieepedia.
Sand People Outfits
Outfit links
Female Tusken Raider mask
The budget Tusken Raider mask
Making a mask
via starwarshelmets.com
Sand People Tattoos
Tusken Raider at Sci-fi Convention
Sand People Hunting Humans
Sand People and Princess Leia Dancing

More Slave Leias should dance like this. Professionally in clubs.
Sand People Art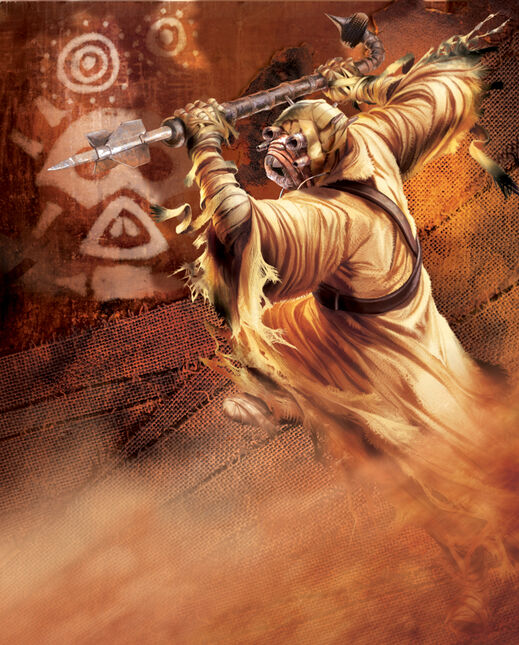 via starwarswiki
More Tusken Raider art from:
Zazzle.com
StarWarsArt.info