Twelve Movies You Should've Seen in 2012
2012 was a pretty good year at the cinema. Three movies — The Avengers, The Dark Knight Rises, Skyfall — earned over a billion dollars at the box office. Steven Spielberg and Daniel Day-Lewis teamed up to bring one of our greatest presidents back to the big screen in Lincoln. Ben Affleck continued to establish himself as a budding auteur with the crowd-pleasing Argo. And Quentin Tarantino turned his hyperkinetic attention to a slavery era Western.
As I did in 2010 and 2011 here at Gunaxin, my year-end celebration of must-see films isn't a "Best Of" list in the traditional sense. It's probably a cop-out on my part, but I've never felt comfortable ranking movie titles like an AP football poll. I'd rather share a handful of flicks I think uniquely stood out from the rest. These aren't necessarily my absolute favorites, but each one struck a chord in me, thus reaffirming my faith that the medium isn't being overrun by unnecessary remakes and bland sequels.
Let's get to it. Here are a dozen movies you should've seen in 2012. Where's my motherfu*kin' drumroll?!
12) Goon
As I wrote in my review way back in March, Goon doesn't pretend to be something it isn't. It revels in embracing the unapologetic violence of hockey but manages to inject a steady stream of laughs and, dare I say, thought-provoking moments about the fleetingness of fame and the inherent brutality of a sport that has always struggled to reach a widespread audience. Bonus points to Liev Schreiber for delivering one of the more honest "professional" athlete portrayals in recent memory.
11) The Grey
This flick totally snuck up on me. I saw it because I'm a sucker for man vs. nature tales, but walked away feeling a little more enlightened about life and death. Director/co-writer Joe Carnahan paints a bleak canvas in this harrowing story of plane crash survivors battling the elements and a pack of vicious gray wolves in the Alaskan wilderness. Liam Neeson's conflicted protagonist John Ottway proves that no matter how dire the circumstances, man's survival instinct is too powerful to go away quietly.
10) Compliance
Inspired by true events, Compliance is without a doubt one of the year's most horrifying films. A fast food manager and one of her young female employees become embroiled in a nightmarish scenario after a man claiming to be a police officer performs an explicit phone interrogation. The unfolding of this bizarre plot is both compelling and frustrating. I kept shaking my head at the sheer stupidity displayed by the characters, but couldn't turn away from the shocking events, especially with the knowledge that the entire experience was based in reality. Love it or loathe it, this will stick with you for a few days.
9) Ted
Not being a regular viewer of Family Guy, my familiarity with Seth MacFarlane prior to seeing Ted was limited. Well, now I understand all the hype and praise heaped the guy's way. The notion of a stuffed teddy bear coming to life and growing into a pot-smoking, prostitute-banging lout is and should be ridiculous. It's also damn funny. I laughed longer and harder during Ted than any other movie this year. Even when it misses a beat (crazy kidnapper subplot), it never fails to entertain. That said, I cringe at the thought of the inevitable sequel.
8) The Art of Rap
My inner wigger giggled with glee throughout Ice-T's informative and exquisitely photographed expose on the history of hip-hop. Who better than one of the game's pioneers to explain the craft and skill required to master music's most popular and misunderstood genre. Everyone from Grandmaster Caz to Rakim to Q-Tip to Eminem to KRS-One to Dr. Dre to Snopp Dogg offer their thoughts on what separates the greats from the also-rans. Anyone who truly appreciates rap and those responsible for transforming it into a cultural phenomenon will love this documentary.
7) Ruby Sparks
About half-way through Ruby Sparks, I stopped rolling my eyes at the "imaginary character becomes real" conceit and just gave in to the relationship quagmire constructed by screenwriter Zoe Kazan and directors Jonathan Dayton and Valerie Faris. The moral here is simple, but one that every straight guy should heed: even the ideal woman conjured in our dreams is flawed, and imperfect, and likely to drive us insane. And no amount of manipulation on our part is going to prevent them from ripping our hearts out if they so choose.
6) The Raid: Redemption
I had to pause The Raid about forty minutes in to catch my breath. The action is so frenetic and non-stop, a break is required. Forget story or character depth, because this is 100 minutes of brutally stylized mayhem. Bullets fly, blood spills, limbs snap. Director Gareth Evans flexes his action muscles from start to finish and stages some of the most wickedly awesome fight sequences I've ever seen. Just make sure you view it on as big a screen as possible or it will lose much of its impact.
5) Your Sister's Sister
Some might accuse writer/director Lynn Shelton's awkward love triangle as being overly clever and bit too ambiguous, but I found it to be a well-acted and engaging exploration into the lives of three lovelorn characters. Mark Duplass plays Jack, a depressed out of work bachelor who seeks solace at a remote cabin, but instead steps penis first into an emotional pitfall with his best friend Iris (Emily Blunt) and her half-sister Hannah (Rosemarie DeWitt). It does venture into the land of saccharine, but sharp dialog and just the right amount of vulgarity keeps it afloat. And watching Duplass vent his frustrations on a malfunctioning bike is priceless.
4) The Imposter
Like Compliance, I couldn't help but be annoyed by the blatant dumbness perpetrated by some in The Imposter, but as with Compliance, it was kinda the point since it was based on actual events. A French con man in his mid 20s assumes the identity of a missing Texas teenager in what was easily my favorite documentary of the year. Frederic Bourdin should be commended for his stark determination and condemned for his duplicitous arrogance. That said, he is one of the more fascinating people to grace the screen in 2012.
3) The Innkeepers
I rarely if ever get scared watching horror movies these days. Most are ill-conceived ripoffs or futile attempts at redefining tried and true genres. Ti West's The Innkeepers is neither. It's a solid ghost story about a closing hotel and the creepy apparitions that haunt its halls. Sure, it follows the familiar playbook of would-be investigators getting more than they bargained for, but I appreciated its understated style and spooky effects. The fact that it borrows liberally from The Shining isn't a bad thing. I mean, it could've drawn inspiration from 1999's The Haunting.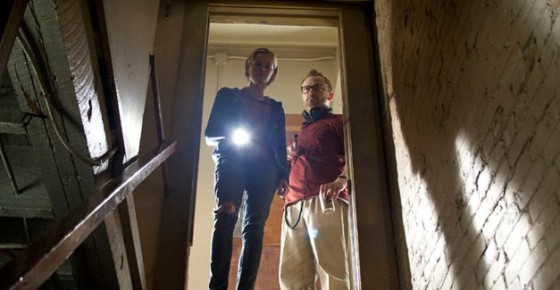 2) Magic Mike
I have a laminated poster of sex, lies and videotape hanging above my bed. It serves two purposes: 1) a warning to girls about what they're getting into, and 2) a reminder of how much Steven Soderbergh inspired me to attend film school. I'll concede that Soderbergh has had a hit or miss career behind the lens, but when he's on his game he's one of the best storytellers in cinema. I know this because he made me like a movie about male strippers starring Channing Tatum. How the hell did he do it? By making me give a shit about a character who wants to be defined by his aspirations, not what he does to earn money. Isn't that what we all want?
1) Looper
A science fiction movie without showy CGI and impossible to achieve expectations? Yup, that's Looper, director Rian Johnson's eagerly awaited second collaboration with Joseph Gordon-Levitt. JGL works as a hitman for a crime syndicate from the future that ships criminals back in time to be executed. Things get messy when his older self (Bruce Willis) is the next one on his hit list. There are hints of Terminator here and there, but it avoids copycat criticism by steering into unpredictable territory. It also looked like no other film this year, which was refreshing. Plus, it has Emily Blunt. And Emily Blunt is fu*king beautiful.