Twelve Refreshing Summer Beers
The unofficial beginning of Summer was of course Memorial Day weekend, but the actual beginning isn't until June 20th, so don't worry, you have plenty of time to track down these dozen brews to add to your party-ready collection. This season the word of the day seems to be fruit. Not fruity -like Lambics or Shandys- but fruit-infused sippers and citrusy IPAs. Yes, IPAs. Though more known as stronger night-life party rockers, these bitter favorites can add life to and barbeque or pool party.
Author's Note: After an eight-month hiatus from drinking beer at all (mostly due to an exhausted palate), I have rediscovered a new love of beer, especially a newer style called New England IPA (of which one appears on this list), and it truly looks like this Summer Brew list looks to be like one I am definitely interested in tackling.
Leavenworth Whistling Pig
"Fruity, refreshing, and touched with malt sweetness, Whistling Pig Hefeweizen is a bright reward for days under the sun. Crisp yet easygoing, Whistling Pig is an unfiltered wheat bier. Its classically cloudy appearance characterizes the best German hefeweizens. That a hefe this authentic is born in the great Pacific Northwest makes Whistling Pig Hefeweizen all the more delightful." %5.4 ABV.
Rahr and Sons Summertime Wheat
Banana, clove, yeast… all the telltale signs of a well-made and delicious Summer Wheat in the German style. Lightly hopped and unfiltered, this ber pours golden with a nice, rich head and goes down incredibly smooth. Great for a day at the beach. Brewed in Texas – %5.5 ABV.
Geary's Summer Ale
Similar to a German Kolsch, this European style blends a full-bodied drinkability with a rich, hoppy tang. It pours a golden, crystal clear hue and has a nice smooth mouthfeel and goes great with a barbeque or a day at the lake. %6 ABV.
Horny Goat Brewing Laka Laka
"A refreshing and unique take on traditional German style wheat beer. Laka Laka has strong banana and clove notes from the yeast, a soft mouthfeel from the high wheat content in the malt bill, and pineapple juice added post-fermentation." Brewed in Wisconsin – %5.1 ABV
Green Flash Soul Style Tangerine IPA
Soul Style is Green Flash's (California) delightful and pure manifestation of the Single IPA. Citra, Simcoe and Cascade hops are added at different times during the brewing process, allowing bright tropical waves of flavorful citrus and floral notes to break gently on the palate. %6.8 ABV.
Boulevard Brewing's ZŌN
"Boulevard's summer seasonal is our interpretation of a classic Belgian witbier. Zon (Flemish for "sun") combines the subtle flavors of coriander and orange peel with other traditional ingredients to create a delightful, refreshing summertime beer." Brewed in Kansas City, MO – %4.4 ABV.
Sixpoint Jammer
"A refreshing, tart brew balanced with a fruity coriander aroma and a touch of sea salt. Just tangy enough to tingle the taste buds, refreshing, spritzy, tangy waves of JAMMER. Let 'er rip!" Brewed in New York, 4.0% ABV.
Forgotten Boardwalk Funnel Cake
Pouring straw-colored with a two-finger, creamy head, this New Jersey release is not as sweet as the name implies. Slightly bready with hints of vanilla and cookie wafers, it is tasty enough to carry you through the sunniest of days to the hottest of nights. 5.5% ABV.
Smuttynose Hayseed Summer Beer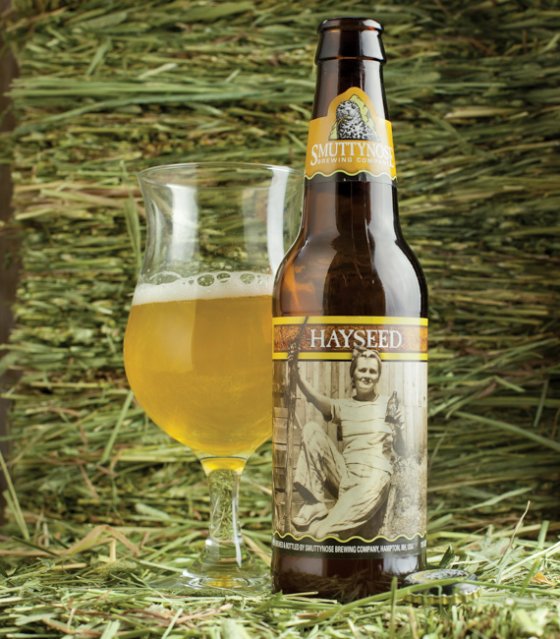 "Hayseed is our new summer seasonal offering. It is a delicious sessionable farmhouse ale, also known as a grisette. Light-bodied, yet flavorful, Hayseed is like liquid sunshine: perfect after a hike, floating in the lake, or while playing fetch with your old brown dog." Brewed in New Hampshire and ranking in at a low, excessively drinkable %3.8.
Bell's Pooltime Ale
Bell's is well known as one of Michigan's largest and most prolific breweries. Most of us know that their flagship Summer Ale is Oberon, but this clove-infused, Traverse City Cherry-laden treat is definitely making a name for itself. Tart, rich, and infinitely drinkable, this pool party pal is a light. – 5.2% ABV.
Founder's Azacca IPA
Founder's is a Michigan brewery known far and wide for its delicious and special beers. Azacca is no different, and the hop strain used to name it was, in fact, named by the brew masters right at Founder's. It's hoppy, tropical, and redolent with a citrus zing. Clocking in at 7% ABV, it's definitely a party starter.
Old Nation Brewing M-43 N.E. IPA
Available only in Michigan right now (in fact not too far from this author in Williamston right on beautiful M-43 – a 2-lane highway that meanders through many small towns) the M-43 is a newer example of the New England IPA style: foggy, slightly thick and cloying in the best possible way, and juicy with mosaic and citra hops. 7.2 % ABV.