Ugliest Jerseys: What Were They Thinking?
Sometimes you mess up the simplest things. It seems many teenagers could design a competent uniform. And yet many professional teams have paid others big bucks to design crap. Remember those Florence Griffith-Joyner designed Indiana Pacers uniforms? Or those Nike designed Oregon Ducks atrocities? I hope you don't. But despite those failures, they aren't the worst offenders from the clothing side of sports. Check out these ten great misses in uniform technology (or when when good uniforms go bad):
(Please view in very low light as this could be detrimental to your eyesight.)
10. Tampa Bay Buccaneers (1970s)
These jerseys were so bad, that when Tampa Bay came up with their current duds, they didn't keep the colors let alone the logo. Speaking of which, I didn't think any pirate could be sexier than Johnny Depp…
Would you let your daughter go out with this guy?
9. Hull City Soccer Club (1993)
Our first soccer "kit" makes the countdown. I knew that a soccer jersey had to be special to crack this list. Hull City of the English Premier League did not let us down, as the Tigers took their Tiger pride to the next level. If only the Cincinnati Bengals would do the same thing, it would making watching them that much more entertaining. I know that Bayside High would have done it.
What I don't know is what would be worse for Hull City fans: watching their team dawn these awful unis or after the game trying to pick up a girl wearing the exact same animal print.
8. Denver Nuggets (1980s)
Oh, that beautiful Denver skyline. Every time I see it, this atrocious rainbow filled uni comes to mind. Great idea to highlight the skyline with poor execution.
Its a good thing Denver liked the skyline uniforms because this was the back up
7. Quebec Nordiques (1972-1995)
What better way to follow up the Nuggets, than with the team that is now the Colorado Avalanche. Before the Avalanche were the Avs, Quebec had a lovely team by the name of the Nordiques. The name translates to Northmen, which comes from the word Nordic. Now what the hell  their logo was is a better question. Determining the logo is up to your discretion, but for me it looks like an anteater with a sunburn.
6. Washington Wizards (2008 Alternate Jerseys)
One of the only modern jerseys on the countdown. I guess things have gotten better over the years. Something tells me that this jersey will not be long for this Earth. It contains an awful mixture between the gold color and added white stripe. Of course, nowhere is there gold in the Washington Wizards color scheme. That is like the Yankees ditching the pinstripes and coming out in yellow. Or possibly cotton.
At least we know where the inspiration for these jerseys came from:
Wizards alternate jerseys and WWE's Goldust laying a pick on me are two things I never want to experience on the basketball court.
5. Houston Astros (1970s)
Everytime I see these things, I think a children's book is going to be printed on the back of them. I feel like these were the Reading Railroad softball uni's and someone in the Astros organization grabbed them after they were in the trash.
4. Mexican Goalkeeper Jorge Campos
It was going to take a lot for a second soccer jersey to make the countdown, let alone an individual one. But Señor Campos unloaded a doozie when he walked onto the field wearing a concoction that could have only been designed by Dennis Rodman.
I don't know about a soccer jersey but this would make one hell of a laser tag outfit.
3. Chicago White Sox (1976)
Now if we made a top ten with best baseball shorts, you bet your sweet legs that these Sox would be number one with a bullet. Problem is, they were the first and only team in the last 35 years to wear shorts. Baseball pants are worn for a reason, such as sliding. Bill Veeck and the White Sox thought that was just a suggestion, however. When wearing these softball-styled shorts, the South Siders looked more like the Pink Sox than the White Sox.
2. Vancouver Canucks (1978-1984)
You remember around the holidays when your Uncle would come over the house and he would be wearing that ugly Christmas sweater that you prayed would get lost by next December? Well what if you could have that joy for 7 years? The Vancouver Canucks had an ugly sweater party every night when they trotted onto the ice in these things.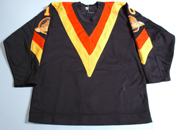 Obviously this guy was ahead of the Vancouver Canucks Wardrobe  Department
1. Pittsburgh Pirates (1970s)
These things have to be first. Not only are the jerseys the same color as the banana I had for breakfast, but the hats look like something out of the California Penal League. The 1970s are all a victim of jersey catastrophe. Let's congratulate the Pirates for looking more like the Chiquita banana lady than a Pirate.
Although we exhausted our Top 10, I'd like to give an honorable mention nod to the early 1990s Orlando Thunder day-glo neon green jerseys:
Stay classy, World Football League!