Ultimate 25-Man MLB Roster for 2016
We're just one week into the 2016 Major League Baseball season, and players like Bryce Harper and Josh Donaldson are already the front-runners for their respective league's MVP awards. But those aren't the only two MVP candidates in the league this upcoming season. Almost every team can submit at least one or two, and sometimes three, players as legit MVPs.
Since the season just started and it is far too soon to start handing out awards, let's go about this a different way. How about we build the best possible 25-man roster based on the upcoming 2016 season projections? One thing to remember is that there will be times you see someone in a position that they technically don't play everyday. Our team is built based on what a MLB manager would do if he could pick a unit from the entire pool of players so sometimes a player that is usually in LF might be in RF. Ok, enough of the chatting, it's time for some dreaming…
Batting Lineup
(PH = Pinch Hitter, DH = Designated Hitter)
The key to having a championship baseball team is not just talent, it goes far beyond talent. The 1993 San Francisco Giants, 1980 Baltimore Orioles, and 1994 Montreal Expos all had the talent but didn't even make the playoffs that year. The 1996 Atlanta Braves had Chipper Jones, Greg Maddux, Tom Glavine, Fred McGriff, and John Smoltz and even they could not win the World Series.
It takes teamwork, pitching, and more importantly, a great batting lineup. The World Series champions of the last 100 years all had one thing in common during the regular season, they had a hitting lineup that worked as one cohesive group.
We built this lineup to succeed and win 110 games and a World Series from the players in the league this season. There is plenty to love about this group but the most important thing to remember is that five of the guys hitting in this lineup were along the league leaders in OBP (On-base percentage) last season.
1. Mike Trout, CF (LAA)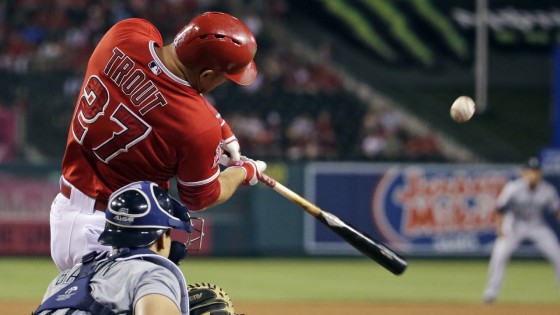 Projected Stats

Batting Average (Avg): .306
Hits (H): 160
Doubles (2B): 30
Runs (R): 100
Home Runs (HR): 32
Runs Batted In (RBI): 109
Stolen Bases (SB): 15
2. Jose Altuve, 2B (HOU)
Projected Stats

Avg: 316
H: 180
2B: 40
R: 95
HR: 13
RBIs: 67
SB: 42
3. Bryce Harper, RF (WSH)
Projected Stats

Avg: .302
H: 158
2B: 28
R: 95
HR: 43
RBIs: 98
SB: 12
4. Giancarlo Stanton, LF (MIA)
Projected Stats

Avg: .301
H: 140
2B: 29
R: 90
HR: 50
RBIs: 112
SB: 6
5. Josh Donaldson, DH (TOR)
Projected Stats

Avg: .279
H: 158
2B: 31
R: 97
HR: 30
RBIs: 94
SB: 3
6. Paul Goldschmidt, 1B (ARZ)
Projected Stats

Avg: .289
H: 152
2B: 32
R: 90
HR: 34
RBIs: 93
SB: 20
7. Carlos Correa, SS (HOU)
Projected Stats

Avg: .301
H: 167
2B: 36
R: 87
HR: 30
RBIs: 92
SB: 25
8. Buster Posey, C (SF)
Projected Stats

Avg: .310
H: 160
2B: 27
R: 67
HR: 22
RBIs: 80
SB: 3
9. Manny Machado, 3B (BAL)
Projected Stats

Avg: .283
H: 167
2B: 30
R: 90
HR: 25
RBIs: 88
SB: 18
Bench
The bench is also important as it gives you options in situational hitting, fielding, and even added speed on the base paths.
Dee Gordon is becoming one of the best lead-off hitters in baseball and he is the first man off the bench for two reasons. He can hit, one of the best hitters in baseball, but he is also a speed demon, he had 58 stolen bases in 2015. Andrew McCutchen and Nolan Arenado give you powerful pinch hitters and alternate series starters while Yadier Molina can work as Buster Posey's relief catcher.
PH1: Dee Gordon, 2B (MIA)
Projected Stats

Avg: .280
H: 165
2B: 25
R: 79
HR: 5
RBIs: 45
SB: 50
PH2: Andrew McCutchen, CF (PIT)
Projected Stats

Avg: .292
H: 156
2B: 35
R: 89
HR: 26
RBIs: 89
SB: 10
PH3: Yadier Molina, C (STL)
Projected Stats

Avg: .284
H: 115
2B: 20
R: 47
HR: 11
RBIs: 46
SB: 2
PH4: Nolan Arenado, 3B (COL)
Projected Stats

Avg: .304
H: 179
2B: 40
R: 86
HR: 35
RBIs: 105
SB: 3
Starting Rotation
(SP = Starting Pitcher)
The starting rotation is just as important, if not more, as your hitting lineup. No team in baseball history has won a Championship, at any level, without having at least one ace, a couple of pretty good starters, a solid setup man, and a closer. You have to have these things or the games where your offense struggles will end up losses, every single time.
The five guys we chose were picked because of one reason, consistency. All five of them have been consistently great the last few seasons so you know what to expect each and every game.
SP1: Clayton Kershaw, LHP (LAD)
Projected Stats

Wins (W): 18
Losses (L): 6
Innings Pitched (IP): 215.0
Earned Run Average (ERA): 2.10
Strikeouts (K): 265
Walks (BB): 46
SP2: Max Scherzer, RHP (WSH)
Projected Stats

W: 15
L: 7
IP: 211.0
ERA: 2.68
K: 255
BB: 43
SP3: Jake Arrieta, RHP (CHC)
Projected Stats

W: 15
L: 8
IP: 209.0
ERA: 2.99
K: 211
BB: 54
SP4: Madison Bumgarner, LHP (SF)
Projected Stats

W: 14
L: 9
IP: 209.0
ERA: 2.64
K: 214
BB: 51
SP5: David Price, LHP (BOS)
Projected Stats

W: 16
L: 8
IP: 214.0
ERA: 2.90
K: 221
BB: 41
Bullpen
(SU = Setup Reliever, CL = Closer)
Finally, the most overlooked part of a MLB roster is the bullpen.
We keep emphasizing how important it is to have a solid batting lineup and starting rotation but what we really wanted to say is that without a bullpen that can be relied on, you can't win more than 70 games. That is a fact.
The strength of every team falls behind their bullpen. These are the men you call on when things are getting tough and the game is on the line. You need to be able to depend on them to get you out of a bad situation. The bullpen is also needed to chew up innings and give your starter's arms a little rest.
RP: Kevin Siegrist, LHP (STL)
Projected Stats

W: 4
L: 2
IP: 63.0
ERA: 3.02
SV: 4
K: 70
BB: 22
RP: Tony Watson, LHP (PIT)
Projected Stats

W: 3
L: 3
IP: 65.0
ERA: 3.10
SV: 3
K: 60
BB: 19
RP: Darren O'Day, RHP (BAL)
Projected Stats

W: 5
L: 1
IP: 60.0
ERA: 2.80
SV: 12
K: 69
BB: 16
RP: Kenley Jansen, RHP (LAD)
Projected Stats

W: 5
L: 1
IP: 65.0
ERA: 2.50
SV: 39
K: 83
BB: 15
RP: Ken Giles, RHP (HOU)
Projected Stats

W: 3
L: 3
IP: 64.0
ERA: 3.05
SV: 25
K: 70
BB: 24
SU: Dellin Betances, RHP (NYY)
Projected Stats

W: 4
L: 3
IP: 67.0
ERA: 2.67
SV: 5
K: 96
BB: 23
CL: Craig Kimbrel, RHP (BOS)
Projected Stats

W: 6
L: 2
IP: 68.0
ERA: 2.35
SV: 40
K: 88
BB: 23