The Ultimate Super Bowl Rankings
The Carolina Panthers will face off against the Denver Broncos on February 7th in Super Bowl 50. Both teams represent the top seed in each conference becoming the 3rd consecutive season in which the AFC and NFC's top ranked teams made it to the big game.
As of now, the Panthers are favored by 6 points and that can be attributed to one man, Cam Newton. He is quickly being recognized as one of the NFL's best playmakers. Although he is not loved by many players and fans outside of Carolina, Cam Newton continues to excel on the ground and in the air.
On the other end of the field stands Peyton Manning in what could be the final game of his illustrious NFL career. Super Bowl 50 is the fourth time he has reached the big game going 1-2 in his previous appearances. He now has an attempt at redeeming himself following a terrible showing two years ago against the Seahawks in Super Bowl XLVII.
In honor of 50th Super Bowl, we have decided to rank the previous 49 Super Bowl games from worse to best. There have been some classics over the years, but there have also been plenty of stinkers…
49. XXIV – 49ers 55, Broncos 10
When: January 28th, 1990
Where: New Orleans, LA
Why: Super Bowl XXIV belongs on the bottom of the list for one reason, domination. The 49ers destroyed the Broncos from start to finish. It was one of the worse performances of all-time by a team that is supposed to be the best of the AFC.
48. XLVIII – Seahawks 43, Broncos 8
When: February 2nd, 2014
Where: East Rutherford, NJ
Why: After a Peyton Manning safety on the very first play of the game, the Seahawks owned this game. There was never any question about the outcome in this one making it less exciting than the last one.
47. XXVII – Cowboys 52, Bills 17
When: January 31st, 1993
Where: Pasadena, CA
Why: If the Buffalo Bills were to be given a nickname, it should be unlucky. They are the only team to make four straight Super Bowls and lose them all too. XXVII was not that great simply because it was the Bills worse showing ever.
46. XVIII – Raiders 38, Redskins 9
When: January 22nd, 1984
Where: Tampa, FL
Why: When the Los Angeles Raiders dismantled the Washington Redskins in Super Bowl XVIII, it was so bad it earned the nickname of "Black Sunday". Unless you are a Raider fan, there was never much to enjoy about this game and most people only remember it because of the Apple Macintosh commercial.
45. XXXVII – Buccaneers 48, Raiders 21
When: January 26th, 2003
Where: San Diego, CA
Why: Al Davis might be a legendary owner but he was still one of the craziest. Instead of paying Jon Gruden what he was worth after the 2001 season, he ended up trading the rights to him to Tampa Bay for draft picks. Jon then led the Bucs to the Super Bowl where he would face his old team. Everyone expected this one because Jon help build the team he was facing and he knew just about everything there is to know about their weaknesses.
44. XLI – Colts 29, Bears 17
When: February 4th, 2007
Where: Miami Gardens, FL
Why: Rex Grossman was the starting QB for the Chicago Bears in Super Bowl XLI and if not for Devin Hester, the Bears would not have even made the playoffs. Let's make this easier, if your best player is a kick returner, you aren't going to win the Super Bowl.
43. XL – Steelers 21, Seahawks 10
When: February 5th, 2006
Where: Detroit, MI
Why: The biggest storyline from Super Bowl XL was that the referee's were so bad it became tarnished as a controversial game due to poor officiating. The game was not even as close as it looks from the box score as Pittsburgh's defense held Seattle in check.
42. XI – Raiders 32, Vikings 14
When: January 9th, 1977
Where: Pasadena, CA
Why: John Madden did one thing right when he was the head coach of the Oakland Raiders, he got them to play dirty. He helped coach the NFL's true "Bad Boys" to a one-loss season and topped it off with a very easy Super Bowl win. The game was never in doubt, ever.
41. XXIX – 49ers 49, Chargers 26
When: January 29th, 1995
Where: Miami Gardens, FL
Why: A lot of pundits consider this to be the worst Super Bow ever and it was very close. It earned a higher ranking from us because the San Diego Chargers were huge underdogs and the outcome was no shocker to anyone so out of respect for the 1994 Chargers team, whom got a nice beat down during this game, we won't pile on top of it by ranking them as the worst Super Bowl ever.
40. XXXIII – Broncos 34, Falcons 19
When: January 31st, 1999
Where: Miami Gardens, FL
Why: The Dirty Bird was invented for one reason, to remind everyone that the only people that love the Atlanta Falcons were the fans in the Georgia Dome. There was no one hoping for an Atlanta victory over the Broncos that year.
39. IV – Chiefs 23, Vikings 7
When: January 11th, 1970
Where: New Orleans, LA
Why: The wet conditions in New Orleans helped the Kansas City Chiefs overcome the odds and upset the heavily favorite Minnesota Vikings. It wasn't pretty but it ended up being a big day for Len Dawson as he brought home his one and only Super Bowl MVP award that year too.
38. XXXV – Ravens 34, Giants 7
When: January 28th, 2001
Where: Tampa, FL
Why: Coming into Super Bowl XXXV, the Baltimore Ravens were best known for their amazing defense and nothing else. In fact, the Ravens began the season 5-4 before winning 11 straight games including the Super Bowl all because their defense was nearly untouchable.
37. VIII – Dolphins 24, Vikings 7
When: January 13th, 1974
Where: Houston, TX
Why: Prior to 1974, the only person on the offensive side of the ball to win the Super Bowl MVP were quarterbacks. But after a dominating performance where he rushed for 145 yards and two scores, Larry Csonka was named Super Bowl VIII MVP and opening up the road for many more to follow.
36. XII – Cowboys 27, Broncos 10
When: January 15th, 1978
Where: New Orleans, LA
Why: The Denver Broncos infamous Orange Crush defense had to start somewhere, right? It was the 1977 season where Tom Jackson, Randy Gradishar, Lyle Alzado, Billy Thompson, and Louis Wright came together to become one of the best defenses of all-time. Too bad they had to face off against the Doomsday Defense from Dallas, another unbelievable defense.
35. XXVI – Redskins 37, Bills 24
When: January 26th, 1992
Where: Minneapolis, MN
Why: After Scott Norwood missed the game-winning Super Bowl field goal the previous Super Bowl, fans of the Buffalo Bills were feeling that a redemption was near. But it only took one half of football for the World to realize, the Bills weren't going to be celebrating this year. Maybe next time…
34. XV – Raiders 27, Eagles 10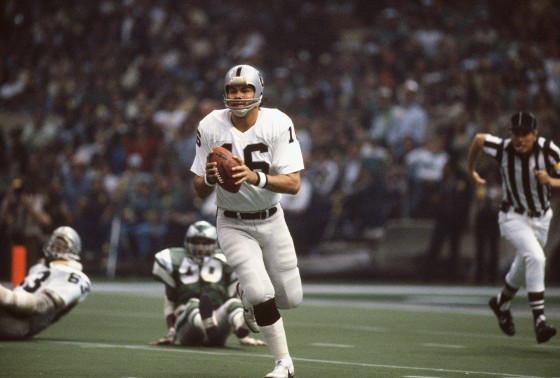 When: January 25th, 1981
Where: New Orleans, LA
Why: Jim Plunkett never gave up on his NFL career. Just when the entire World was giving up on him, he fought back and earned his chance at winning a Super Bowl ring. At age 33, he made his first of two Super Bowl appearances. He then went on to help the Raiders own the Eagles in almost every facet of the game.
33. XXII – Redskins 42, Broncos 10
When: January 31st, 1988
Where: San Diego, CA
Why: The Denver Broncos stood no chance at beating the Washington Redskins in 1988. The Redskins starting QB, Doug Williams, became the first African-American player to be named the starting QB for a Super Bowl and he did not disappoint as he threw for four touchdowns in a route.
32. VI – Cowboys 24, Dolphins 3
When: January 16th, 1972
Where: New Orleans, LA
Why: Super Bowl VI marks the only time a team didn't score a touchdown. The Denver Broncos almost became the second team two years ago against the Seattle Seahawks until a late score helped keep them off that list.
31. II – Packers 33, Raiders 14
When: January 14th, 1968
Where: Miami, FL
Why: The Green Bay Packers were big favorites to win Super Bowl II over the Oakland Raiders so it came as no surprise to anyone when Bart Starr led the Pack easily over the Raiders.
30. XIX – 49ers 38, Dolphins 16
When: January 20th, 1985
Where: Stanford, CA
Why: Super Bowl XIX was the only time Dan Marino and Joe Montana faced off against one another in a Super Bowl. It was supposed to be a matchup of two of the best QBs of all-time but quickly turned into a one-sided beatdown as the 49ers jumped to a 28-10 lead before the half.
29. IX – Steelers 16, Vikings 6
When: January 12th, 1975
Where: New Orleans, LA
Why: In one of the most defensive Super Bowls ever, the Pittsburgh Steelers defense shut down the Minnesota Vikings offense, which ranked 5th in the NFL in scoring and 3rd in total yards, to only 119 total offensive yards.
28. XX – Bears 46, Patriots 10
When: January 26th, 1986
Where: New Orleans, LA
Why: There was a 1% chance the New England Patriots were going to beat the Chicago Bears defense in Super Bowl XX, maybe even less than that. Richard Dent and Mike Singletary were simply amazing and the Patriots didn't even stand a chance. Oh how things have changed.
27. XXVIII – Cowboys 30, Bills 13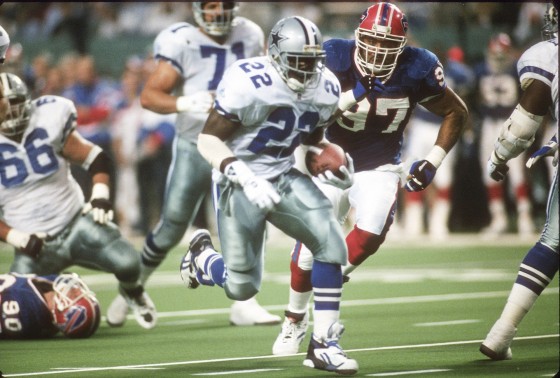 When: January 30th, 1994
Where: Atlanta, GA
Why: At this point, if you were a Buffalo Bills fan you expected to get to the Super Bowl as this marked the fourth consecutive season they made it to the big game. However, your expectations were lowered to a point that you almost expected another loss at the hands of the high-powered Dallas Cowboys offense. This was almost as sad to watch as it was to cheer for the Cowboys.
26. XXI – Giants 39, Broncos 20
When: January 25th, 1987
Where: Pasadena, CA
Why: After trailing 10-7, the New York Giants scored 26 unanswered points between the second and fourth quarters to give them a 33-10 lead that they would hold onto for the rest of the game.
25. XXXI – Packers 35, Patriots 21
When: January 26th, 1997
Where: New Orleans, LA
Why: Super Bowl XXXI was as close and exciting to watch as any of the others. But it was a 99-yard kickoff return for a TD by Desmond Howard that helped the Packers and Brett Favre win their 3rd Super Bowl in team history. The TD came on the ensuing kickoff following a New England score to cut the lead to six.
24. XVII – Redskins 27, Dolphins 17
When: January 30th, 1983
Where: Pasadena, CA
Why: Due to a players' strike, the 1982 season was only 9 games long. However, the playoff format was changed to accommodate the changes and the NFL hosted a 8-team playoff for each conference seeded 1-8. The best record was first, regardless of divisions. It was one of the better ideas the NFL has ever come up with and many fans wish they would go back to it. The Redskins were the best team in the NFC but the AFC's best was the Los Angeles Raiders who were upset by the sixth seeded Jets paving the road for the Miami Dolphins.
23. XXX – Cowboys 27, Steelers 17
When: January 28th, 1996
Where: Tempe, AZ
Why: The 1996 Super Bowl marked the 3rd win in four years for the Dallas Cowboys. It was the final time the NFL was able to watch the dynasty of the Dallas Cowboys as Michael Irvin, Troy Aikman, and Daryl Johnston all battled injuries and retired in the next few seasons. The win over Pittsburgh marked the first time in three chances that the Cowboys beat the Steelers in a Super Bowl.
22. VII – Dolphins 14, Redskins 7
When: January 14th, 1973
Where: Los Angeles, CA
Why: For the first time in Super Bowl history, a NFL team went undefeated throughout the entire regular season and went on to win the Super Bowl. The Patriots did the same in 2006 but fell just short of perfection when they lost the Super Bowl making the 1972 Miami Dolphins the only NFL team ever to win all their games in one season.
21. V – Colts 16, Cowboys 13
When: January 17th, 1971
Where: Miami, FL
Why: Many critics might disagree with such a high ranking for Super Bowl V but since it was such a close game that was won on a last second field goal, it deserves this high of a ranking. The game was ugly, however, as the teams combined for an NFL record 11 turnovers, seven from the Colts alone and the Cowboys recorded 10 penalties, the most ever by a Super Bowl team. It was as ugly as it was long.
20. XLV – Packers 31, Steelers 25
When: February 6th, 2011
Where: Arlington, TX
Why: The game was heading towards a fantastic finish but fell far short of it when the Pittsburgh Steelers ruined their chance at a comeback on a slew of incompletions. Aaron Rodgers went on to be named Super Bowl MVP after throwing for 304 yards and 3 touchdowns in one of his best postseason performances of his career.
19. XXXIX – Patriots 24, Eagles 21
When: February 6th, 2005
Where: Jacksonville, FL
Why: The Patriots won Super Bowls XXXVI and XXXVIII and were looking for a 3rd victory in only four seasons. At this point, the term dynasty started to come out of everyone's mouths and before long, Tom Brady was being considered one of the best QBs ever. It was this win that secured the Patriots as a dynasty in the NFL for years to come.
18. XIV – Steelers 31, Rams 19
When: January 20th, 1980
Where: Pasadena, CA
Why: John Stallworth and Franco Harris each scored touchdowns in the fourth quarter to turn a close game into a one-sided blowout. It was also the second consecutive season Terry Bradshaw won a Super Bowl MVP title.
17. XLVII – Ravens 34, 49ers 31
When: February 3rd, 2013
Where: New Orleans, LA
Why: Only one time has a Super Bowl been delayed due to a blackout and it was Super Bowl XLVII. The blackout caused a 34 minute delay following a Jacoby Jones 108-yard kickoff return for a touchdown causing many fans of the Ravens to speculate about a conspiracy. After the lights came back on, the 49ers scored 17 consecutive points to turn a 28-6 blowout into a tight match-up.
16. I – Packers 35, Chiefs 10
When: January 15th, 1967
Where: Los Angeles, CA
Why: After a very tight first half battle, the second half was anything but that after Willie Wood picked off a Len Dawson pass leading to an Elijah Pitts rushing score followed by another 14 unanswered points en route to a true beatdown over the Chiefs.
15. XLVI – Giants 21, Patriots 17
When: February 5th, 2012
Where: Indianapolis, IN
Why: The New York Giants went into Super Bowl XLVI with a 9-7 regular season record and not much of a chance at defeating the high-powered New England Patriots. The Patriots were looking to rebound from the 2007 upset by the Giants but they never got the chance as they scored a touchdown early in the second half and never got close to another. With a 17-9 lead, the Giants went on to score 12 unanswered to become the lowest regular season record ever to win a Super Bowl.
14. XVI – 49ers 26, Bengals 21
When: January 24th, 1982
Where: Pontiac, MI
Why: The Cincinnati Bengals must have a wall dedicated to hating the San Francisco 49ers. They have lost both of their appearances in the Super Bowl to the 49ers, both times led by Joe Montana. Super Bowl XVI should have been their chance but they once again fell just a little short of a victory.
13. X – Steelers 21, Cowboys 17
When: January 18th, 1976
Where: Miami, FL
Why: Of all the Super Bowls up to this one, the term exciting was never used. However, Super Bowl X gave fans and media something to talk about on Monday with a very exciting match-up that went back and forth until the final drive.
12. XLIV – Saints 31, Colts 17
When: February 7th, 2010
Where: Miami Gardens, FL
Why: One of the greatest coaching decisions in Super Bowl history came during the kickoff to start the second half of Super Bowl XLIV when the New Orleans Saints attempted an onside kick, shocking everyone including the Colts special teams. It led to a Saints touchdown in which they took their first lead of the game. The call, also referred to as "Ambush" caused a shift in momentum that gave the Saints their first ever Super Bowl win.
11. III – Jets 16, Colts 7
When: January 12th, 1969
Where: Miami, FL
Why: Joe Namath played in the NFL for 13 seasons but only had 4 seasons with a winning record. His numbers aren't the greatest but it was the fact that he boldly guaranteed a victory over the hard-hitting high-powered Baltimore Colts before Super Bowl III that turned him into a star.
10. XXXII – Broncos 31, Packers 24
When: January 25th, 1998
Where: San Diego, CA
Why: John Elway finally got a Super Bowl ring when his Denver Broncos defeated the Green Bay Packers in Super Bowl XXXII. It would not mark his last victory either as he went on to win Super Bowl XXXIII too.
9. XXXVIII – Patriots 32, Panthers 29
When: February 1st, 2004
Where: Houston, TX
Why: The Patriots led 21-10 just minutes into the 4th quarter before the Carolina Panthers fought their way back to a 22-21 lead. Then, after an exchanging of touchdowns between both teams, Adam Vinatieri made his second Super Bowl winning field goal in three years to secure another Patriots victory.
8. XIII – Steelers 35, Cowboys 31
When: January 21st, 1979
Where: Miami, FL
Why: Super Bowl XIII marks the only time in NFL history where both quarterbacks came into the game already having won two Super Bowls already. With the score 35-17, the Dallas Cowboys only had 7 minutes left in the game to do something and after a touchdown, onside kick recovery, and a second touchdown, things started to look different with only 22 second remaining. However, the Cowboys lost the second onside kick and the game ended.
7. XXXIV – Rams 23, Titans 16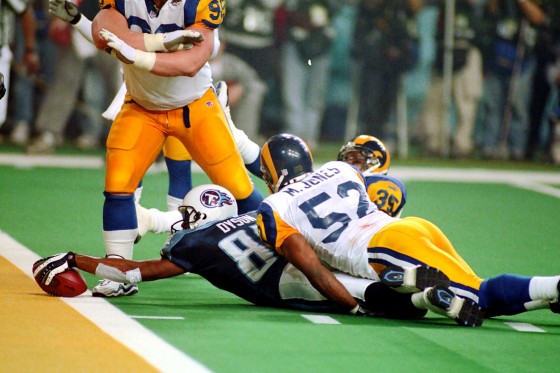 When: January 30th, 2000
Where: Atlanta, GA
Why: With six seconds remaining, the Tennessee Titans had the ball on the Rams 10-yard line and one more chance at sending this game into overtime. St.Louis Rams linebacker Mike Jones then became the World's greatest tackler when he wrapped up Kevin Dyson's legs just a yard short of the end zone. It was the only time a Super Bowl ended on a single play and Titan fans will forever remember it.
6. XLIX – Patriots 28, Seahawks 24
When: February 1st, 2015
Where: Glendale, AZ
Why: Malcolm Butler proved that anyone, anywhere, and at any time can become a hero. He was an undrafted rookie from West Alabama that signed with the Patriots in May of 2014. He earned his stripes as a Patriot slowly throughout the 2014 season and by the end of the season, he had his chance and he did not miss. He picked off a Russell Wilson pass securing the Super Bowl win for the Patriots. It is the same as winning the World Series of Poker, Malcolm Butler is a made man that will forever live in Super Bowl glory.
5. XLIII – Steelers 27, Cardinals 23
When: February 1st, 2009
Where: Tampa, FL
Why: The Larry Fitzgerald 64-yard TD catch late in the game was a great play. James Harrison's interception return for a TD just before the half was another great one. But the best play of this one came when Santonio Holmes dragged his tip-toes along the sidelines of the end zone for the game-winning score.
4. XXXVI – Patriots 20, Rams 17
When: February 3rd, 2002
Where: New Orleans, LA
Why: Kurt Warner and his "Greatest Show on Turf" Rams offense headed into Super Bowl XXXVI a heavy favorite over the young inexperienced New England Patriots. This was the moment the World realized that the Patriots were the real deal.
3. XXV – Giants 20, Bills 19
When: January 27th, 1991
Where: Tampa, FL
Why: Scott Norwood missed the game-winning Field Goal in Super Bowl XXV wide right causing the beginning of a downward spiral for the Buffalo Bills.
2. XLII – Giants 17, Patriots 14
When: February 3rd, 2008
Where: Glendale, AZ
Why: Giants wide receiver David Tyree made the greatest catch of his NFL career on a 3rd and long with less than one minute left trailing the Patriots 14-10. His amazing catch kept the drive alive and eventually led to TD winning catch that gave the Giants the biggest upset in Super Bowl history. Coming into the game, New England was a perfect 18-0 in 2007 and was also a two touchdown favorite.
1. XXIII – 49ers 20, Bengals 16
When: January 22nd, 1989
Where: Miami Gardens, FL
Why: The story about Joe Montana looking into the stands and spotting John Candy is true and has become part of his legendary NFL career. It was the icebreaker that turned a tense situation into a calm, relaxing final drive. He then led the 49ers 92 yards down the field in 11 plays for a game-winning TD.