The Twelve Most Unbreakable NFL Single Season Records
In 2014, Justin Houston finished just 1 sack short of breaking the single season record held by the current host of a morning talk show. When a professional athlete is able to break a longstanding NFL record, it is a huge deal. But when they break the record and push it to an even higher level that is nearly unreachable, that is legendary. The following players and teams belong to this elite group as they own some of the hardest to reach NFL records in history for a single season. While some of them have been set recently, they still seem ridiculously unreachable
Passer Rating: Rodgers – 122.5 (2011)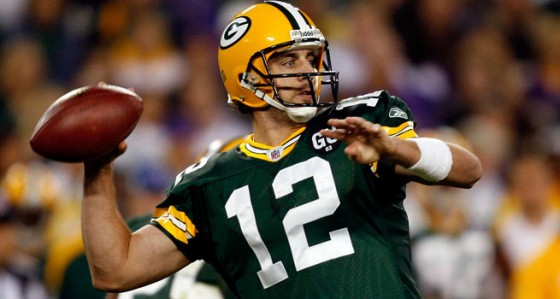 In order to maintain a passer rating above 122, a quarterback has to accomplish several difficult feats at the same time all while throwing at least 224 pass attempts. This weeds out a lot of the interim starters or players that might only get a couple starts. Aaron Rodgers played 15 games in 2011 going 14-1 while throwing for 4,643 yards with a 68.3% completion percentage, 45 touchdowns, and only 6 interceptions. Only two players in NFL history have surpassed the 120 passer rating mark. And the next guy is one of them…
Passing TDs: Manning – 55 (2013)
When Peyton Manning was sidelined in 2011 with a terrible neck injury, many fans figured he would retire. But he had more football left in him and he headed to Denver where it only took him two seasons to break a record he once held but lost to Tom Brady (50) in 2007, the single season passing TD record. Not only did he beat the record, he passed it up by a few more before finishing with an unreal 55 scores.
Interceptions Thrown: Blanda – 42 (1962)
With the impatience of NFL fans these days, there is no chance anyone remains the starting quarterback of any team if they come even close to 42 interceptions. It is a record sure to live forever. Sorry Mr. Blanda.
Rushing Yards: Dickerson – 2,105 (1984)
Only two players, Adrian Peterson and Chris Johnson, have come close to owning the NFL's single season rushing record since 2009. Even further, only six players in NFL history have surpassed 2,000 yards rushing in a single season. Of all the records in the NFL, this is the holy grail.
Rushing YPG Avg: Simpson – 143.1 (1973)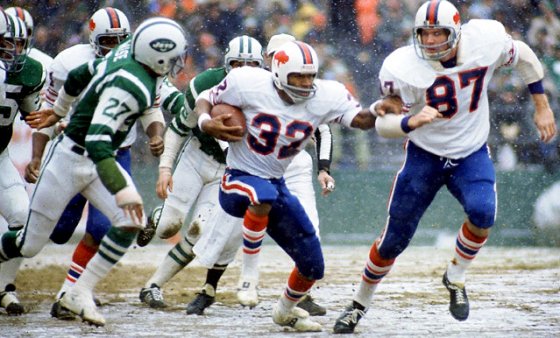 Adrian Peterson had an amazing season in 2012 when he rushed for 2,097 yards. His per game average was 131.1 and even that wasn't close to what O.J. Simpson did in 1973. The most amazing part of Simpson's season was that he only played 14 games and finished with 2,005 yards rushing. If they played another 2 games, that rushing record would have remained his.
Rushing TDs: Tomlinson – 28 (2006)
Since 2006 when it was set, this record hasn't even been threatened. The NFL has become a pass-happy league and with that comes less running scores. LaDainian Tomlinson was a touchdown machine in the early 2000s and he topped it off with 28 scores in 2006. The closest anyone has come since was in 2009 when Adrian Peterson had 18, which was still 10 less than the record.
Receiving TDs: Moss – 23 (2007)
The game has changed. The NFL will no longer be a sport dominated by one player on the field. With the help of technology and stronger coaching staffs, it has become tough for one player to excel because so many defenses have game plans to stop them. Randy Moss is one of the few elite level players that owns a record that might not be topped.
Interceptions: Lane – 14 (1952)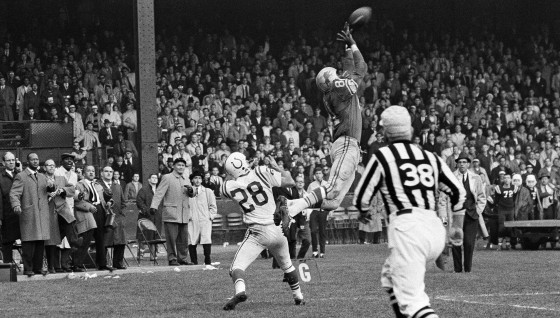 Not only have defensive schemes become much more complicated and tougher for an offensive player to single-handedly dominate, the offensive schemes have improved too. If a player like Dick "Night Train" Lane was around today, he might have 8 or 9 in one season, not 14. By the time he reached 9, no one would throw his way. The measure of success by a defensive back is no longer how many interceptions they get but how many times the opposition did not throw their way.
Rushing Yards: Patriots – 3,165 (1978)
The rushing record that the New England Patriots broke in 1978, 3,165, might be difficult to break. It wasn't easy for them to do it 30 years ago, what makes you think it will happen again?
Most Sacks Allowed: Eagles – 104 (1986)
There are too many coaching options for one team to allow 104 sacks in a season. The quarterback would not survive that many hits in today's NFL, he just would not be able to do it. Most of these records are not going to be broken because they were from a different time in the sport when a team could give up this many sacks and still keep the same head coach.
Fewest Points Allowed: Bears – 44 (1932)
Sure, it was 1932 and scoring was more scarce, but that does not change just how tough this record is to beat. If a NFL team defense were to break this record today, it would be 43 points given up over 16 games which is an average of 2.69 points a game. You can imagine there would be plenty of shutouts.
Fewest Rushing Yds Allowed: 42 Bears – 519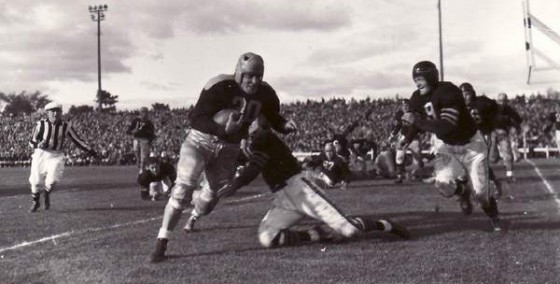 This is another very old record that has stood the test of time thanks to the Chicago Bears tough defense from the 1940s. It would be tough but of all the records on this list, this might happen due to the lack of rushing in the NFL these days.