20 Unbreakable NFL Career Records
The National Football League has been around since 1920 when it was called the American Professional Football Association. It wasn't until 1922 that the league changed the name to what we now know it by, the NFL. During the past, almost 100 years, the NFL has had plenty of records broken especially in the passing game. Now that teams have become more pass-happy, records are being tossed out the window monthly.
Drew Brees, for example, now owns six NFL passing records and he broke them all after 2011. Peyton Manning owns a ton of them too and he just keeps breaking his own records year after year. Are there any records in the NFL that are sacred and nearly impossible to surpass?
For a good long time, it was looking like the single season NFL sack record was going to be one but in 2001, Michael Strahan got credited for 0.5 sacks to move past Mark Gastineau with 22.5 in a season and become the All-Time NFL Single Season Leader. Just last season, Justin Houston finished with 22 sacks and almost dethroned the king.
We've managed to find a few records that look like they might be able to handle the pressure and stand the test of time. These records might be recent or they might be old, the one thing they share is that they just might not be broken. Despite the changing landscape in the NFL, these marks appear safe, for now.
AP MVP Awards: Peyton Manning – 5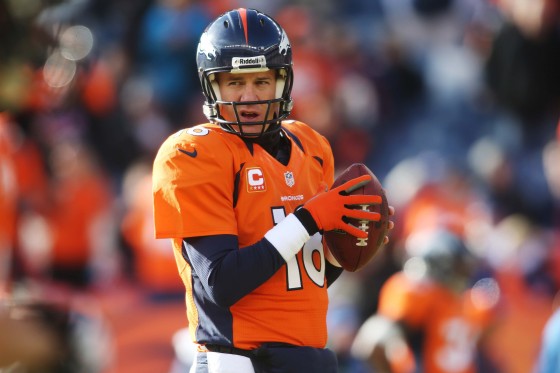 The 2009 MVP award belonged to Drew Brees yet for some reason, Peyton Manning won it becoming the first player in NFL history to win it 4 times. Then he brought another home in 2013 to end any debates we might have over just how good he still is.
Passer Rating: Aaron Rodgers – 104.1
At 31 years old, Aaron Rodgers has plenty more seasons ahead of him to change this number either up or down. Based on what we have seen since 2011, it will be hard to imagine anything going down.
Passing Touchdowns: Peyton Manning – 539
Drew Brees and Tom Brady are next in line to reach this epic milestone and even they trail by more than 100 TDs. For perspective, if Aaron Rodgers played until he was 40 and averaged 30 TDs a season, he would still not pass that mark.
Times Sacked: Brett Favre – 525
Brett Favre was the type of QB that all coaches loved and hated. He would make terrible decisions but he would back them up with great ones. His toughness is to blame for the number of sacks he endured as he was never afraid to get hit as long as he could make the play. It didn't always pan out the way he planned.
Receptions: Jerry Rice – 1,549
Consistency is key. If you want to break NFL records, you have to be around for quite some time and you have to stay consistent. When your lowest reception total for a season is 49, you must be doing something right.
Receiving Yards: Jerry Rice – 22,895
Jerry Rice spent 21 seasons in the NFL and outside of the 1997 season where he only played in 2 games, he only had one season under 800 yards receiving.
Receiving Touchdowns: Jerry Rice – 197
Most Hall of Fame receivers can talk about greatness but the one thing that none of these men did better than Jerry Rice was catch TDs. Only a few players have had seasons with at least 13 touchdown receptions, Randy Moss had six seasons while Terrell Owens seven. Well, Jerry Rice had eight.
Rushing Attempts: Emmitt Smith – 4,409
As the landscape of professional football changes, the running game does too. It might be a very long time before we see an NFL running back stay healthy long enough to reach this many carries. The closest active players are Steven Jackson, 2,743, and Frank Gore, 2,518.
Rushing Yards: Emmitt Smith – 18,355
If the NFL has become more of a pass happy league, then the career rushing yards milestone is going to stay at the Smith house.
Rushing Touchdowns: Emmitt Smith – 164
Just like the career rushing record will never be touched, chances are the touchdown record is not going to move either especially when you realize that Adrian Peterson only has 84. It might be a very long time before anyone dethrones Emmitt Smith's rushing records.
Touchdowns: Jerry Rice – 197
Jerry Rice averaged 9.38 receiving touchdowns a season over his 21 year career. He was good for nearly 10 a year and there isn't a single coach in the NFL that would not take that.
Interceptions: Paul Krause – 81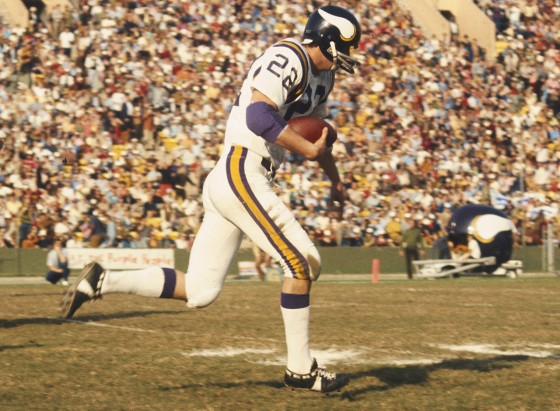 Charles Woodson has been playing a very long time and even he only has 64 career interceptions. Paul Krause was a demon that found a way to steal the football from all over the field.
Return Touchdowns: Devin Hester – 19
This one doesn't need an explanation. Devin Hester is the greatest return man in NFL history.
Consec. Games Passing TD: Drew Brees – 54
Consistency is key and with Drew Brees, it made his career and helped him lead the New Orleans Saints to their one and only Super Bowl. The record ended in 2012. He then started up again and is currently on a 42 game streak. Prior to Drew Brees, the record was 47 held by Johnny Unitas.
Consec. Seasons 1k Rushing Yds: Smith – 11
It will be tough for anyone to outdo what Emmitt Smith did in the 90's on the ground. This is yet another example of how he dominated the NFL for a long time.
1,000 Receiving Yd Seasons: Rice – 14
Much like Emmitt Smith and his rushing records, Jerry Rice and his receiving records might not ever be touched.
Consec. Losses: Buccaneers – 26 ('76-'77)
For the sake of the NFL, let's just hope this record remains unbroken.
Consec. Road Wins: 49ers – 18 ('88-'90)
It is unlikely the San Francisco 49ers are going to beat this record anytime soon. In fact, no one might reach this record. The Steelers came close in 2005 but even they were only at 11.
Consec. Games Scoring: 49ers – 420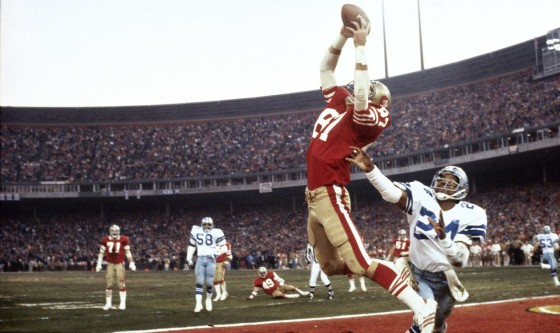 From 1977 until 2004, the San Francisco 49ers scored points in 420 consecutive games. Again, the 49ers consecutive games scoring record is one of the best in sports as it lasted 4 decades.
Consec. Games Scoring TD: Browns – 166
The Cleveland Browns owning a record for consecutive scoring is one of the most shockingly awesome things we have heard in a long time. From 1957 until 1969, they scored a Touchdown in 166 consecutive games. Mind blown.