Underrated Hot Chicks (Masters of None)

[podcast]http://www.podtrac.com/pts/redirect.mp3/traffic.libsyn.com/mastersofnone/MON_4_25.mp3[/podcast]
Masters of None – 4.25 – Underrated Hot Chicks
Download the Episode – MP3 version or enhanced M4A version
On this week's show we dig deep into our spank bank and examine some of the finer ladies out there who don't necessarily get as much press as they should. They are the celebrity equivalent to that "OK looking" girl you knew in high school that really blossomed that first semester of college, and then return home during Christmas break absolutely smoking hot… yeah… those girls. They are underdogs of hotness. Women that need to be recognized for their talents…whatever they are. Make sure you check out our show for our full lists and also the enhanced show has pictures of all of them. Here are just a few to get you in the mood. Ladies – We salute you!
Alana has made her rounds on TV shows over the years from guest spots on Two and a Half Men and JAG until she finally found long running success on Law and Order where she played the hottest Assistant District Attorney we've ever seen.
Known to the masses as Robyn from How I Met Your Mother, Cobie not only seems like  a great girl to pal around with your friends, but she'll happily go to a hockey game as she is an avid Vancouver Canucks fan.
Sabrina is the peppy, perky, do-it-yourself for under a budget queen, and host of HGTV's: Get it Sold. Sabrina and her team can do a lot to add value to any home that us regular folks would like to sell. However, the best thing she can do to raise property value is to be included with the house.
Even though Jamie has been on the soap opera All My Children for some time now (at least…uh… that's what we hear), we'll always remember and dream about her as Cindy Lubbock from the Growing Pains spin-off: Just the Ten of Us. Oh Coach Lubbock, how could your bald head and your C- wife produce  a slice of perfection such as this?… I'm sorry, where am I?
Teresa falls into the "damaged goods" department of our list. With her wild stories of her past,  genuine intellect and wicked sense of humor. With the recent birth of her first child, look for her new book to hit shelves soon titled EXPLOITING MY BABY: Because It's Exploiting Me
I can't look at Julie without thinking of this line from Happy Gilmore: ("HAPPYLOOKOUTAAHHH!!") , but Julie has come a long way since then. She now plays the character of MILF #1A (also known as Claire) on the popular ABC sitcom Modern Family.
Brooke has disappeared off our radar for quite some time now, but she'll always be the best part of that god awful movie: The Replacements. In it she played a bar owning, football loving, head cheerleader of a bunch of part time strippers. "Heaven? Yes, order for delivery please." Although minus points for making out with Keanu Reeves. However, not being able to make out with her anymore makes him sad.
You did it. By the hammer of Thor, you turned Velma from Scooby Doo into the downright sexy nerd chick we all knew she could be. Lip gloss and low cut shirts go a long way ladies. Not to mention getting rid of that bowl cut…woof. Next on Linda's resume? An upcoming movie with Val Kilmer and Christopher Walken called – Bat Shit Insane Actors The Irishman.
Oh Alison. You're everything we want in a lady. Prim and proper outer shell with curves in all the right places, and a wild, lustful and experimental nougat center. Whether she's playing little miss perfect, Annie on Community or baby crazed housewife Trudy on Mad Men…. we all know your secrets Miss Alison, and we like them. – Read more about the REAL Alison Brie in a recent article she did for Nerve.com
But that's not all. Take a listen to the show to hear all of our Underrated Hot Chicks. We each did 8 1/2 so that's like… uh… carry the one… eleventeen more hot girls to fawn over. And don't forget to check out the "ENHANCED" version for pretty pictures to go along with our ramblings.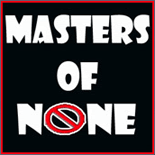 Gunaxin is proud to be partnering with Masters of None, and featuring their content here on our site. Masters of None are former radio guys Mike, Art & Jay, who debate and answer mankind's most important questions each week. Along the way you'll encounter unsustainable amounts of movie quotes, horribly tasteless jokes, TV references, offensive comments, old radio bits, biting insults, tall tales, unsportsmanlike conduct, raping and pillaging of all things pop culture. It's a comedy podcast that doesn't suck.
---