Mentor-Protégé Relationships in Film
On February 15th you can pick up Unstoppable on Blu-ray and DVD. Denzel Washington and Chris Pine star in this electrifying action-thriller. I was able to check out the film and there is a perfect combination of action and humor. The plot centers around a runaway train that contains toxic chemicals that is barreling down on Scranton, Pennsylvania. Washington and Pine team up to try and stop the train. Unstoppable was directed by Tony Scott from a story inspired by true events. It delivers excitement and suspense throughout the whole film.
While I was watching this film I thought of some of the most memorable moments in film that captured interactions between a mentor and their protégé. The teacher and student dynamic has kept Hollywood busy over the years and produced some pretty explosive flicks. Here is a brief list of some great movie teammates in film.
Newman & Cruise – The Color of Money (1986).
Fast Eddie Felson (Paul Newman) takes the young and talented Vincent (Tom Cruise) under his hustling wing. Eddie is too well-known in the seedy world of action pool and uses Vincent as his meal ticket and together the two of them win big bucks and maybe a life lesson or two. Eddie utilizes Vincent to improve his own self-esteem. Mind games and gambling ensue. Tom Cruise even did 99% of his own trick shots for the film. This pockets the 8 ball for us.
Duvall & Penn – Colors (1988).
The barrios of LA ain't no easy place. Officer Danny McGavin (Sean Penn) and Officer Bob Hodges (Robert Duvall) team up to patrol the streets of East Los Angeles and keep the gang violence under control. Danny pushes Bob's buttons with his rough and tumble attitude and the pair's father and son dynamic elevates this urban street drama to an intense and powerful movie-viewing experience.
Eastwood & Sheen – The Rookie (1990).
Nick Pulovski (Clint Eastwood) takes on a young new partner, David Ackerman (Charlie Sheen) and the two work together to take down a major car theft and chop shop ring. David, a detective, loves playing by the rules and carries loads of emotional baggage due to an incident in his youth. Nick, an explosive ex-race car driver, encourages him to break rules. Together they learn to take down criminals and the entire city of Los Angeles in the process!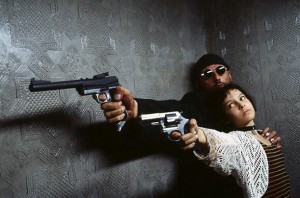 Reno & Portman –The Professional (1994)
Mathilda (Natalie Portman) is being held together by a string and attempting to cope with family problems, until she realizes her neighbor Léon (Jean Reno) is killing people as a profession. Talk about a great outlet for pre-teen rage and vengeance! Through her training process, Léon begins to feel and live for the first time since he can remember. This one rises to the top of our favorites list for too many reasons to count.
Denzel & Pine – Unstoppable (2010)
Young train conductor Will (Chris Pine) and seasoned engineer Frank (Denzel Washington) begrudgingly pair up to help save an entire Pennsylvania town from being destroyed by a runaway train. While the train is on route to rampage, Frank uses his calm sincerity to balance out Will's troubled and tortured attitude. With 100,000 lives at stake, we have our fingers crossed that this combo beats the clock before it's too late.
You can pick up Unstoppable February 15th on Blu-ray ($39.99) and DVD ($29.98) at the Fox DVD store and Amazon.com. Plus, if you follow us on Twitter you have a chance to win a DVD copy of Unstoppable. Check out the trailer below!