In Vegas with Crown Royal
This weekend we're in Las Vegas with the fabulous folks from Crown Royal. This trip is a result of our victory in the Capture the Crown event back in March. While that fun-filled weekend will be tough to match, Vegas obviously is up to the task. We're here for two events, the National Finals Rodeo, and the "Race Matt Kenseth" promotion which involves exactly what you might expect, me getting into a stock car and racing Matt Kenseth.
Tonight we'll be attending the National Finals Rodeo, which is held in Las Vegas each year. The 6 events of Rodeo are Bareback Riding, Steer Wrestling, Team Roping, Saddle Back Riding, Tie-Down Roping, and Bull Riding. The Top 15 Cowboys in each event (judged by total earnings) advance to the NFR, and it's essentially the Super Bowl of Rodeo.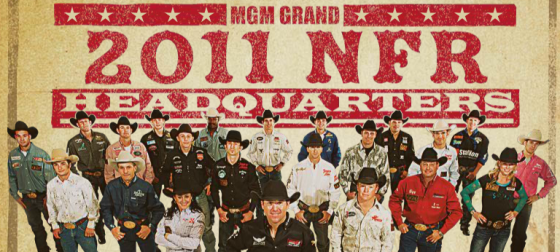 I've never been to a Rodeo before, but apparently it's the 7th largest of all major sporting events, and the Professional Rodeo Cowboy Association (PRCA) has 600+ events annually and approximately 40 million fans. Judging by how the NFR has taken over here at the MGM Grand (where we're staying), I'm going to assume that many of those fans have made their way to Vegas for this huge event.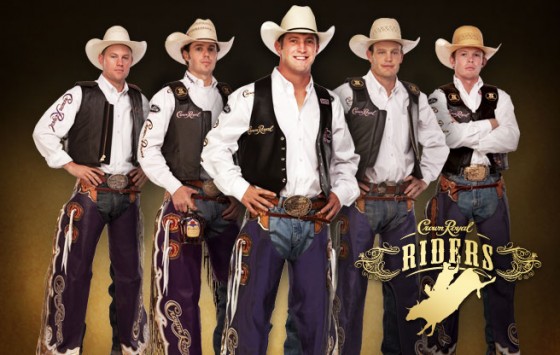 Some of the fiercest competitors at this event are the Crown Royal Riders, including Champion Bareback Rider, Tilden Hooper. We recently had the chance to ask our Gunaxin Six Questions to two other Crown Royal Riders, Cody Whitney and Clayton Williams, whose answers were remarkably similar.
The Crown Royal Riders participating in the PRCA's National Finals Rodeo at the Thomas and Mack Center in Las Vegas, December 1st through 10th will take center stage with an even greater reason for their eight-second rides to count. Each time one of the riders score 90 points or more (rodeo scoring based out of 100), Crown Royal will make a charitable donation of $2,000 to the Justin Cowboy Crisis Fund, which benefits cowboys and their families in the event of catastrophic injuries resulting from professional rodeo activities.
In conjunction with NASCAR Champion's Week (which has also taken over Vegas), we'll also be participating in a special event with the driver of the Crown Royal #17 car. On Saturday we'll head to Las Vegas Motor Speedway to Race Matt Kenseth in the Richard Petty Driving Experience. There we will be joined by the three Crown Royal "Race Matt" Sweepstakes Grand Prize Winners and fellow media members. As you can imagine, I'm feeling a combination of excitement and anxiety about this particular endeavor. We'll have the chance to take 10 laps around the track, and have our time put up against that of Matt Kenseth's.
I'll also be competing against writers from The Smoking Jacket, Complex, Midwest Sports Fans, Hot For NASCAR, The Rugged, Bleacher Report, NASCAR Race Mom, and Daddy Tips. The media member with the fastest time will be able to donate $2,500 from Crown Royal to a charity: either Operation Patriot or Honoring Heroes. All of us will be covering the entire weekend on Twitter, so follow along with the hashtag #RaceMatt. Next week I'll have a full recap of how the weekend went. Wish me luck!