Four Viral Videos That Disappointed the Most Viewers
On one hand, many people will spend weeks, months, even years to make videos for the internet in the hopes of going viral. Others will cynically act like jackasses in the hope of replicating early YouTube phenomenon Lucas Cruikshank to get big ad revenue for no effort. And still others will post stuff with no idea that it will get more views than most TV episodes, and which frankly only got those views due to a dumb misunderstanding. These are the greatest achievements of that last group, and we've even included the videos so you can be disappointed too.
4. Titannica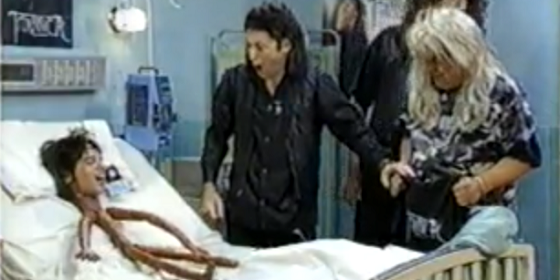 Mr. Show was one of several sketch comedy shows from the 90's which features some of the grumpiest names in comedy today, such as David Cross, Bob Odenkirk, Brian Posehn, and Sarah Silverman. Always pretty much a cult show, postings of it usually don't get much traffic on YouTube. One or two has a few hundred thousand, but most have less than ten thousand. The really standout exception is Titannica, a sketch where David Cross plays a kid who attempted suicide by jumping into a vat of acid who freaks out the band he idolizes.
This video got more than forty-three million views. Which seems great at first, until you glance over at the recommended videos and see that it's largely videos of people with physical deformities or severe injuries.
Now people can't possibly have come to this video under the impression anyone was trying to convince viewers that's David Cross's real body, cou-
Yeah, thousands of comments and traffic indicating people watched this under the impression that they would get to see someone with a real physical affliction that looked like that. Not only that, they were so dumb they felt that it was on them to explain to other victims of this horrible deception that his obvious puppet body was not real. Does this obsession with physical deformities also explain the popularity of anime?
3. Inner Thigh Massage
This video is great for demonstrating that the technique to give a proper massage to the inner thigh is by grasping it gently and turning your hands in opposite directions, like you're very gently opening a pickle jar for the first time. Apparently there were hundreds of millions of people that needed to see that, because no one watches this video a second time.
Of course it's also possible that this video benefited from the language barrier in nations where pornography is heavily regulated in a way the makers never thought possible. Given that the organization calls themselves "The Wings of Hope," probably the thought of all those disappointed perverts watching their videos would make them appalled.
2. Midnight Meat Train!! uncensored w/ Carrie Keagan!

For those who don't know, Carrie Keegan is a host of puff piece entertainment show that shows clips of actors saying how great their movies are. Midnight Meat Train is a semi-obscure gore movie based on a story by Clive Barker (the guys who wrote and directed Hellraiser and Candyman.) By combining the two and banking heavily on the double entendre nature of the movie's title, No Good TV fooled hundreds of millions of people into thinking they had a hope of seeing a woman on TV doing something sexual while not providing anything that gets any hotter than the above still.
1. Best Sex Ever!
Kicese is a vlogger who educates people about sex the same way a chihuahua would "educate" you that it wants to be let outside. With a slightly provocative pose and two of the world's ugliest socks, she netted over 153,000,000 views and Rebecca Black-level over 220,000 dislikes. What she didn't bother with was actually making a point. The video is her talking about a Facebook post, asking other people to talk about the best sex they ever had (which is like going to a plumbing class and the teacher asking "now, how do YOU solve your plumbing problems" and then bragging about how she had three thousand subscribers. She barely moves through out it. She probably couldn't have made a more disappointing video if she'd tried.