The Walking Dead's Best Moments : Season 5
AMC's The Walking Dead has just begun it's Sixth Season in thrilling fashion. The incredibly successful hit cable TV show was adapted from a comic book series with the same title. The comic books were created by Robert Kirkman, Charlie Adlard, and Tony Moore back in 2003 and was already winning awards and fans before the series was created by AMC in 2010. The show is not strictly based off of the comic books but it does take the characters and ideas into the creation of the TV show. So any comic book reader out there will quickly tell you that the book is better and it might be true only because it is a different telling of the same story with the same characters. It's like watching another Walking Dead series.
To become a truly successful cable TV franchise, it needs more than just millions of fans and a comic book series, it needs a spin-off show. In August of this year, AMC debuted Fear the Walking Dead, a prequel and companion series to The Walking Dead. The fans were excited and ready for more and they were not disappointed. The show shattered a cable TV record for most viewers for a series premier with 13.3 million viewers. It was nearly 200% more than second place. It wasn't even close. The show continued to rock all season long and averaged 8 million viewers each week.
Let's now go back to last season and look at some of the best moments of Season 5 of The Walking Dead.
** SPOILER ALERT! ** If you have not watched the most recent season of the Walking Dead, you might not want to go any further as you are about to run into Spoilers galore!
Season 5
Ep. 1 "No Sanctuary" (17.29 MM)
Terminus, much like the other sanctuaries that group has encountered, is nothing as they imagined. After being trapped in a train car, the group is left to die, one by one, and be eaten by this town.
The scene in the execution chamber is one of the most brutal of the entire series.
Ep. 3 "Four Walls And A Roof" – Cannibals Among Us (13.8 MM)
When the remaining members of Terminus escape, they kidnap Bob and hold him hostage. While doing so, they cut off his leg and eat it as if it were chicken from Popeye's.
As Bob is tied up writhing in pain and watching the group eat his leg, he mentions that he was bitten and that they are all going to die now. He laughs uncontrollably until Gareth knocks him out.
Ep. 5 "Self-Help" – Eugene (13.53 MM)
Eugene isn't a fighter, he is terrified about dying, and he just wants to be safe and far away from the walkers. He finds Abraham long before we meet either of them in the show and tells him about a cure. But he needs to get to Washington DC to get to it. If Abraham can protect him and keep him alive, then they have a better chance at surviving.
This scene is one is not as good as the fact that this changes everything. People have died trying to protect him but it was all a lie. The hope they all cling to is gone and they come slamming back to the reality that they are living in a World of death with no hope.
Ep. 8 "Coda" – R.I.P. Beth (14.81 MM)
The ending of this episode left all fans of The Walking Dead in shock when one of the shows most beloved characters, Beth, is shot during a prisoner exchange between the group and the hospital that was holding her hostage.
Ep. 9 "What's Happened And What's Going On" – Tyrese is Bitten, Twice (15.64 MM)
Tyrese's death continues the shows run of killing off just about anyone at any time. In this season alone, we have had to deal with several deaths including Beth, Bob, and now…
Ep. 13 "Forget" – Carol's Cookies (14.53 MM)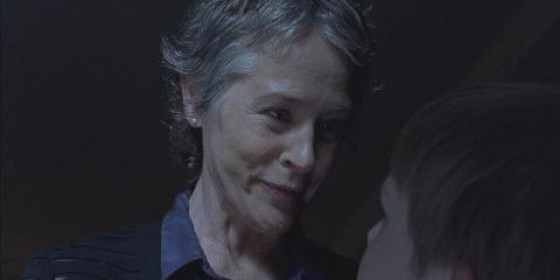 As Carol sneaks away from the housewarming party to retrieve weapons from the town's storage, Jessie's son Sam catches her and threatens to tell his mother what he is seeing.
Carol delivers this epic threat in return to Sam, "You'll be outside the walls far, far away tied to a tree. And you'll scream and scream because you'll be so afraid. No one will come to help because no one will hear you. Well, something will hear you. The monsters will come. The ones out there. And you won't be able to run away when they come for you. And they will tear you apart and eat you up all while you're still alive. All while you can still feel it. And then afterwards, no one will ever know what happened to you. Or you can promise not to tell anyone what you saw here and then nothing will happen. And you'll get cookies. Lots of cookies."
Ep. 15 "Try" Rick fights Pete (13.76 MM)
Rick is already lost, but he is still the group's patriarch and will do anything to protect them even if that includes protecting strangers. This scene has been building up since the first time Rick found out about Pete beating up his wife and it ends with the two men fighting in the street. As the people of the town gather around, Rick pulls out a gun that Carol had stolen for him.
Ep. 16 "Conquer" – Who are these "W" people? (15.78 MM)
Morgan returns to the show in amazing fashion when he is attacked by members of the Wolves gang. It not only shows us that Morgan is still alive but also it gives viewers great insight into the Wolves. Armed only with a stick, Morgan easily eliminates that threat.
Ep. 16 "Conquer" – Morgan is Back (15.78 MM)
As Rick is executing Pete with his gun, Morgan is brought to the group in time to witness this gruesome murder. The meeting we have wanted since Season 3 finally happened but this man Morgan knew is not the same person he remembers.