Wanna meet Tom Brady?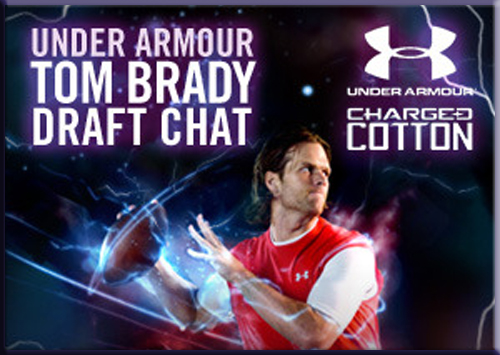 Tom Brady will be in NYC during the draft and you might have a chance to meet him, thanks to Under Armour.  They are calling it the Draft Chat and its designed to be an intimate and revealing dissection of life in the NFL with Brady discussing his rise from Draft obscurity to world champion and MVP. Hopefully he'll be sharing dance tips as well.
To gain admission to the Under Armour Tom Brady Draft Chat, just visit Under Armour's Facebook page and submit photos of yourself "Getting Charged Up." between now and April 24th. Once all photo entries are received, Under Armour Founder and CEO Kevin Plank will select 12 winners, each of whom will be allowed to invite a guest to join him at the Draft Chat.
"This event offers fans the special opportunity to learn first-hand how Tom Brady transformed himself from the 199th player picked in the 2000 NFL Draft to one of the most prolific quarterbacks of all time," said Matt Mirchin, Senior Vice President of Sports Marketing, Under Armour. "Tom's commitment to year-round training and hard work make him the perfect fit for our new line of Charged Cotton apparel, which is constructed to perform better than regular cotton."
Brady will have Boomer Esiason there to moderate the Draft Chat, which will be broadcast LIVE on Under Armour's Facebook page and on Ustream.tv.