Wayne Knight Still Alive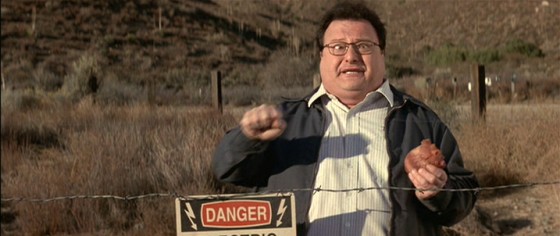 On March 16, 2014, Wayne Knight, best known to audiences for his performance as Stan Podolak in Space Jam was not killed in a tractor-trailer accident despite reports by various crappy new outlets. The artist survived his daylong battle with another of those celebrity death hoaxes and is in stable condition. Relatively speaking, anyway.
Wayne Knight is also known for his advocacy of postal worker rights, which is only natural considering his fan-beloved turn as John Correli in Basic Instinct. He is not known for his daring near and around tractor-trailers. Perhaps this death hoax would have been less embarrassing if he had been claimed he died in an acting accident. He was, after all, notorious for doing all his own stunts for his part as Al in Toy Story 2.
Director Steven Spielberg when reached for comment said "Hooray, now he'll continue pestering me to put him in Jurassic Park 4."
Fans can catch him in TV Land's The Exes, but personally we recommend checking out his stellar work in the 1984 film The Burning Bed as Juror #4.