Whatever Happened To Porn Like Grandma Used To Make?
Porn is great. It teaches, it reassures, it cares for you. A good porno can make you feel good about life again. Your girlfriend leaves you, you burn the roast, your local sports team loses the big game- put on your favorite porno and all that disappears in a sweaty, sticky haze of guys and girls doing it for real.
But of all life's many pleasures, few are better enjoyed in solitary than pornography. Like a special ritual you do before a big job interview, or the strange daydreams you have on a lazy Sunday afternoon, porn is something best kept to oneself. But sometimes that which is best not discussed needs to come out into the open, like when you finally get up the nerve to show your doctor that weird growth on you ass. In the world of hardcore pornography, now is one of those times. For porno has lost its way. What was once a magical world that ushered young men and women into the adult world of guilt and shame and comforted them when they got there has somehow become sullied.
There's something warm and inviting about the old pornos that today's wank vids just don't have. Maybe it was the fuzzy film stock, the fat, open bass lines, or the wild, untrimmed hedges. Whatever it was, Seventies porn just made you feel good. Today's porn is all about getting in and out, but not in a good way. All across this great nation, people are reaching for the tissue box with a sense that something has gone wrong. Their cheeks may still be flushed and their wrists may still be sore, but now their brows are furrowed, too. Furrowed with a troubling question: Whatever happened to porn like Grandma used to make? In a spirit of mastubatory solidarity, we present a few of the ways that old porn is better than new porn.
Atmosphere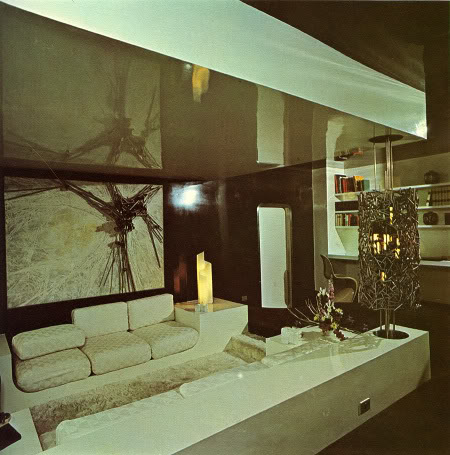 The Great Chefs all know that presentation matters. As the old saying goes, " the first bite is with the eye." It doesn't matter if you're serving up the most delicious food in the world; if it looks like crap, people aren't going to enjoy it. There's a reason we wrap Christmas presents. Good things are better when they come in nice packages. Porn is no different.
In the good, old-timey porno, when the camera opened on a seedy, wood-paneled bedroom in some San Fernando Valley basement, you instantly knew where you were. Old-fashioned pornos grounded you in a cozy world of shag carpets and brown furniture. From the cheesy home bars to the undulating water beds, the porno makers of the past knew how to create an environment conducive to getting it on. They understood that atmosphere mattered just as much as lube and lipstick. Old pornos understood the dance. Like the best gentlemen, Old porn took the time to romance its intended. Any joker can grab a girl and pull her back to his cave by her hair, but it takes a special kind of seducer to get her to go willingly.
In today's porno, you're lucky if the A.D. thought enough to throw an old blanket on the studio floor. In the hustle and bustle of the modern skinflick, nobody cares about the little things. As long as there's two or more people inserting two or more of their body parts into each other in front of a camera, that's enough. These days it doesn't matter if they're in the back of a minivan, a stairwell, or a empty white room. All that matters is that copulation is being recorded by a camera. Watching a porno these days is like eating a plain boiled potato. Sure, it's good for you and it will fill you up, but what about flavor? Call us old-fashioned, but we like a little mustard on our hot dogs. Porn today is cold and sterile (oh, that such a word might refer to porno!); There's no attention to detail. It's all wam, bam, not even a thank you ma'am! New porno may know how to f**k, but old porno knew how to make love.
The Crews
Where did this commitment to quality hardcore films come from? The people. From the mightiest director to the lowliest fluffer, The people who made the porn of old were craftsmen; craftsmen with years of experience setting up lights, blocking shots, and hosing out hot tubs. The old pros knew when to lock the camera down and shoot wide for an all out gang-bang and when to go hand-held and close-up for an intimate poolside blowjob. These were people who lived and breathed hot girl-on-girl action, Men and women who poured their hearts, souls, and bodily fluids into getting the perfect money shot. These were artists.
But no more. With these new clowns you're lucky if they can get both boobs in the shot. The bunglers today think that as long as you know where the 'on' button is on a $2500 digital camera, you're good to go. The technique and heart are gone. Porno movies today are all about quantity, not quality. The craftsmen have been replaced by a skeleton crews of a couple or even just one cranking out scene after scene of boring banging. Pornography is no longer a collective enterprise of willing professionals. No where is that fact more tragically on display than in the dead eyes of today's porno "stars."
The Stars
In porn, the only thing more important then the people behind the scenes working the cameras are the ones in front working the schlongs. Yes, we're talking about Porn Stars. But what does that phrase even mean anymore? In the porno of yesteryear, care was taken only to use the best ex-strippers and failed models. Porn films often used the same small group of professionals who all knew each other and worked together on film after film. The result was organic performances from people who knew and trusted each other to hump their brains out with style and class.
Yes, this really is Ron Jeremy.
Old porn stars were like a theater collective. A group of artists dedicated to the work and craft of boner films. A group of young performers coming together to make the dirty movies of their dreams. Out of these small troupes, stars emerged as bright as any old Hollywood ever produced. Marilyn Chambers, Seka, John Holmes, Ron Jeremy; larger than life figures who made putting on a filthy raincoat and going to a dingy theater feel like a real night out. Who couldn't help but be swept up in the glamor and glitz behind the red door?
But alas, modern porn makers don't seem to care much for glamor. Where once we had magnificent porn stars grinding like angels, today's porn seems satisfied to recruit whoever looks like they have the lowest self-esteem at the Encino bus terminal on a given Saturday night. Besides their tattoos and geometrical pubic hair, there's nothing special about the talent anymore. Porn stars today turn over faster than the staff at your local Taco Bell. Sure, there are still a few stars around, but they're anachronisms, left-overs from a simpler, purer era of smut, yet missing that something special that made us fall in love with the stars of old. Nowadays, it's all about amateurs and "real" girls. There's no place anymore for glamor. The only thing larger than life in today's porn is the cocks.
The Sex
But what of the warm, sticky center of porn? The action? The "that goes in there"? Once again, Porno just ain't what it used to be. The sex in old skin flicks was hot, but pure. A little dirty? Sure. Promiscuous? Oh yeah. But old porn was about good, old-fashioned sex. The kind of balling that meant something more than just who could shoot the farthest. Old porn was a political statement; an expression of new-found sexual freedom. The freedom to love, be free, and put your cock wherever it was invited. Old porno reflected the growing feeling in America that sex wasn't something to hide behind Mom and Dad's door. No, it belonged out in the open in the suburban dens, apartments, and truck stop toilets of the nation. Porn sex used to mean something. It was swinging as a statement of principals. A declaration of dick. Old porno didn't just get you off, it pointed the way to a better, sexier future.
But all that thick, creamy idealism dried up and flaked away as video allowed the mercenary and cynical into porno. In short order, sex movies became just about the sex. Instead of the lovingly prepared, three course stroke flicks of the past, we got a Big Macification of porn. Utilitarian boning. 1984 with tits and ass. Doublethink to go along with the double penetration. Porno today reduces sex to its basest, filthiest elements. But in a bad way. Sure, there may be more positions, bigger boobs, and an endless number of sub-genres to cater to every conceivable desire, but where's the hope? Like the ex-hippy who gives up his job as a juggler at a Renaissance fair to go work on Wall Street, porn gave up the dream of a hornier tomorrow for cold, cold cash. You thought we were going to say 'hard' right?
Somewhere an overweight guy is pulling down his sweatpants, pressing play, and crying. For he knows that more than his self-respect and 10cc's of his bodily fluid have been spilled on the rec room floor. The skill, idealism, and yes, the nobility is gone from porn. It may be too late for the porn of today, but let's take a lesson from the porn of yesterday to improve the porn of tomorrow. We owe it to the masturbators of the future.