Why We Love Boba Fett
Star Wars has its fair share of secondary characters that have developed a cult following – even the bad guys (including that loser Greedo) – and bounty hunter Boba Fett gets much love from fans. This is despite the fact that he dies crying like a sissy as he falls into the giant sphincter on Tatooine, and he's an annoying kid in the prequels. George Lucas said that, had he known Boba Fett would be so popular, he would have made the character's death "more exciting." But Lucas is giving us more – it was recently announced that Fett will be appearing soon in The Clone Wars.
So what do we like about him?
His mask and outfit. He's got cool gadgets, and a jet pack. He successfully claims Jabba the Hutt's bounty on Han Solo by negotiating with Darth Vader, which isn't easy to do. And he's got a cool spaceship.
If you want to know more about Boba Fett's story, check out Wookieepedia.
Several people on YouTube have made tributes to him. Sadly, this is the best I could find:
Boba Fett's Slave I
We loved this Kenner toy, didn't we?
Dress Up Like Boba
Boba Fett Supreme Adult Costume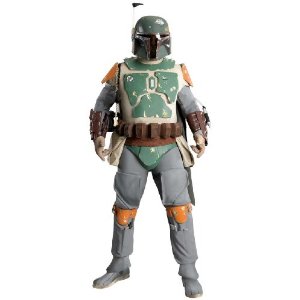 There are thousands of results when you search for Boba Fett merchandise on Amazon, but there is one item in particular that you must have:
Boba Fett Tattoos
Boba Fett Links on the Web
Fett's IMDB Profile
Fett Hoodie
Really Expensive Boba Fett Stuff
Because we love Boba Fett so much, Sideshow Collectibles made some really expensive stuff for us to buy.
Boba Fett Premium Format Figure
This guy stands 19 inches high and weighs nine pounds, bigger than most of the other premium format figures, which typically are about a foot high. The starting price for this is $325 but it will be hard to come by, even with 2000 being made.
'Hunter Prevails' Fine Art Print
Here's a beauty for the wall. Nothing like flying off into the solar sunset. There are only 95 at $450 each.
'Boba' Fine Art Print
The reflection of Han in carbonite in his shield is totally wicked. There are only 25 at $1350 each.
Boba Fett Life-Size Bust
I'm not much into busts, but if you're going to get one, you might as well get the life-sized one. It measures 30 inches high and weighs 35 pounds. That's how much the Stanley Cup weighs. Well worth the $800.
Boba Fett Bronze Statue
I'm just gonna go ahead and call you cheap if you don't buy this 21-inch high, 60 pound bronze statue on a marble base. This thing will be around for thousands of years (I've been watching too much Life After People on the History Channel.) The price: at least $5000 (the later editions cost more), but only 75 are being made.