Wild Target on DVD and Blu-ray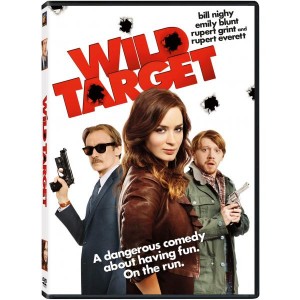 On February 8th you can own Wild Target on Blu-ray or DVD courtesy of  Twentieth Century Fox Home Entertainment. I was able to check out the film and I enjoyed the chemistry of the cast and the overall humor in this British comedy. The film stars Bill Nighy, Emily Blunt, Rupert Grint (whom you know from the Harry Potter Series in the role of Ron Weasley) and Rupert Everett.
The story sets up with Victor Maynard (Nighy) as a middle-aged, solitary assassin whose professional routine is interrupted when he starts to have feelings for his new target, Rose, played by Blunt.  When he spares Rose's life, Victor inadvertently acquires a young apprentice, Tony (Grint). Both Rose and Tony think that Victor is a private detective, and all the while he attempts to stop the murderous intentions of his unhappy client.
I love the interaction between Nighy's character and his mother played by Eileen Atkins. The comedy between the two is hilarious. Plus, if you like to laugh at other people in awkward moments, then you will enjoy this film. Another great feature of the film is that has Emily Blunt, who is very nice to look at.
Wild Target will be available on Blu-ray ($29.99) and DVD ($22.98) on February 8th and can be picked up at the Fox DVD Store and at Amazon.com. If you follow us on Twitter you can win a DVD copy of Wild Target. Check out the trailer below.