Win Stuff with "The Beast"
The Beast is a new A&E show which features Patrick Swayze as an FBI Agent. The review over at Slant says that The Beast is "Doing what Pulp Fiction did for John Travolta, the series has breathed new life into the actor's stalled career." A comparison to Travolta's portrayal of Vincent Vega is a pretty compelling reason to check this show out. This week will be the third episode, but they have the Premiere Episode on their website, so you can get yourself oriented. The show airs on Thursdays at 10 ET.
Here is the official description:
In "The Beast," an unorthodox but effective FBI veteran (Patrick Swayze) trains a new partner (Travis Fimmel) in his hard-edged and psychologically clever style of agenting while himself being pursued by a secret Internal Affairs team. The mischievous veteran hazes his new partner as they work undercover, brilliantly manipulating situations, constantly testing his new partner and pushing him to delve deeper into his "roles." As he realizes he can no longer maintain normal relationships and still do his job, the rookie is confronted with yet another challenge: An FBI team trying to enlist him as a double-agent in the bureau's investigation of his partner.
So what does Patrick Swayze with a gun mean to you? It means it is time to WIN STUFF! In order to encourage you to check out the show, we have four prizes for our loyal Gunaxin readers (apparently these DVDs seemed more manly than Dirty Dancing and Ghost):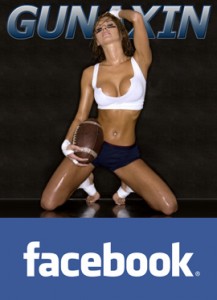 Winning the prizes will be really simple. On Friday January, 30th, we will select 2 winners each from both our e-Mail list, and our Facebook group. In order to have the best chance of winning, you should join both. In the future we will have additional contests, and being members of these groups will make you eligible for those prizes as well.
For more on The Beast, check out the video clips below :
Official Trailer:

Crossing the Line:

…oh and before the first commenter gets the chance, "Nobody puts baby in a corner".