Winter Domination – Six Awesome Winter Olympians
The Olympics are underway and even though they are named after the ancient home of the Greek gods there have only been a few athletes who have ever come close to that ideal. Many have tried and some have even won medals, but let's face it, most are just happy to get the free gear and a trip to whatever frozen mountain the Olympics are being held on that year. Here though are six Winter Olympians who kicked ass and took gold, lots and lots of gold.
Hackl is a Luger who first competed in the Olympics in 1988 at the Calgary Olympics. His nicknames are Hackl-Schorsch or the Speeding Weisswurst, which we are sure sound awesome in German. Hackle competed in the one man Luge and not the two man Luge event because he was not secure enough in his man-hood to do the two man Luge.
Luge involves racing down an icy track on two giant metal blades at up to 85 miles an hour wearing a brightly colored, skin tight suit with no discernible padding that we can see. They do however wear a helmet which appears to be about the same thickness as an eggshell and made mostly of see through plastic to give them a better view of death approaching.
We're not sure what it takes to succeed in Luge beside a giant pair of cajones, but Hackl apparently had them and likely a few spare sets too because he won a gold medal in the event in 1988. He then went on to win two more gold medals at the next two Olympics.  By the time he was done Hackl had medaled in his sport in five consecutive Olympics, with three golds and two silvers. For a period of 14 years he  dominated the sport and holds the records for most consecutive medals won in an event. Now he is a champion wok racing champion. Yes, that kind of wok and yes, we're serious.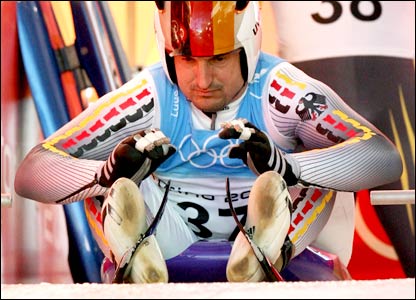 5
Ole Einar Bjorndalen
Norway
Bjorndalen competed in what is to us the most awesome winter Olympic sport of all time, the biathlon. If you are unfamiliar with the sport we don't blame you. They really should have named this thing Ski-Sniper and then everyone would tune it to watch it. The event consists of skiers racing cross country, but this time they are armed with loaded rifles. How something so dangerous ever became a sport we don't know, but adding weapons to any sport would make it that much more watchable in our opinion. Think of what the Nancy Kerrigan – Tonya Harding rivalry could have been.
Anyway, Bjorndalen was the best Ski-Sniper of all time and at the 2002 Olympics he won four gold medals, proving to everyone that he is the last guy you want to get into a shoot out with; if you both happen to be on skis, and are forced to ski 7 to 20 km while shooting at each other. Otherwise you may have a chance, we're not entirely sure. He has won nine medals overall at the Olympics and 33 more at the World Championships of Ski-Snipers.
4
Claudia Pechstein
Germany
We couldn't have this list complete without showing some love for the ladies as well and Pechstein definitely deserves a spot on this list. Pechstein was a speed skater from Germany, who we have to believe looked much better in spandex than Eric Heiden, at least to us.  Pechstein specialized in the medium distance races and won a total of five gold medals in her sport. While the record for gold medals women in the Winter Olympics is six, we chose her because she managed to win medals in five consecutive Olympics from 1992 to 2002 and her nine overall medals ties her for first place for women.
While she takes no prisoners on the ice in her 'real' job she actually does take prisoners as a sergeant in the German Federal Police. We think this probably also helps her guard the 34 medals she has won at the World Championships.
3
Kjetil Andre Aamodt
Norway
With all of these incredible athletes from Norway we have seriously run out or Norwegian jokes to make. Aaamodt was a downhill skier, or as they call it in the Olympics, alpine skier. His specialty was the Super-G which stand for Super Giant Slalom. it is also known as Super Freaking Hard and Super Damn Scary, but people usually just call it the Super G. Skiers top 60 miles an hour going down the course which is hard enough, but then the organizers throw in 35 gates that the skiers have to manuever around as they blast down the icy slope. Missing a gate means disqualification. To show that the people running the event have a sense of humor skiers are not even allowed to run down the course to practice, they can only check it out for an hour the morning of the race.
While not as well known as someone like Alberto Tomba, Aamodt's 8 Olympic gold medals in alpine skiing make Tomba's five medals look lame in comparison. He's won gold in three different Olympics starting in 1992 and going until 2006 when he was 35 years old. He was still going strong fourteen years after winning his first gold and is the oldest man to ever win a gold medal at the Olympics.
2
Eric Heiden
United States
We're not exactly sure why the Winter Olympics has so many sports where the competitors where nothing but spandex. You would think people would be in parkas and wearing big mittens with strings attached. Despite the unfortunate uniform Heiden is famous for being the fastest spandex wearing son of a gun on skates. Heiden was a speed skater who won his first World Championship at the age of 18. By the time the 1980 Olympics came around he was a three time world champion, the man, and was about to make history.
During the 1980 Olympics Heiden won five individual gold medals. Not only did he win every event he entered, he also broke the Olympic or world record in four of those events. Unlike other speed skaters though Heiden wasn't just a sprinter or a long distance skater, his victories came in the 500, 1000, 1500, 5000 and 10,000 meter races. When he broke the 10,000 meter record he crushed it by 6.2 seconds and he did it after oversleeping from watching the US/USSR hockey game the night before. He might be the only guy for who becoming a champion bike rider and a doctor might be considered a let down.
Daehlie was a cross country skier from Norway where we understand this is the main form of transportation for people. Its no surprise then that he became an Olympic champion in the sport. His victories range from the 10 km races, which in cross country skiing terms is considered a sprint, all the way to the 50 km race. For comparison, a marathon is about 42 km and you don't have to run it in freezing weather pushing two long boards through heavy snow.
What separated Daehlie from the rest of the crazy Scandinavian commuters was the fact that he won eight gold and four silver medals over the course of three Olympics starting in 1988. In 1998 he won three gold medals. To do it he had to ski the 10km individual race, then the 10 km relay, then finish with the 50 km race, somewhere in the middle of that he also skied the 30km race which he did not win a medal in. Overall the man slogged through 62 miles of snow over the course of a few days. His 12 medals is still the winter Olympic record and he would have likely won a lot more except for a roller skiing accident. Apparently falling is more serious when you do it on pavement and not snow.