Winter Driving in Colorado with Rocky Mountain Redline
One of the things least often noted in your average car review is how well that vehicle performs when the weather turns ugly. Snow, ice, and wind are not often the focus when an automotive journalist gets behind the wheel of a car or truck. At the annual Rocky Mountain Redline Winter Driving event, however, we got the chance to take a handful of vehicles out onto snow and ice with heavy winds, and do just that.
This is the second year we've done so, doing it last year with some hot cars like the Acura NSX and a couple of Alfa Romeos. This year, we had more everyday options, which was even better. Why? Because "normal" cars actually become fun machines in conditions like this.
And it's informative. Here's what we learned about each vehicle in attendance when it comes to snow and ice and how they can be controlled.
2019 Acura RDX A-Spec
The RDX is not new to us. We drove it at the off-road event put on by Redline last year, where it was decidedly out of its element and surprisingly good anyway. On the snow and ice, the RDX was still somewhat out of its element, being made largely as a sports car with a crossover body, but it was lots of fun and a good performer.
The 2019 RDX has a few options for winter driving control. With all safety systems on and the dial set to "Snow," the RDX's Super Handling All-Wheel Drive is very good at holding a straight line most of the time. Its handling is predictable, but a steady foot on the throttle is required as the turbocharged 2.0-liter engine is jumpy and eager to shove out its 272 horsepower to the wheels.
That came into play as another fun item when all bets were off, "Sport+" mode was engaged, and the little engine was allowed to open up for the slip, slide, and drift on the snow and ice. With everything let loose, the 2019 Acura RDX was a ton of fun to slide around in.
2019 Buick Envision
The 2019 Envision is newly refreshed and updated, adding a few things we like. Including the much more exciting 2.0-liter turbo-four under its hood with all-wheel drive. The Envision is a no-nonsense premium crossover, so there aren't any special driving modes to choose from or extras to be had. This everyday approach for the Envision, at first glance, made it appear boring as an option on the ice. The reality was, it was far more compelling because it required a learning curve to make it anything but stable and content.
Under normal driving conditions, the Envision would hold a pretty good line with predictable results on the snow. On the frozen lake, it was very skittish (as were most cars), but still controllable with a steady hand and right foot.
When fun was to be had, though, the Buick required more work to let loose. Oddly, the 2019 Envision is good at sliding around in the snow to do spins and skids, but does very well in those conditions with traction control on. This seemed odd, but the added traction actually helped the midsized Buick kick out the rear end harder when the throttle was pressed into a turn. On the ice, traction control turned off had the same effect, adding more control thanks to the Buick's front-wheel bias for its AWD.
It took some time, but the Buick Envision became a lot of fun once it was mastered. That mastery requirement was, to be honest, a big part of its appeal.
2019 Dodge Challenger GT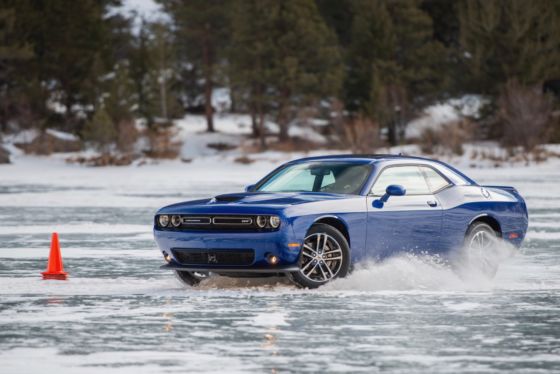 As we learned last year, the big Challenger GT is perfectly at home on the snow and ice. This big muscle coupe makes thrilling engine noises, throws its weight around in a fun way, and became the car everyone wanted to drive because it was so easy to master as a snow machine. The Dodge Challenger GT normally has its torque split set to 30:70 with a rear bias. It can move more or less around as needed, but defaults to that rear-heavy split. Pushing the traction control button down for about three seconds, though, kills that and puts all of the power at the rear wheels.
In normal driving situations, the Challenger is nicely composed on the snow and ice. A steady hand and an understanding of the big car's dynamics are key. Keeping the turns wide and long, the throttle eased and not shoved, and the speeds reasonable, the 2019 Dodge Challenger GT will do very well in keeping itself controlled no matter how terrible the weather might be.
Pushing that throttle hard and jerking the wheel produces the opposite effect, but a driver who can control the car's bulk will make it spin and turn beautifully in the snow and twirl like a ballerina on ice. Turning off everything for a rear-wheel push, as instructed, will really make the Challenger come alive in the snow, allowing all of the joys of a rear-driven, bulky, and powerful muscle car to make the snow fly. Few things are as fun as a Challenger on ice.
2019 Honda Passport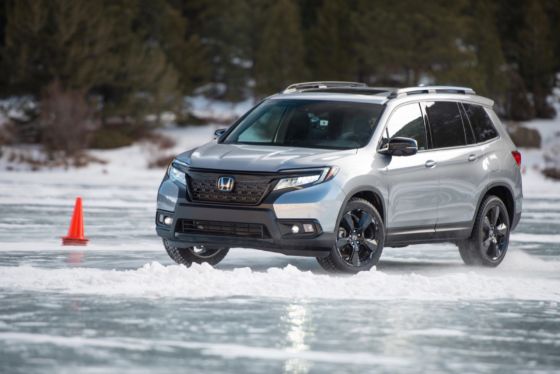 The 2019 Passport is an all-new offering from Honda and is just entering showrooms right about now. The Passport is based on the Pilot, but is a bit smaller with two rows instead of three and it sports improved handling as a result of a shorter wheelbase. This winter driving event was the first time we'd been in the Passport for any length of time. Our impression is that it's very well done. Especially when it comes to handling terrible driving conditions. Or fun ones in terrible attempts at being unsafe.
The 2019 Honda Passport's excellent all-wheel drive system is very good at handling slippery conditions. So much so that we assumed it would be boring. Like the Pilot we drove at this event last year, though, the Passport showed itself to be both "get the family there safe" stable and "to heck with it, all bets are off" fun. It's all a matter of choosing drive modes. Go with "Snow" for stability and with anything else for semi-controlled fun.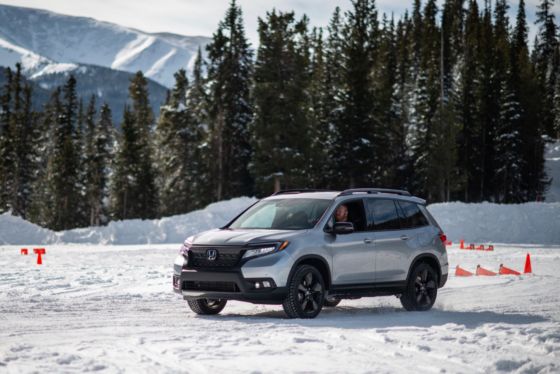 Where the Passport's differences really come into play, though, are with its slightly wider track and larger tires than are found on the Pilot, both of which aid the sportiness of the Passport. By comparison, the 2019 Passport is about half an inch wider in track and has 20mm more tire on the ground. That may not sound like much, but with the Passport's smaller size overall, it does come into play noticeably.
Whether the goal is to get there safely or to slip and slide with abandon, it's possible to do either in the Passport.
2019 Jeep Wrangler Sahara
Of all of the vehicles in attendance, none were as out of place, it seemed, as was the Wrangler. Who thinks of Jeep Wranglers as snow and ice playthings? Thus we immediately knew that the Wrangler would, in fact, be tons of fun in these conditions. Because anything not made to do what it's about to do is probably a lot of fun to do it in. That's man logic.
The 2019 Jeep Wrangler Sahara has all-wheel drive, a new thing for the Wrangler line, and that AWD offering is where things get interesting. A turbocharged 2.0-liter engine powers this rig with AWD being controlled by a shifter that looks suspiciously (OK, exactly) like the four-wheel drive shifter in the other Wrangler models. The choices are different, though. Up front is two-wheel drive, which is expected, with power then all at the rear wheels. Two AWD options are then found: 4H Auto and 4H Part-Time.
Using 4H Auto, the Wrangler becomes manageable in inclement driving. Historically, the Wrangler has never been very good at bad weather, given its high stance, short wheelbase, and light weight compared to a lower-to-the-ground crossover or heavier SUV. This new generation is a bit better, we think, but still not ideal. With 4H Auto, though, the Wrangler is manageable on the snow and ice when, as expected, a judicious hand and easy throttle are in control.
Forgetting those last two elements and trying two-wheel drive (sending power only to the rear wheels), the Wrangler became very hard to control in the snow and ice. Almost impossible, in fact, with 180- and 360-degree spins becoming the rule instead of the exception. Putting on 4H Part-Time, though, changed that. This forces a 30:70 front:rear split for the torque and that, my friends, is where the fun is at. This gives the Jeep just enough traction control to hold a straight line when asked, but enough offset to really allow some snow throwing and ice sliding to commence. Drifting and spinning are completely controlled by the driver, making for some seriously awesome good times.
2019 Mercedes-Benz C300
This was an unexpected entrant into this year's winter driving event, but one that was much appreciated. Mercedes brought the little C300 coupe and, to no one's surprise, it was a fun, easily-controlled machine whose 4Matic all-wheel drive did exceedingly well for all the slipperiness we threw in its way. This was also, for me personally, a second time with the car after a week with it as a daily driver.
The C300 received a few updates this year, not the least of which was the move to a 2.0-liter turbocharged four-cylinder and nine-speed automatic transmission for 255 horsepower of output. We like this base configuration for the C Class, especially if the goal is to stay stable on the snow and get crazy on the ice.
With all safety systems on and active, the 2019 C300 does well in keeping its 4Matic tuned to maximum traction. Holding a straight line is just a matter of controlling throttle and steering. Turning long curves and carefully threading the bad conditions is easy. Turning everything off, putting Sport mode and no traction control in play, the C300 handles really well as a fast-paced fly through snow, pushing it around as it slips and slides in easy drift control. Most drivers with any skill will find the C300 intuitive. On the ice, traction control is a must, but the C300 otherwise slides well and spins nicely when pushed.
2020 Mercedes-Benz GLE 450
The big Mercedes SUV was unexpectedly great on the snow. It handles as well as can be expected from a utility of this size when the going gets slippery, but the 4Matic systems did a good job of holding it steady if the driver was judicious with the controls. Turning off the safety expectation, though, and going into full ruckus mode really had the GLE slip-sliding for fun.
Drifting in a machine as big as the Mercedes-Benz GLE is not as easy as it might look, given its bulk and the stability those large tires impart. It becomes a matter of turning just right and keeping on the accelerator without traction control helping to get a grip. Controlled slides in the snow and slush were then very fun to do, once that short learning curve was mastered.
There's a lot to be said for a big luxury SUV when driven for fun and the GLE really exemplified that fun. The base 3.0-liter turbo-six was more than enough to make this all a good time.
2019 Toyota RAV4 Adventure
Toyota has completely redone the RAV4 for the 2019 model year and it's immediately apparent. Not only does it look very different, but the RAV4 Adventure grade also sees some changes to its capabilities outside of just looks. Compared to the RAV4 we drove last year, which was a lot of fun, the 2019 RAV4 added the goodness of better driving modes for the off-road experiences we were having in Winter Park, Colorado.
The 2019 Toyota RAV4 Adventure uses the same powertrain as its contemporary small SUV siblings, but adds a couple of driving modes to improve performance in specific situations. Most notably, for us, were Snow, Sand, and Rock modes. In Snow mode, the RAV4 does very well at keeping itself aligned where the driver points the wheels. More so than, perhaps, any other contender at our event this year. Improvements are thanks to a lot of things, including better coordination between torque vectoring to either side and anti-lock braking (ABS). We also noted a little better gear response from the automatic with the new eight-speed transmission. Last year, we had to force first gear to get the most out of the RAV4 on the snow and ice; this year, we left it in auto and didn't think twice as it aggressively kept that lowest gear most of the time without our prompting.
On the snow and slush, the 2019 Toyota RAV4 Adventure becomes a lot of controllable slip-slide fun when in Sand mode. This allows the torque vectoring to be looser, pushing about the same amount of power all around. This lets a good driver use the throttle to keep or break traction as needed in order to drift, fling snow, or spin as desired. Tons of fun there. On the ice, the Rock and Mud mode is the best choice, doing the opposite of Sand by pushing power to the wheel(s) with the most traction. This creates the kind of controllability required to make ice driving fun.
Conclusions
Our greatest overall impression from this years Rocky Mountain Redline Winter Driving event was the same as last year's: the control systems on today's vehicles are excellent at holding a good safety margin when the weather gets tough. When properly applied and when stupid behaviors are not present, all of the vehicles we tested exhibited a lot of control in situations where that's really what matters.
When those controls are not present, such as when jerky movements of the wheel or punchy throttle use is happening, some vehicles fared better than others in responding with safety, but all were better than expected.
Turn off the safety and turn on the fun times and these vehicles still performed with lots of fun factor. Our controlled situation allowed us to really push limits for slides, drifts, spins, and fun times. In a snow-covered parking lot in the winter day's sun, we threw white stuff around like Columbian dealers on holiday, and; on a frozen lake in the windy mountain pass, we made ballerinas out of the four-wheeled machines at hand.