The Wonders of Wampa
Wampa is the big snowman dude in Star Wars: The Empire Strikes Back who attacks Luke on the planet Hoth and prepares to eat him. Then Luke breaks free and chops off Wampa's arm with a light saber. That's about all there is to Wampa, unless you believe everything you read on Wookieepedia. Also check out the 'behind the scenes' information on Wampa on starwars.com. And if you like Wampa, you also like Tauntauns, so check out Gunaxin's "Fun With TaunTauns."
First, let's remind ourselves why we like Wampa so much.
This is what Wampa looks like when the guy inside him is out of the costume.

Here's the toy we all fell in love with, the Kenner Empire Strikes Back Wampa.
Wampa Stuff – From Awesome to Suck
This is the ultimate Wampa statue, him right there in the action with Luke and the Tauntaun. However, this is very hard to get, so your best bet is eBay. It was originally $300, but save your money – it'll cost a lot more now. It was also available in faux-bronze, which is even rarer.
This is a statue by Gentle Giant. Strange, I don't recall this happening in the movie.
Lego rules, though the Wampa in this set looks lame. At least it comes with a skeleton man.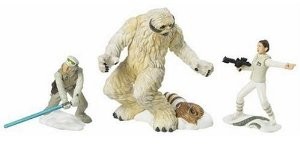 I think this is for kids who are on LSD.
Obviously for little girl Star Wars fans, since boys don't collect dolls.
Newer versions of the original toys.
More newer versions of the original toys.
Even more newer versions of the original toys.
A hard-to-come-by statue that few are pursuing.
A blow-up Wampa for your perverted pleasures.
A doll for those kids who like dolls of murderous monsters.
And of course, you'll need to make yourself a pair of these (from indestructible.com):
And finally, the Wampa Rug.