Words We Hate – Masters of None

[podcast]http://www.podtrac.com/pts/redirect.mp3/traffic.libsyn.com/mastersofnone/MON_6_13.mp3[/podcast]
Masters of None – 6.13 – Words We Hate – DOWNLOAD
We wish a lot of words would never penetrate our earholes again.  These are our Top 8 1/2 and a ton submitted by you guys.  There's even some phrases for all you phrase phans. If you're in Long Island, NY, check out this awesome charity beer event.
BONUS MATERIAL: Store Wars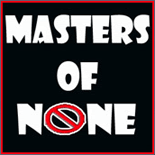 Gunaxin is proud to be partnering with Masters of None, and featuring their content here on our site. Masters of None are former radio guys Mike, Art & Jay, who debate and answer mankind's most important questions each week. Along the way you'll encounter unsustainable amounts of movie quotes, horribly tasteless jokes, TV references, offensive comments, old radio bits, biting insults, tall tales, unsportsmanlike conduct, raping and pillaging of all things pop culture. It's a comedy podcast that doesn't suck.
---