World Baseball Classic Preview – Japan Roster
Team Japan
Updating our World Baseball Classic 2009 Preview, today we examine Japan. Led by baseball icon Sadaharu Oh, the country won the inaugural World Baseball Classic, defeating Cuba 10-6 in the final. Even more impressive is that they won with only two Major League Players, Ichiro Suzuki and Akinori Otsuka. Not that Team Japan was lacking for talent as Nippon Professional Baseball is loaded with skilled players. However, many of Japan's best players remain in the country for years after they have the ability to play in Major League Baseball. Some of this is contract related, some of it is personal choice. And let's be fair, the Japanese are extremely territorial about controlling their own amateur talent (although they have done little to give players incentive to stay at home).
While Japan is the defending champion and remains a tough opponent, it's important to remember that the nation hardly dominated last Classic. It finished second in opening round pool play to Korea, and went only 1-2 in the second round, backing into the semi-finals when Mexico defeated the United States. With an overall record of 3-3, the team went on to defeat South Korea (which had twice defeated Japan earlier in tournament) and Cuba to claim the top prize. In the end, all people remember is who won, so even if Japan won a bit ugly, it doesn't change the result. Just keep expectations in check for 2009.
The national team is managed by Tatsunori Hara.
HITTERS:
Catcher – Kenji Johjima, Seattle Mariners
First Base – Nobuhiko Matsunaka, Fukuoka SoftBank Hawks
Second Base – Tadahito Iguchi, Chiba Lotte Marines
Shortstop – Kazuo Matsui, Houston Astros
Third Base – Akinori Iwamura, Tampa Bay Rays
Rightfield – Kosuke Fukudome, Chicago Cubs
Centerfield – Ichiro Suzuki, Seattle Mariners
Leftfield – So Taguchi, Chicago Cubs
Designated Hitter – Hideki Matsui, New York Yankees
Bench: A lot of guys you've never heard of.
In an ideal world, Japan would start almost all major leaguers. The one position they seem to lack is a first baseman. However, much like the 2006 squad, Japan's 2009 roster will leave off many of its major league-quality players. That doesn't mean that Japan has better players than it's big league representatives, but for various reasons the country doesn't bring all it's top players. That's an ongoing theme of any nation in the actual World Baseball Classic. However, we're trying to represent the best possible squad, so no need to worry about who will or will not go.
Ichiro is the biggest name on the offense, but even casual fans are familiar with guys like Hideki Matsui. For the line-up I shifted Kaz Matsui back is his original shortstop position, as well as Iwamura back to his original third base spot. This allows for Iguchi to step in at his normal second base position. Iguchi was a member of the Phillies World Series winning squad (and the first Japanese player to appear in a game for a World Series winner), but decided to return to Japan this offseason. Matsunaka is the listed first baseman in part due to a strong '06 Classic, but he's declined the last few seasons.
After the listed players, it starts to be a crap shoot as to what to expect. I made the joke that there's a lot of guys you never heard of, but it's really the truth. Japan will field some fine players, but ultimately these aren't the kind of guys you see in the majors in a few years. Even a big name star like Fukudome struggled in the majors last year. Two name I will mention are C Tomoya Satozaki of the Chiba Lotte Marines and OF Norichika Aoki of the Tokyo Yakult Swallows. Satozaki made the 2008 All-WBC team, but isn't as strong a player as Johjima. Aoki could be posted to MLB clubs in a few seasons.
---
PITCHERS:
Starter – Daisuke Matsuzaka, Boston Red Sox
Starter – Hiroki Kuroda, Los Angeles Dodgers
Starter – Koji Uehara, Baltimore Orioles
Starter – Yu Darvish, Nippon Ham Fighters
Set-Up Man – Hideki Okajima, Boston Red Sox
Closer – Takashi Saito, Boston Red Sox
Bullpen: Kenshin Kawakami, Atlanta Braves; Kazuhisa Ishii, Saitama Seibu Lions; Keiichi Yabu, San Francisco Giants; Akinori Otsuka, Free Agent; Masahide Kobayashi, Cleveland Indians; Kei Igawa, New York Yankees; Hideo Nomo, Free Agent; Tomokazu Ohka, Cleveland Indians; Ryohei Tanaka, Baltimore Orioles; Yasuhiko Yabuta, Kansas City Royals; Kazuo Fukumori, Texas Rangers; Junichi Tazawa, Boston Red Sox.
Dice-K was already on everybody's radar, but he really made a name for himself in the '06 Classic. Now he's one of the best pitchers in baseball and the anchor of this staff. After him, however, its a smorgasbord of options. Kuroda is a bona fide Major League starter, but more of a middle of the rotation guy. That's what the Orioles hope the recently signed Uehara is, as he makes his big league debut this season after a number of strong years in Japan. The most interesting name is Yu Darvish, a player many think is the next big thing coming from overseas. Some think he's better than Matsuzaka, but he won't make his MLB debut until next season at the earliest (and he was horrible in the Beijing Olympics). Other starting options include former MLB starters such as Ishii or Ohka. As with the hitters, it should be noted that most of these pitchers were not included on Japan's 2009 provisional roster and won't play in the Classic.
Turning to the bullpen, Saito would be the closer if he played, as he's had great success in his brief Major League career when healthy. Okajima would provide a dominating set-up man. The rest of the staff can be filled with solid bullpen guys or failed starters. Igawa has not produced in the majors as hoped, but remains a live arm. Nomo announced his retirementfrom Major League Baseball last year after struggling in the minors with the Royals, but was active last season and is still probably talented enough to crack the roster if he wanted. Kawakami is one of this year's big Japanese crossovers and will debut in the Majors for the Braves in the Spring. Tanaka and Tazawa signed minor league deals, bypassing the opportunity to play in Japan.
---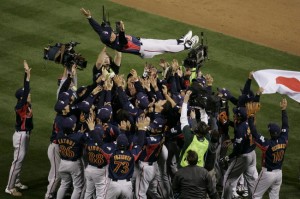 Outlook: The nation is hoping for a better showing in the Classic than the 2008 Olympics, where it finished a disappointing fourth. Japan is very serious about its standing in international baseball, and while it has appeared in every Olympic baseball competition, it has only medaled (a Bronze in 2004) once in the past three games. If it wasn't for the '06 Classic victory, some might think the nation is slipping a little. However, Japan has dominated Asian baseball by winning sixteen Asian Baseball Championships and never placing lower than third in 24 appearances. They remain the cream of the crop from the Pacific side of the globe and can match-up with any of the American (North or South) countries. As an added bonus, Japan will host first round Pool A play in the Tokyo Dome, meaning a second round showing should be guaranteed.