The Worst Super Bowl XLVI Reactions From Around the Web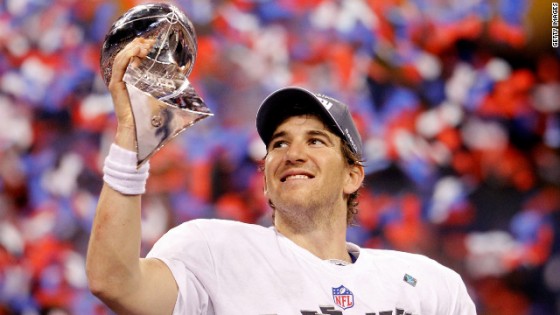 Big events can bring out the best and worst work from sportswriters, and Sunday night's nail-biting Super Bowl XLVI is no exception. For every great game story, like this one from Yahoo!'s Dan Wetzel, there is an idiotic take by a high-profile writer. The reasons behind each article might be different, including a desire to create a narrative, the need to be controversial, or just personal animosity, but they all end up as ridiculous arguments not supported by facts.
Gregg Doyel, CBS Sports

While Doyel recently got attention for inserting himself into the discussion over unionizing the UFC, he is no stranger to idiotic pronouncements. This reaction to the cutting of Tiquan Underwood though, from his CBS blog, is a ridiculous condemnation of Bill Belichick for making a personnel move. Here's the key line from the column:

In other words, Tiquan Underwood was released for nothing. He was released because Bill Belichick had to be the smartest guy in the room, even if that meant gutting a nice kid like Tiquan Underwood.

Keep in mind, Underwood was a non-entity for most of the season and would have only played in the Super Bowl with multiple injuries ahead of him on the depth chart.

Eric Wilbur, Boston Globe

Easily the winner for the fastest dumb column of the night - this take by Wilbur was up within an hour after the game ended. In a couple of paragraphs, Wilbur manages to blame Tom Brady for everything from the Super Bowl loss to the war in the middle east.  Maybe Brady was mean to him in High School, but the level of venom directed at a QB who finished with a 90+ rating and completed 27 of 41 passes is hard to justify.

Add to that your blunders, and it all becomes about you. You blew this Super Bowl. You denied your coach No. 4. You let down your teammates. Eli and Peyton now have as many rings as you combined over the past five years. You haven't sniffed one in seven. How's that hit you?

Maybe it doesn't hit you as hard anymore, and maybe that's the problem

Oh, and how does losing two Super Bowls in the final minutes count as having "not sniffed" a ring?

Jason Whitlock, Fox Sports

Being honest, we probably could have included Whitlock before ever reading his last take, in which he argues that Sunday night's game was the most important Super Bowl since the Jets upset the Colts in Super Bowl III.

While this game appears to have none of the lasting impact of that game, Whitlock does manage to argue that Belichick, Brady and Peyton Manning all took hits to their legacies with a close Super Bowl loss.

And now, suddenly, Tom Brady no longer is on the same platform as Joe Montana and Johnny Unitas. A victory on Sunday would've put Brady in the conversation for the greatest of all time. Four Super Bowl titles, two MVPs and a record-setting perfect regular season in 2007 likely would've made the NFL's television partners push the idea that Brady is better than Montana, Unitas and John Elway.

Plus, he even managed to bring up that he once played college football, in case any readers cared (they don't).

Mike Freeman, CBS Sports

Here is another take from a CBS national writer who apparently watched a different game than the rest of us. In his second column this week about the Patriots' legacy, Freeman twice says the Patriots were scared of the Giants, apparently ignoring the fact that the game came down to the last minute. Freeman also ignores the regular season and the Patriots two playoff wins against defensive teams to advance the narrative that the Giants are a tougher team.

There is a major message here, and maybe it's this one. The Patriots are bullies and when they run up against a team that can kick right back to the ribs, take a punch, inflict their own damage, they get scurred. For decades, the Giants have been about toughness. Nothing fazes them. They don't get intimidated and they don't give a damn about Brady or All-Universe tight ends or Vince Wilfork. They ... don't ... care. Punch them, you get punched back.

Chris Baldwin, CultureMap

Baldwin makes this list with an impressive pair of ridiculous columns. First, he derides the Giants Ahmad Bradshaw for being selfish in scoring the go ahead touchdown, in a play where his momentum forced him over the goal line. That interesting bit of "journalism" followed another Tom Brady hit piece. When comparing Brady's performance to an obscene gesture by halftime performer M.I.A., Baldwin drops this classic line:

The play of Tom Brady — the quarterback so many have so prematurely rushed to brand one of the greatest of all time — rates much higher on the offensive scale.

Rick Gosselin, Dallas Morning News

Really, this might be the winner for biggest stretch of the day, as Gosselin manages to compare the Giants to the Dallas Mavericks and manipulates a number of facts to meet his narrative. The most egregious claim is that the Patriots came in with the bigger stars, naming Brady, Welker and Gronkowski, ignoring the fact the game was won by big names along the Giants defensive line and their star quarterback and receivers. He also praises the Giants for being one of the worst teams, numerically, to win a championship.

ESPN (Almost all of them)

It was too much to expect a rational take on any story from ESPN, but they really rose to the occasion yesterday. From D.J. Gallo calling out Belichick for not dressing a RB that played twice all year, to Ashley Fox declaring that Tom Coughlin (and his 139-110 record) is a certain Hall of Famer, to Bill Simmons being, well, Bill Simmons. Simmons was so predictable today that there is a good chance his computer just randomly cut and pasted the column from his previous work.

Zachary D. Rymer, Bleacher Report

Give Rymer credit, he didn't fall into the trap of blaming Brady, Belichick or Spygate for the Super Bowl loss. What he does do is close the door on the Patriots' dynasty following a season where they were the best team in the AFC, beat two division winners in the playoffs, and Tom Brady accumulated the second most passing yards in NFL history. In his rush to compare the Patriots future to the collapse of the Colts, Rymer ignores a number of key facts, such as the age of the Patriots outstanding young tight ends, their wealth of draft picks and the improving defense. While the Patriots might not be the same team they were in 2007 (when they went 18-0 prior to their last Super Bowl loss),this isn't an aging team in need of rebuilding.