XtremeMac: InCharge Auto BT (Bluetooth)
XtremeMac has a way to incorporate a hands free phone as well as play music off your phone. The product is called InCharge Auto Bluetooth. The charger plugs into AUX port of your car allowing users to make Bluetooth wireless calls and also play music through your speakers. The InCharge Auto has a one-touch multi-function buttons allows users to pair phone with car stereo, answer calls and play/pause musi. It also features a self-resetting fuse to protect devices and a 10 watt standard USB connection for charging most mobile devices.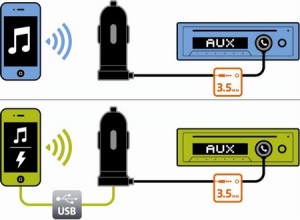 From the diagram on the left you can see how easy it is to set up the InCharge Auto BT right into your stereo system in your car. The compact low profile charger also provides 10 watts of power for fast charging through the USB port while on the road. The InCharge Auto BT sells for $79.99 and for more info and to purchase it go to XtremeMac.com. Plus look out for the XtremeMac InCharge Home BT that sells for $79.99 and it is a rechargable battery pack with integrated wall charger for powering and charging iPhone and iPod on the go.