Drew Stanton is Upset, LOL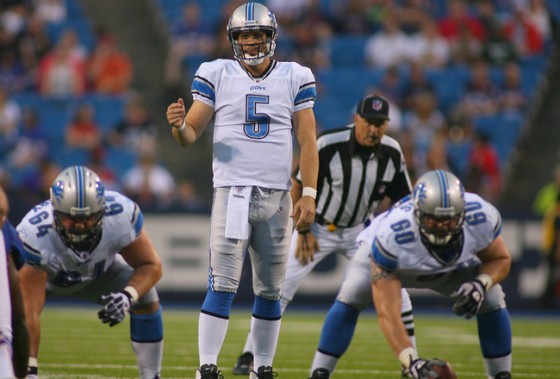 The fallout from the Tim Tebow trade to the Jets continues to accumulate. The latest victim in this tragic turn of events is quarterback Drew Stanton, who only a week ago inked a one-year, $1.25 million contract to be Mark Sanchez's backup. I know what you're thinking: 1) who the fu*k is Drew Stanton, and 2) who the fu*k is Drew Stanton? I dunno either, but he's very upset. (Via ESPN)
Stanton is said to be unhappy because he was promised the No. 2 job and turned down more lucrative opportunities with the Tampa Bay Buccaneers and Kansas City Chiefs to play for the Jets. He received a $500,000 signing bonus, but he could have a hard time finding a new team because the backup jobs are filling up.
So, the same Drew Stanton who in four seasons with the Lions threw for 1158 yards, five touchdowns and nine interceptions in 12 appearances "turned down more lucrative opportunities?" BWAHAHAHA!!!
Anyway, rather than have a never was, never will be fracturing an already segmented locker room, the Jets are looking to accommodate Stanton and ship him elsewhere. Ya know, 'cause in he's in such high demand.
Here are some other things upsetting Stanton.
Poor Drew. Hope he feels better.