Seven Legendary Formula One Drivers
In 1950, at the first Formula One World Drivers' Championship, it was Team Alfa Romeo's Nino Farina who became the first F1 champion. In the 68 years since, there have been a total of 33 F1 champions. Of course, several of which have won multiple championships, with Michael Schumacher being the most successful driver in F1 history, winning seven championships during his career.
Lewis Hamilton and Sebastian Vettel have dominated the sport in recent years and should clearly be in the discussion of top drivers all-time, but for this list we wanted to remember some of the pioneers of the sport, one of which we've lost today. Niki Lauda is a Formula One legend and three time champion, and he has passed away at the age of 70. Determining a list like this can be quite tricky, with storied racing careers shortened due to wars and fatal crashes, but we've done our best to compile our list of the Top Seven retired drivers.
7) Niki Lauda
Nationality: Austrian
Championships: 3 (1975, 1977, 1984)
Championship Teams: Ferrari (2), McLaren (1)
Races: 171 starts
Wins: 25
Pole Positions: 24
Niki Lauda is the only driver to have been champion for both Ferrari and McLaren, the two most successful constructors in the sport. Sadly Lauda is probably best known for the tragic crash that scarred his face with terrible burns to the head. Ironically the crash came in a race that Lauda personally had urged his fellow drivers to boycott due to unsafe racing conditions. He participated in the race anyways and on August 1st 1976 at the German Grand Prix on the Nurburgring, Niki swerved off the track, hit an embankment, and his car burst into flames. Despite the life-changing crash, Niki returned to the sport to compete for several more years, and even went on to win two more championships in his career.
6) Jackie Stewart
Nationality: British
Championships: 3 (1969, 1971, 1973)
Championship Teams: Marta (1), Tyrrell (2)
Races: 99 starts
Wins: 27
Pole Positions: 17
Sir John Young Stewart, nicknamed The Flying Scot, was known for his exceptional driving skills in the dry and wet. The year after his dominant win in F3, he signed with BRM alongside Graham Hill. But it wasn't until he signed with Marta in 1968 that his F1 career started to blossom. In the same year, Stewart was forced to miss two races due to an F2 injury, causing him to lose the 1968 F1 World Drivers' title to Hill. He then went on to win the WDC next year, and two more in the in 1971 and 1973 with Tyrrell.
5) Jim Clark
Nationality: British
Championships: 2 (1963, 1965)
Championship Team: Lotus (2)
Races: 72 starts
Wins: 25
Pole Positions: 33
Without a doubt, Jim Clark is one of the most badass F1 drivers ever. He was a handsome and talented man admired by millions of fans and drivers all over the world. With only 72 starts, he managed to achieve 25 victories and 33 pole positions. Clark was the most dominant driver in his era. His most memorable performance is the Italian Grand Prix in 1967, where he lost a lap after a tire punctured while he was leading the race. After rejoining sixteenth, he eventually caught up and took the lead again in the last lap, but finished third after his car ran out of fuel. Like Senna, Clark's life tragically ended at the peak of his brilliant racing career.
4) Alain Prost
Nationality: French
Championships: 4 (1985, 1986, 1989, 1993)
Championship Teams: McLaren (3), Williams (1)
Races: 199 starts
Wins: 51
Pole Positions: 33
Alain Prost is the first French, and the only French to this date, to have won an F1 World Drivers' Championship. He held the record of having the most Grand Prix victories from 1987 to 2001. Prost raced in the years of having many champions as teammates and opponents. In the late 80s to early 90s, he formed strong rivalries with Ayrton Senna, Nelson Piquet and Nigel Mansell. But it was his battles with Senna that were particularly notable and exciting to watch. During his 13 years in F1 racing, Prost beat nearly all his teammates on total points season by season, including five World Champions.
3) Juan Manuel Fangio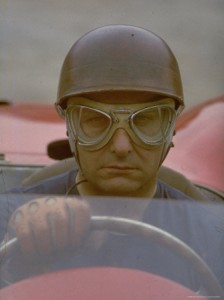 Nationality: Argentine
Championships: 5 (1951, 1954, 1955, 1956, 1957)
Championship Teams: Alfa Romeo (1), Mercedes (1.5), Ferrari (1), Maserati (1.5)
Races: 51 starts
Wins: 24
Pole Positions: 29
Juan-Manuel Fangio was the most dominant driver in the 50s. In his eight years of F1 career, he has won WDC five times and finished second place twice. He is known to have the ability to win a race with any car. During his time, one could only rely on their raw driving skills when safety gear and electronic driver aids such as ABS, active suspension, and traction control were not available. Although his record for winning five championships was surpassed by Schumacher in 2003, his race winning percentage of 47% remains the highest even to this date.
2) Michael Schumacher
Nationality: German
Championships: 7 (94,95,00,01,02,03,04)
Championship Team: Benetton (2) Ferrari (5)
Races: 306 starts
Wins: 91
Pole Positions: 68
Shumacher is statistically the most successful driver in Formula One history, and utterly dominated the sport for the early part of the 2000s. Schumacher was known for his work ethic, supreme fitness, and great desire. His career was frequently controversial though, as he was twice involved in collisions in the final race of a season that determined the outcome of the World Championship
1) Ayrton Senna
Nationality: Brazilian
Championships: 3 (1988, 1990, 1991)
Championship Team: McLaren (3)
Races: 161 starts
Wins: 41
Pole Positions: 65
Ayrton Senna is regarded by many as the greatest driver in the history of F1. He was known for his qualifying speed and aggressive driving style. He held the record for most pole positions, but was later surpassed by Schumacher in 2006 with just three more after a whopping 87 more starts. As mentioned earlier, Senna shared an intense rivalry with Alain Prost, and is probably the worst in F1 history. Since 1988 when their rivalry started, their competitions went so fierce that the two could only see each other on the track. Both would either block each other from advancing using dangerous maneuvers or intentionally crashed into each other. In 1989, he lost to Prost after a championship-deciding collision, but immediately got his revenge next year after another championship-deciding collision. Despite all the controversies between the two, both had had mutual respect for each other. In 1994, while he was leading the race, Senna lost his life as his car left the track at high speed and hit the concrete retaining wall at around 135 mph.