Bill Paxton To Direct 'Kung Fu' Movie?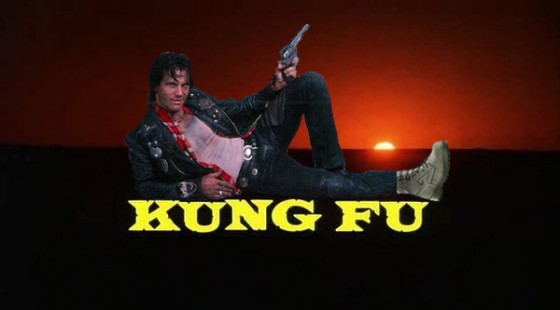 When I was a wee lad, I spent many a Sunday afternoon watching reruns of the incredible '70s era TV series Kung Fu, which starred David Carradine as the wanted-for-murder Shaolin monk Kwai Chang Caine who wandered the American west in search of his half-brother. Kwai Chang was a spiritual loner bound by an innate desire to protect the weak in the name of justice. He and the show kicked major ass.
And since it was a relatively successful series from forty years ago it only makes sense that Hollywood would want to make a big screen version directed by Private William Hudson himself, Bill Paxton. Enlighten us with your "exclusive" info, Deadline:
Bill Paxton is in talks to direct Kung Fu, a screen adaptation  of the classic 1972 [-1975] TV series that starred David Carradine. Paxton, who's coming off a run in the HBO series Big Love, gets the job after helming two solid films: Frailty and The Greatest Game Ever Played.
I kinda dug Frailty, but Paxton does seem like an odd choice to step behind the lens. Someone with martial arts experience would be better. Someone like say, Steven Seagal.
Too bad Carradine bought it in a shitty Thailand hotel closet after an autoerotic asphyxiation accident. He and Seagal would've been awesome together.