The 30 Greatest NFL Offensive Rookie Seasons Ever
At the 1998 NFL Draft, the Indianapolis Colts selected Peyton Manning, a young 22-year old franchise quarterback from the University of Tennessee, to help guide the franchise back to one of the NFL's elite organizations. After the first four games, it looked as if they might have made a huge mistake. The Colts were staring at a 0-4 record while Peyton Manning had 992 passing yards on 81 of 146 passing for a terrible completion percentage close to 55%. He had also thrown 11 interceptions compared to just three touchdowns.
But things change and during the Colts week 5 matchup against the San Diego Chargers, Peyton started to turn his season around. Over the final 12 games that season, they would go 3-9 and he would throw for 2,747 yards, 23 touchdowns, and 17 interceptions. The following year he would lead them to a 13-3 record and throw for over 4,000 yards. The NFL's passing game has exploded in recent years and it seems that every season there is another QB lining up to throw for more than 4,000 yards and 25 touchdowns.
Although rookie Quarterbacks have put in some incredible first seasons, there is much more to an offense than just the man lining up behind the center. There have been some incredible performances by rookies at the running back, wide receiver, and tight end position too. One of the most notable rookie wide receiver seasons belongs to Randy Moss, who just so happened to also get drafted during the 1998 Draft, the same as Peyton Manning.
Today we take a look back at the 30 greatest performances by an offensive rookie in NFL history (up to 2019). We tried to keep it balanced based on era, position, and overall performance, not just the stats. Enjoy.
30) 1998: Peyton Manning, QB
Team: Indianapolis Colts
Record: 3-13
Passing

Completions-Attempts, %: 326-575, 56.7%
Passing Yards: 3,739
Touchdowns: 26
Interceptions: 29
Avg. per Game: 233.7
QB Passer Rating: 71.2
29) 2006: Marques Colston, WR
Team: New Orleans Saints
Receiving

Receptions: 70
Receiving Yards: 1,038
Avg. per Reception: 14.8
Avg. per Game: 74.1
Touchdowns: 8
28) 2008: Matt Forte, RB
Team: Chicago Bears
Rushing

Attempts: 316
Rushing Yards: 1,238
Avg. per Game: 77.4
Touchdowns: 8

Receiving

Receptions: 63
Receiving Yards: 477
Avg. per Reception: 7.6
Touchdowns: 4
27) 1995: Curtis Martin, RB
Team: New England Patriots
Rushing

Attempts: 368
Rushing Yards: 1,487
Avg. per Game: 92.9
Touchdowns: 14

Receiving

Receptions: 30
Receiving Yards: 261
Avg. per Reception: 8.7
Touchdowns: 1
26) 2001: LaDainian Tomlinson, RB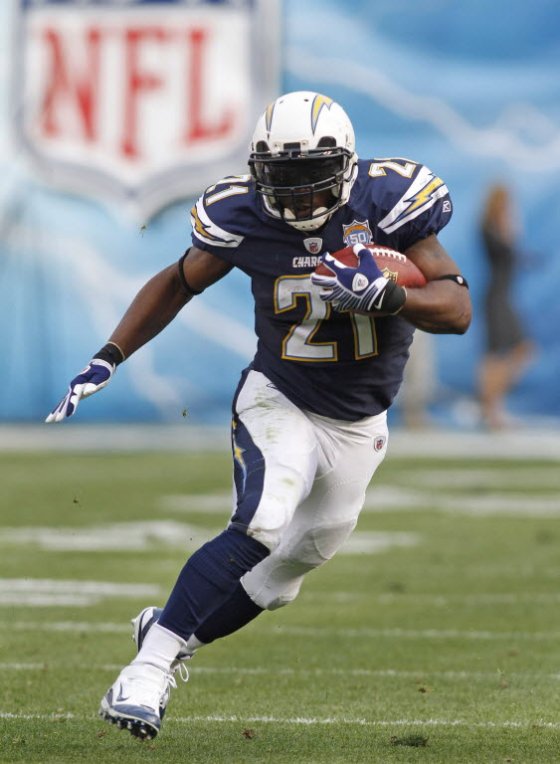 Team: San Diego Chargers
Rushing

Attempts: 339
Rushing Yards: 1,236
Avg. per Game: 77.3
Touchdowns: 10

Receiving

Receptions: 59
Receiving Yards: 367
25) 2012: Russell Wilson, QB
Team: Seattle Seahawks
Record: 11-5
Passing

Completions-Attempts, %: 252-393, 64.1%
Passing Yards: 3,118
Touchdowns: 26
Interceptions: 10
Avg. per Game: 194.9
QB Passer Rating: 100.0

Rushing

Attempts: 94
Rushing Yards: 489
Touchdowns: 4
24) 2014: Kelvin Benjamin, WR
Team: Carolina Panthers
Receiving

Receptions: 73
Receiving Yards: 1,008
Avg. per Reception: 13.8
Avg. per Game: 63.0
Touchdowns: 9
23) 2010: Rob Gronkowski, TE
Team: New England Patriots
Receiving

Receptions: 42
Receiving Yards: 546
Avg. per Reception: 13.0
Touchdowns: 10
22) 2015: Jameis Winston, QB
Team: Tampa Bay Buccaneers
Record: 6-10
Passing

Completions-Attempts, %: 312-535, 58.3%
Passing Yards: 4,042
Touchdowns: 22
Interceptions: 15
Avg. per Game: 252.6
QB Passer Rating: 84.2

Rushing

Attempts: 54
Rushing Yards: 213
Touchdowns: 6
21) 2012: Robert Griffin III, QB
Team: Washington Redskins
Record: 9-6
Passing

Completions-Attempts, %: 258-393, 65.6%
Passing Yards: 3,200
Touchdowns: 20
Interceptions: 5
Avg. per Game: 213.3
QB Passer Rating: 102.4

Rushing

Attempts: 120
Rushing Yards: 815
Touchdowns: 7
20) 1989: Barry Sanders, RB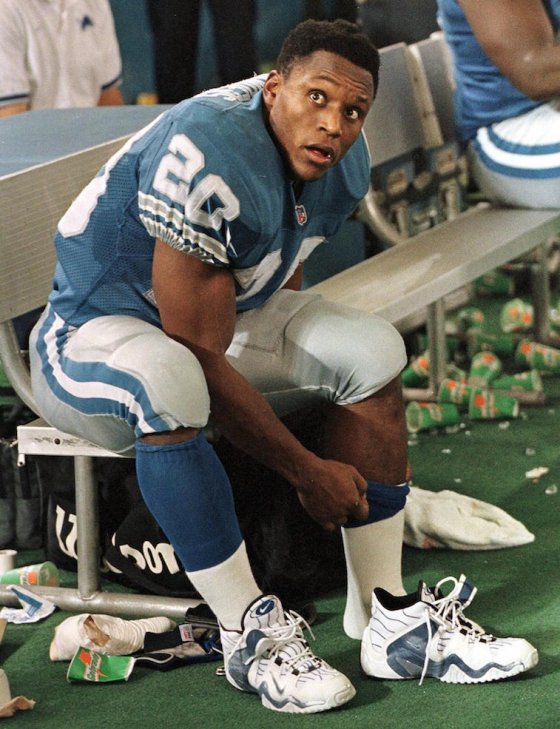 Team: Detroit Lions
Rushing

Attempts: 280
Rushing Yards: 1,470
Avg. per Game: 98.0
Touchdowns: 14

Receiving

Receptions: 24
Receiving Yards: 282
19) 2012: Alfred Morris, RB
Team: Washington Redskins
Rushing

Attempts: 335
Rushing Yards: 1,613
Avg. per Game: 100.8
Touchdowns: 13

Receiving

Receptions: 11
Receiving Yards: 77
18) 2014: Mike Evans, WR
Team: Tampa Bay Buccaneers
Receiving

Receptions: 68
Receiving Yards: 1,051
Avg. per Reception: 15.5
Avg. per Game: 70.1
Touchdowns: 12
17) 1981: George Rogers, RB
Team: New Orleans Saints
Rushing

Attempts: 378
Rushing Yards: 1,674
Avg. per Game: 104.6
Touchdowns: 13

Receiving

Receptions: 16
Receiving Yards: 126
16) 2011: Cam Newton, QB
Team: Carolina Panthers
Record: 6-10
Passing

Completions-Attempts, %: 310-517, 60.0%
Passing Yards: 4,051
Touchdowns: 21
Interceptions: 17
Avg. per Game: 253.2
QB Passer Rating: 84.5

Rushing

Attempts: 126
Rushing Yards: 706
Touchdowns: 14
15) 2016: Michael Thomas, WR
Team: New Orleans Saints
Receiving

Receptions: 92
Receiving Yards: 1,137
Avg. per Reception: 12.4
Avg. per Game: 75.8
Touchdowns: 9
14) 1994: Marshall Faulk, RB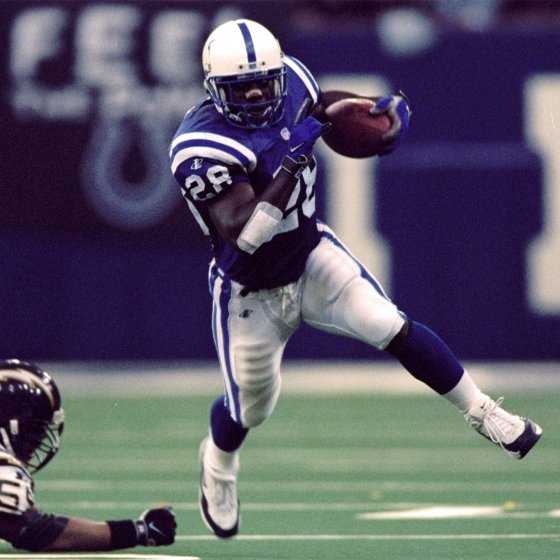 Team: Indianapolis Colts
Rushing

Attempts: 314
Rushing Yards: 1,282
Avg. per Game: 80.1
Touchdowns: 11

Receiving

Receptions: 52
Receiving Yards: 522
Avg. per Reception: 10.0
Touchdowns: 1
13) 2003: Anquan Boldin, WR
Team: Arizona Cardinals
Receiving

Receptions: 101
Receiving Yards: 1,377
Avg. per Reception: 13.6
Avg. per Game: 86.1
Touchdowns: 8
12) 1983: Dan Marino, QB
Team: Miami Dolphins
Record: 7-2
Passing

Completions-Attempts, %: 173-296, 58.5%
Passing Yards: 2,210
Touchdowns: 20
Interceptions: 6
Avg. per Game: 200.9
QB Passer Rating: 96.0

Rushing

Rushing Yards: 45
Touchdowns: 2
11) 1980: Billy Sims, RB
Team: Detroit Lions
Rushing

Attempts: 313
Rushing Yards: 1,303
Avg. per Game: 81.4
Touchdowns: 13

Receiving

Receptions: 51
Receiving Yards: 621
Touchdowns: 3
10) 2016: Dak Prescott, QB
Team: Dallas Cowboys
Record: 13-3
Rookie Season: It is scary just how quickly a player can become a superstar in the NFL. Dak Prescott was not a first round draft pick but he earned himself a role with the Dallas Cowboys after Tony Romo went down for another bad injury. He took over and never looked back, forcing Romo to retire earlier this year.
Passing

Completions-Attempts, %: 311-459, 67.8%
Passing Yards: 3,667
Touchdowns: 23
Interceptions: 4
Avg. per Game: 229.2
QB Passer Rating: 104.9

Rushing

Attempts: 57
Rushing Yards: 282
Touchdowns: 6
9) 2002: Clinton Portis, RB
Team: Denver Broncos
Rookie Season: Whenever a rookie RB rushes for more than 1,500 yards in his first season, he becomes a stud that every owner in the NFL wants to grab. That is probably why Clinton Portis was traded in 2004, just two seasons after he rushed for over 1,500 in both of his first two seasons in the league.
Rushing

Attempts: 273
Rushing Yards: 1,508
Avg. per Game: 94.3
Touchdowns: 15

Receiving

Receptions: 33
Receiving Yards: 364
Touchdowns: 2
8) 2012: Andrew Luck, QB
Team: Indianapolis Colts
Record: 11-5
Rookie Season: After the Colts parted ways with Peyton Manning, they found themselves in serious trouble and finished the 2011 season with a 2-14 record. That was good enough to earn themselves the top pick of the 2012 draft in which they grabbed the elite stud from Stanford, Andrew Luck. All he did was lead the Colts to a 11-5 record in his rookie season while throwing for over 4,000 yards.
Passing

Completions-Attempts, %: 339-627, 54.1%
Passing Yards: 4,374
Touchdowns: 23
Interceptions: 18
Avg. per Game: 273.4
QB Passer Rating: 76.5

Rushing

Attempts: 62
Rushing Yards: 255
Touchdowns: 5
7) 2012: Doug Martin, RB
Team: Tampa Bay Buccaneers
Rookie Season: Doug Martin's rookie season was more than just the 1,454 rushing yards and 472 receiving yards he totaled, it was his performance in Week 8 against the Oakland Raiders that matters most. That's because he rushed for 251 yards and four touchdowns during that game, welcoming himself to the rest of the NFL.
Rushing

Attempts: 319
Rushing Yards: 1,454
Avg. per Game: 90.9
Touchdowns: 11

Receiving

Receptions: 49
Receiving Yards: 472
Touchdowns: 1
6) 2016: Ezekiel Elliott, RB
Team: Dallas Cowboys
Rookie Season: According to the NFL experts, no one was surprised to see Ezekiel Elliott rush for a league leading 1,631 yards and 15 scores. Behind the incredible offensive line that the Cowboys built, the talented Zeke was poised to do exactly what he did, and it worked beautifully.
Rushing

Attempts: 322
Rushing Yards: 1,631
Avg. per Game: 108.7
Touchdowns: 15

Receiving

Receptions: 32
Receiving Yards: 363
Touchdowns: 1
5) 2004: Ben Roethlisberger, QB
Team: Pittsburgh Steelers
Record: 13-0
Rookie Season: The ending to his first NFL season went about as great as possible for a rookie QB. He finished 13-0 after taking the reigns as the Steelers QB and lost in the AFC Championship to a red hot New England Patriots defense that ended up lighting him up for three picks.
Passing

Completions-Attempts, %: 196-295, 66.4%
Passing Yards: 2,621
Touchdowns: 17
Interceptions: 11
Avg. per Game: 187.2
QB Passer Rating: 98.1

Rushing

Attempts: 56
Rushing Yards: 144
Touchdowns: 1
4) 1998: Randy Moss, WR
Team: Minnesota Vikings
Rookie Season: Just like Big Ben, Randy Moss found the same success in his rookie season in the NFL, helping the Minnesota Vikings finish with a NFL best 15-1 record. They were supposed to be a Super Bowl shoe-in but lost to the Atlanta Falcons in a shocking upset in the NFC Championship game. He would finish the season with all kinds of rookie records and was named the NFL Offensive Player of the Year.
Receiving

Receptions: 69
Receiving Yards: 1,313
Avg. per Reception: 19.03
Avg. per Game: 82.1
Touchdowns: 17
3) 1999: Edgerrin James, RB
Team: Indianapolis Colts
Rookie Season: Before Ezekiel Elliott, there was an Indianapolis Colts running back named Edgerrin James who rushed for more yards in his first two season in the NFL than any other RB in the league. He was also the last RB to lead the NFL in rushing as a rookie before Elliott did so in 2016.
Rushing

Attempts: 369
Rushing Yards: 1,553
Avg. per Game: 97.1
Touchdowns: 13

Receiving

Receptions: 62
Receiving Yards: 586
Avg. per Reception: 9.45
Touchdowns: 4
2) 2014: Odell Beckham Jr., WR
Team: New York Giants
Rookie Season: Besides missing the first four games of his NFL career, ODB put up some of the most impressive numbers from any rookie ever. It was all highlighted with one of the greatest touchdown receptions of all time, that one-handed one he made against Dallas, in case you didn't own a television in 2014.
Receiving

Receptions: 91
Receiving Yards: 1,305
Avg. per Reception: 14.34
Avg. per Game: 108.8
Touchdowns: 12
1) 1983: Eric Dickerson, RB
Team: Los Angeles Rams
Rookie Season: Besides leading the NFL in rushing yards, Eric Dickerson also broke all of the NFL's previous rushing records for attempts, yards, and touchdowns by a rookie. That performance earned him the Player of the Year and Rookie of the Year awards, as well as, being named to the Pro Bowl and the NFL's All-Pro team.
Rushing

Attempts: 390
Rushing Yards: 1,808
Avg. per Game: 113
Touchdowns: 18

Receiving

Receptions: 51
Receiving Yards: 404
Avg. per Reception: 7.92
Touchdowns: 2