Star Wars Costume Hoodies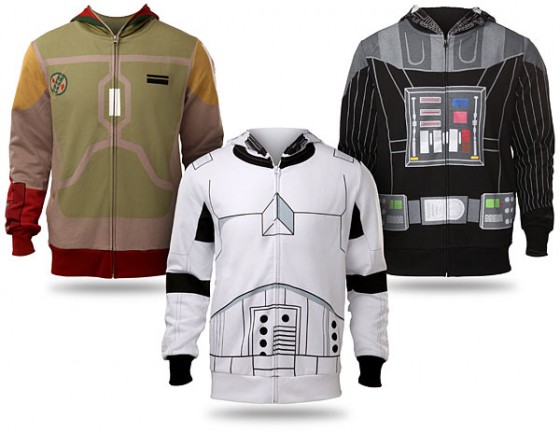 So it is a Friday night and you are off to meet some friends at a bar or cantina. The only problem is that you have nothing to wear. Might I suggest a Star Wars Hoodie? Think Geek has three styles to choose from depending on your mood for that night. Looking to follow your friends to wherever they go, well then the Stormtrooper hoodie is for you. Dictating  your nights agenda and wanting to be dark and mysterious, go with the Vader hoodie. Maybe it is going to be a crazy night and you wanna let loose you should go with the Boba Fett sytle. Anyway that you choose you will have a style unlike any other. If your are a fanboy who loves to make a statement with your clothes then make sure these hoodies are in your closet and ready to be worn at a moments notice.
The hoodie also acts as an easy costume. Just flip up the hood and you got an great Star Wars costume. For all of the other 364 days of the year when it is not Halloween there are great items that you can match with the hoodies. One thing that comes to mind for me are sneakers. Not only am I a huge Star Wars fan, but I am also a client….no wait, I meant to say sneakerhead. Adidas has a Star Wars line of kicks that can match these sweet hoodies to give you that ultimate fanboy look. The picture below shows you the three shoe selection that would compliment the hoodies from Think Geek.
If you like to have your hoodies be on the baggy side then I would suggest that you order a size up. If you are looking for a snug feel then get the size you usually would purchase. They hoodies are long-sleeve, full-zip hooded sweatshirts and are 60% cotton and 40% polyester. They have two front pockets and ribbed cuffs and bottom. The ink on this is really soft compared to other style hoodies. The zipper extends all the way up the hood.  The eyes on the sides of the hood are mesh so they're see-through. If you get the hoodie dirty, Think Geek  recommends that you turn the hoodie inside out before washing in cold water and lay flat to dry. Each hoodie sells for $49.99 and can be purchased at ThinkGeek.com.