The Completely Wrong 2015 Fantasy Football Mock Draft
Have you ever wondered what it would feel like to walk into a Fantasy Football draft and go absolutely nuts with your picks only to win the league anyways?
Can you picture the look on everyone's face when you select Todd Gurley in the first round or chase after Marcus Mariota shortly after? Anyone can do it. It is simple. But there is a strategy behind drafting like you just drank ten red bulls and snorted cocaine off the neighbor's dog.
It starts with forgetting about everything you know and listening to us. Let us guide you to the land full of people who were ridiculed during 2014's draft when they selected Odell Beckham Jr. in the 2nd round only to end up watching him lead them to the title.
"Fantasy Experts" might call them Sleeper picks, we call them building a Championship out of paper plates and toothpicks. By the way, what is a "Fantasy Expert"? These are the same people who know about as much of the future as you do so why do we listen to them and continue to choose the players they all want us to?
No sir! This is a new day and this is your time to quietly shine. You will be mocked, ridiculed, and harassed during your draft but you will reach your Championship destination. We are not going to claim to be "Fantasy Experts", not at all. We are simple-minded idiots just helping you along the way. You can listen to us or not but those that do, will find themselves hoisting a trophy based on other people's success.
That is Fantasy Football and this is our Completely Wrong Mock Draft for the 2015 season. First, a few rules. The scoring will be standard PPR scoring that you can find on Yahoo or ESPN. We aren't going to get crazy over the scoring format, we just want to use what 99% of players will use anyways.
Second, is not going to be a mock draft where every pick is shown, just ours. We have the 3rd pick of the draft, which is going to be a snake format in a 10 team league. The draft will go 15 rounds. If you need more information, fine. You can start 1 QB, 2 RB, 2 WR, 1 TE, Flex (RB/WR/TE), 1 K, 1 D/ST
Got that? Ok. Let's go!
1st Round – 3rd Overall
Justin Forsett, RB, Baltimore Ravens
Le'Veon Bell is going to be nasty but will miss the first two games of the season after being suspended for breaking the NFL's substance abuse policy. He should still play in 14 games and score more fantasy points than almost the entire league. However, we play the game to win today. The addition of Marc Trestman in Baltimore is going to increase the value Forsett brings to your team. He had 44 catches in 2014, he should have 50 or more this season. Expect greatness from a guy that has had to fight his way to the top, nothing was given to him.
2nd Round – 18th Overall
C.J. Spiller, RB, New Orleans Saints
The insanity begins now. C.J. Spiller has been mentioned as a sleeper by just about anyone that has a mouth and plays Fantasy Football. But sleepers do not get drafted this high. We say go for it. Remember 2012 when he had 1,703 total yards, 43 catches on 57 targets, and 8 TDs? That was with Ryan Fitzpatrick running the offense that was ranked 19th in the NFL. Imagine a healthy Spiller getting Darren Sprole type opportunities in a Drew Brees/Sean Payton run offense down in New Orleans? This guy is PPR gold. Not only is Jimmy Graham gone, but the vertical passing game is too. This is going to be a season of shorter passes and longer drives for New Orleans. C.J. will earn his spot, take him.
3rd Round – 23rd Overall
Joseph Randle, RB, Dallas Cowboys
Do us a favor and Google the reasons why people are saying DeMarco Murray had such an incredible 2014 season. Almost no one is giving the guy credit for carrying the ball 800 times because of that incredible offensive line in Dallas. Joseph Randle showed us a peek of what he had in the tank last season behind Murray, he is the default starter in Dallas behind a line that is so great the Cowboys did not care to resign one of the NFL's élite RBs. He will get plenty of chances to show his speed in 2015. Don't even try to argue that Darren McFadden is going to do damage because that guy gets hurt playing as himself on Madden.
4th Round – 38th Overall
Tevin Coleman, RB, Atlanta Falcons
The Atlanta Falcons have the easiest schedule in the NFL for the 2015 season based on last season's combined records. They have a new coach but the same 1-2 bunch at WR, Jones and White, and one of the NFL's smartest QBs, Matt Ryan. Devonta Freeman will end up 2nd string after a few weeks and Tevin Coleman will be there starter. We are talking about 1,000 yards, 10 TDs type numbers for a bench player.
5th Round – 43rd Overall
Jarvis Landry, WR, Miami Dolphins
What? Really? Exactly! Ryan Tannehill had to suffer two seasons with Mike Wallace being forced into his offense. If you watched the Dolphins in 2013 and 2014 you would have seen a QB forcing the ball to a highly paid WR because Miami told him to. Now that Wallace is gone, the Dolphins have a chance to really shine. Jarvis Landry showed us that he could easily catch 100 balls in a season and he finished with 84 catches on 112 targets for 758 yards and 5 scores. For some reason, people are not showing him love in 2015. He is going to start along side Greg Jennings, Kenny Stills, and Devante Parker. He will get 90 or more catches at least this season, the only question is how many scores will he get. And please don't forget he is going to be doing all the Kick and Punt returning too. This guy is going to have multiple chances to earn a 5th round selection.
6th Round – 58th Overall
Sam Bradford, QB, Philadelphia Eagles
Mark Sanchez looked like a Pro-Bowler in Chip Kelly's offense last season. In fact, he threw more touchdowns in 9 games for Philly last year than he did twice in New York as a full-time starter. Sam Bradford is so much better than Sanchez it should be fun to watch as long as that left knee stays healthy. In St.Louis, he did not have the same protection he will get in Philadelphia behind arguably the second best O-Line in the NFL. The other benefit to Chip Kelly's offense is the quickness. Bradford will be getting rid of the ball much faster which will help him avoid the hard hits and lessen the chances he goes down for the count in 2015. Nick Foles threw 27 TDs in 2013 in only 13 games, remember that?
7th Round – 63rd Overall
Julius Thomas, TE, Jacksonville Jaguars
Blake Bortles can throw a football with some solid accuracy but it is the speed at which he throws it that Julius Thomas will be the most successful. What? Exactly. Keep talking down this guy's game because he does not have Peyton Manning throwing him the rock anymore, go ahead and do it. Bortles did not make good use of his Tight Ends in 2014 but you can thank that on the first year jitters and playing from behind all the time. It is difficult to use TEs effectively when you need to get down the field in a hurry. The 2015 Jags are not going to win a Super Bowl but they will win more than 3 games. There was a reason Julius Thomas chose to play down there and it was not the money.
8th Round – 78th Overall
Pierre Garcon, WR, Washington Redskins
Let's keep this simple. Pierre Garcon is moving to the Y-receiver. The number of targets he will receive in 2015 is going to be much higher. His talent is there, so where is the problem? He has had the most targets each of the previous two seasons and in 2012 was only 5 away from making it three. He is their best WR.
9th Round – 83rd Overall
Brandon LaFell, WR, New England Patriots
For Wide Receivers in New England, targets are hard to come by unless you are Rob Gronkowski or Julian Edelman. Each player respectively had 134 and 131. But then there was Brandon LaFell who had 119 targets catching 74 for 953 yards and 7 TDs. He showed Tom Brady what he could do and the trust is there. Even though Brady will miss a couple games, LaFell in the 9th round is perfection.
10th Round – 98th Overall
Charles Sims, RB, Tampa Bay Buccaneers
As of right now, this pick is simply because Doug Martin is going to get injured and/or replaced and no one is going to have this guy on their bench except you. As your RB5, you will be able to decide if you want to use him for trading or plug him into the lineup when the day arrives, and it will.
11th Round – 103rd Overall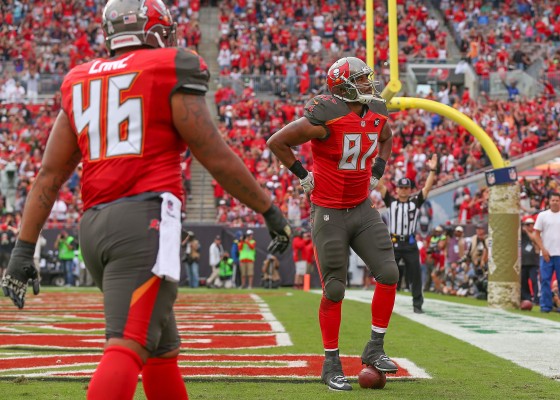 Austin Seferian-Jenkins, Tampa Bay Buccaneers
You should be all set at TE with Julius Thomas but we love this guy. Since his arrival in 2014, we have been sitting around just waiting for him to get healthy enough to play. He spent most of last season battling a foot injury which caused him to miss a lot of playing time. We expect him to be moving up the draft boards as the season approaches but if he is around in the 11th, take him.
12th Round – 118th Overall
Roddy White, WR, Atlanta Falcons
How is this guy still available? No seriously, how? This is a league that gives you one point per reception and Roddy White is going to give you at least 75 receptions. His averages put him close to 900 yards and 7 TDs too. How can you not risk it on a guy that you can count on for 13-16 points a game this late in the draft?
13th Round – 123rd Overall
St.Louis Rams Defense
"Never draft a defense or a kicker." – Every Fantasy Football analyst ever
Their logic makes sense but what if we broke it down like this…
Outside of Green Bay, Chicago, Detroit, and Baltimore, the Rams defense has a great schedule. Most of their tough games are at home where they have owned their opponents. The points that you will get from a defense, even if it is 10 a game, is still more than your entire bench combined. Listen to the experts or draft a defense that you have done the research on and look smart.
14th Round – 138th Overall
Matt Bryant, K, Atlanta Falcons
The Atlanta Falcons are going to score points. Lots of points. Matt Bryant is a kicker to grab because you will never have to worry about him for the rest of the season. Even on a bye week, either make room for a Kicker or give up the slot. He missed three FGs in 2014, all of them over 50 yards and in fantasy that means no negative points. He is 85% accurate in his career and has not missed a game since 2009.
15th Round – 143rd Overall
Arian Foster, RB, Houston Texans
Why did we draft a player that is as reliable as a ship with a hole in the bottom? Because he was still available in the 15th round, that's why. There are several reasons to take him here. For one, if you play in a keeper league, this is well worth the risk. If he comes back this season or not, you could potentially have a RB1 and only lose out on a 14th round selection. Also, the word around the NFL is that he might not be out for the season and should be back by week nine. Remember what we are doing here? We are drafting a team of potentially amazing players that your league will laugh at you for but when they live up to the potential, you walk away a God among men.