Dunkirk : Review
The key to appreciating Dunkirk for being the masterpiece it is starts with understanding what writer/director Christopher Nolan is trying to do. Dunkirk is not your typical World War II film with thick personalities and high drama. You might not even catch the names of the film's lead characters. Very few recognizable actors dot the film here and there; one might believe Nolan would have cast the film full of unknowns if he had the choice. The most recognizable historic name you'll hear in the film's dialogue will be a mention or two of then-Prime Minister Winston Churchill.
Reportedly only 76 pages, Nolan's script is bereft of typical war movie staples – the introduction to the principal cast, bonds of camaraderie being forged, the folks back home gazing out their windows with longing looks. These clichés are replaced by engaging the audience with the film by dropping the viewer straight into the rescue of the men Churchill called "the whole root and core and brain of the British Army," making the rescue itself the lead character.
Operation Dynamo – the official name for the hasty withdrawal of British troops from Nazi-occupied France – was famously spun by Churchill as a moral victory, one capable of showing that Britain was ready to defend itself. The film depicts nothing but the agonizing wait for deliverance and how these men kept each other alive during the 10-day evacuation. Of these ten days, we are only shown a few, with time differentials between the air, sea, and land operations noted in the film's opening moments.
It's a top-level lesson in "show, don't tell," large-format filmmaking, as Dunkirk immerses you fully into a nearly 400,000-person escape attempt, with only a handful of soldiers and civilians as our guides. These few key players – Royal Air Force pilot Farrier (Tom Hardy), stranded soldier Tommy (Fionn Whitehead), and the civilian Dawson family (Mark Rylance and Tom Glynn-Carne) and their boat hand (Barry Keoghan) – provide our glimpse into the evacuation's scope and the urgency of its execution.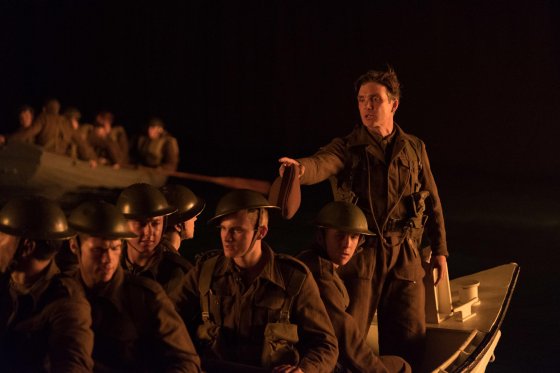 Nolan doesn't waste time with petty squabbles or unnecessary battlefield banter. This is his most lean, utilitarian film to date, mining drama and suspense from the film's action, not its words. Time overlaps and shifts during a few points, allowing for the same scene to be told from different sides of the rescue. You may wonder why Cillian Murphy's character (credited as the Shivering Soldier) is seen being picked up by Mr. Dawson one minute, only to be followed by a scene depicting the sinking of his boat before his extraction from the sunken boat's hull. This and other overlaps come without warning, further thrusting you into the confusion of this harrowing ordeal.
Each milieu has its own stride and differing feel. The sea, dominated by the Dawsons and the Shivering Soldier, give us somewhat of a respite between the terror of what's happening on land and the matter-of-factness of the air sequences. Hoyte van Hoytema's steady cinematography puts us right in the middle of these events, with wondrous shots coming from Farrier's cockpit windshield as he circles above the beach looking for enemy planes. The characters may tie the action together, but it's shots like these which tie the whole operation together, and van Hoytema doesn't give us many chances to appreciate the breadth of this conflict.
In one particularly memorable scene, soldiers take cover in an abandoned fishing boat, only to be flushed out by enemy bullets and a rising tide. No Germans are seen at all, nor is any muzzle flash from their guns; their bullets and the suddenly-appearing holes they make are the only evidence of imminent danger. The actors – among them, a notable Harry Styles from pop group One Direction – make this as suspenseful and frightening as any of the best horror movies by selling the frantic stillness they have to endure without giving away their position.
Words cannot describe – nor should they – the cinematic clinic Nolan puts on here. All you need to know about anything is there are Nazis breathing down the necks of stranded soldiers who are out in the open like sitting ducks. This may not have been a victory in the traditional sense, but being able to bring the soldiers back to defend their shores was something which needed to happen. Dunkirk shows you how it was made possible without having to delve into backstories and brouhaha. The fight to stay alive is enough to make this film blaze like a fire out of control, and Nolan's intuitive and subtly tricky approach makes this one of the definitive World War II films of all time.
(Author's note: Dunkirk was filmed in 65mm and 15-perforation/70mm IMAX. Make every effort to seek out the theaters playing it either in IMAX or 70mm.)
MPAA Rating: PG-13 for intense war experience and some language.
Running time: 106 minutes.
Released by: Warner Bros. Pictures.
In theaters: Friday, July 21, 2017, earlier in IMAX and 70mm theaters.
Dunkirk
Words cannot describe – nor should they – the cinematic clinic Nolan puts on with Dunkirk. Viewing in IMAX or 70mm is a must.