Who's the Best Movie Prostitute?
The pimp's ground-rules: Women only, ordered by the year the film came out, newest first. Picked the 20 best and freshest in our collective memory, left the rest on the curb, especially Jane Fonda cause I've never met anyone who saw Klute. We didn't rank this list, because we weren't sure what the criteria should be. Few of us have had the chance to bed enough of these women to make a real determination based on their job skills, so should we rely solely on looks? In that case, standards of hotness have certainly changed within the last 30 years, especially in terms of hairstyle and clothing. Or would it be better to rank based on entertainment value, or here's a crazy thought, maybe even best portrayal by an actress? So instead we decided to make this a poll, so we're being all scientific with our strumpets, with your help.
And don't forget to check out Gunaxin's Ten Memorable Movie Pimps.
---
DJay's Girls – Hustle and Flow 2005
Great cast with Taryn Manning as Nola, Taraji P. Henson as Shug and Paula Jai Parker as Lexus. Even with Terrence Howard and Three 6 Mafia's "It's Hard out Here for a Pimp," this movie ain't nothin without them bee-atches.
---
Aileen Wuornos (Charlize Theron) – Monster 2003
I don't think anyone is going to vote for her because she's a hideous skank killer. To think that Wuornos actually roamed the streets and people paid her for sex. Forget the murders, that sends shivers up my spine. Oh, by the way, Charlize Theron outside of this role is hot and congrats to her on her Oscar win for this film. Theron is also featured in Gunaxin's Six Hollywood Swans in their Ugly Duckling Roles article.
---
Jessica (Bridget Fonda) – Kiss of the Dragon 2001
Unfortunately for Bridget Fonda, people who saw this film watched it for Jet Li and his fight scenes.
---
Malena Scordia (Monica Bellucci) – Malena 2000
Here's one for those of you who watch foreign films… a nice story about a woman who is really hot and the other women in the village gets jealous so she becomes a prostitute. I'm fairly certain that was the way the movie was pitched.
---
Marion Silver (Jennifer Connelly) – Requiem for a Dream 2000
I think this movie is more known for it's original score than anything else (I was ridiculed for purposely omitting it from the Best Original Scores of All Time list). Well, for those of you who haven't seen it, the chick from Labyrinth is a ho-ah.
---
Lynn Bracken (Kim Basinger) – L.A. Confidential 1997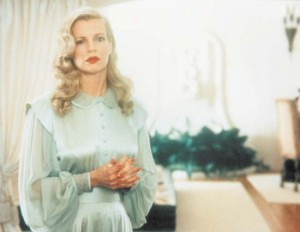 A Veronica Lake look-a-like and a call-girl! If more whores actually looked like hot celebrities, I bet prostitution would be legal right about now. It's the damn crack whores who are keeping down the first profession ever.
---
Cookie (Hazelle Goodman) – Deconstructing Harry 1997
Generally speaking, I hate Woody Allen and want to bully him around like Nelson on Milhouse. But this was hilarious.
---
Linda Ash (Mira Sorvino) – Mighty Aphrodite 1995
Woody Allen again, this time with a hot hooker, the lovely daughter of big Paulie.
---
Sera (Elisabeth Shue) – Leaving Las Vegas 1995
Leaving Las Vegas is the story of my life… without Elisabeth Shue, unfortunately.
---
Jenny (Robin Wright) – Forrest Gump 1994
Yes, Jenny was a whore. Don't you remember that scene in the hotel with the H-addict when she was about to jump off the balcony? In fact, I would've found it believable had Lieutenant Dan, in his heavy-drinking days, slept with Jenny in her addict days. Imagine how awkward that scene would have been later when they met at Forrest's wedding.
---
Alabama Whitman (Patricia Arquette) – True Romance 1993
"It's better to have a gun and not need it than to need a gun and not have it." And that quote is why I am now a proud gun owner. Anyway, Arquette is a babe.
---
Susie Waggoner (Jennifer Jason Leigh) – Miami Blues 1990
Leigh plays a prostitute and a student. That's typically what strippers do, not whores as far as I know, so I wasn't really able to connect with this film.
---
Viv Ward (Julia Roberts) – Pretty Woman 1990
People, please don't vote Viv Ward (voting for best prostitute at the bottom). It's just too damn obvious. Vote for the one below this.
---
Mary (Lycia Naff) – Total Recall 1990
I think we have a winner. This chick has three, count 'em, three boobs… ah ah ah (my impression of The Count from Seseme Street).
---
Da Nang Hooker (Papillon Soo) – Full Metal Jacket 1987
If you want to impress your friends then memorize this dialogue and recite it at parties:
Da Nang Hooker: Hey, baby. You got girlfriend Vietnam?
Private Joker: Not just this minute.
Da Nang Hooker: Well, baby, me so horny. Me so HORNY. Me love you long time. You party?
Private Joker: Yeah, we might party. How much?
Da Nang Hooker: Fifteen dollar.
Private Joker: Fifteen dollars for both of us?
Da Nang Hooker: No. Each you fifteen dollar. Me love you long time. Me so HORNY.
Private Joker: Fifteen dollar too beaucoup. Five dollars each.
Da Nang Hooker: Me sucky-sucky. Me love you too much.
Private Joker: Five dollars is all my mom allows me to spend.
Da Nang Hooker: Okay. Ten dollar each.
Private Joker: What do we get for ten dollars?
Da Nang Hooker: Every t'ing you want.
Private Joker: Everything?
Da Nang Hooker: Every t'ing.
Private Joker: [to Rafterman] Well, old buddy, feel like spending some of your hard-earned money?
This scene is great, too:
---
Joanna Crane (Kathleen Turner) – Crimes of Passion 1984
The lovely, stunning Kathleen Turner plays a lady of the night.
---
Lana (Rebecca De Mornay) – Risky Business 1983
Back when we all wished we could have been Tom Cruise. This was one of Rebecca De Mornay's first films.
---
Ophelia (Jamie Lee Curtis) – Trading Places 1983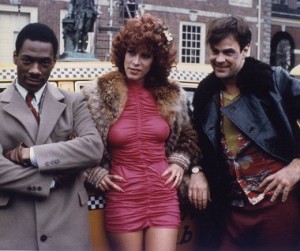 Is it me, or does Jamie Lee Curtis look like a transvestite? I mean, look at her. There's just something about her that looks like she's got a [email protected]#$.
---
Violet (Brooke Shields) – Pretty Baby 1978
This movie caused a lot of controversy at the time because 12-year-old Shields appeared nude.
---
Iris Steinsma (Jodie Foster) – Taxi Driver 1976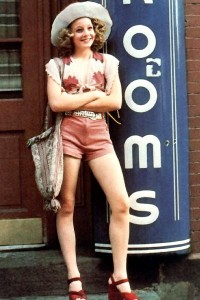 John Hinckley, Jr., if you're reading, you can vote for Iris at the bottom of this post.
---
Honorable Mentions:
Luenell (Luenell Campbell) – Borat 2006 (she really wasn't that funny)
Bai Ling (Zhang Ziyi) – 2046 2004
Paris Nevada (Amanda Peet) – Identity 2003
Cheryl Ann (Jennifer Garner) – Catch Me If You Can 2002
Rose Heam (Charlize Theron) – 15 Minutes 2001
Christie (Cara Seymour) – American Psycho 2000
Domino (Vinessa Shaw) – Eyes Wide Shut 1999
Mandy Murphy (Elizabeth Berkely) – Any Given Sunday 1999
Clementine (Gwyneth Paltrow) – Hard Eight 1996
The brothel workers – Unforgiven 1992
Liz (Theresa Russell) – Whore 1991
Tralala (Jennifer Jason Leigh) – Last Exit to Brooklyn 1989
Belinda (Shelley Long) – Night Shift 1982
Sally (Nancy Allen) – Blow Out 1981
Liz Blake (Nancy Allen) – Dressed to Kill 1980
Xaviera Hollander (Lynn Redgrave) – The Happy Hooker 1975
Maggie Paul (Marsha Mason) – Cinderella Liberty 1973
Bree Daniels (Jane Fonda) – Klute 1971
Séverine Serizy (Catherine Deneuve) – Belle de Jour 1967
Myra Lester (Vivien Leigh) – Waterloo Bridge 1940
Nina Barone (Rita Hayworth) – Angels Over Broadway 1940
Gloria Wandrous (Elizabeth Taylor) – Butterfield 8 1935
Helen Faraday (Marlene Dietrich) – Blonde Venus 1932
---
Editors' note: Poll has closed. Total Recall woman won.
[poll id="43″]